The St Emmeram Codex


Stimmwerck | Léon Berben, organ





medieval.org
Aeolus AE 10023
2008






Stimmwerck:
The St. Emmeram Mensural Codex
Munich, Bayerische Staatsbibliothek, clm 14274
&
Léon Berben:
Buxheimer Orgelbuch




1. Johannes BRASSART (c. 1400/05–1455). Christi mihi sublimato [3:30]
motet | 2 countertenors, 2 tenors, baritone, bass

2. Johannes ROULLET (fl. c. 1435–c. 1445). Sanctus. Crux columpna preelecta [4:10]
trope | 2 countertenors, 2 tenors

3. Reginaldus LIEBERT (fl. c. 1425–c. 1435). Agnus dei [2:48]
fauxbourdon | countertenor, 2 tenors

4. Gilles BINCHOIS (c. 1400–1460). Virgo rosa [1:06]
cf., Cest assés | a 2 tenors

5. Gilles BINCHOIS. Adyen ma tres belle [1:49]
[Adieu mes tres belles amours]

6. Francesco LANDINI (c. 1325–1397). Kyrie [1:42]
cf., Questa fanciulla | tenor GH, baritone, bass

7. Johannes VAILLANT (fl. c. 1360–c. 1390). Ad honorem [2:21]
cf., Par maintes foys | countertenor, 2 tenors

8. O Maria virgo davidica ~ O Maria stella maris [2:01]
motet | 2 countertenors, tenor GH, baritone

9. P. FONTAINE (c. 1380–c. 1450), O. von WOLKENSTEIN (c. 1376–1445).
Vierhundert Jare [1:56]

10. Johannes BRASSART, an. Crist ist erstanden [1:30]
Leise | countertenor, baritone, bass

11. Rudolf Volkhardt von HÖRINGEN (?) (c.1395–1465). Levat autentica [2:05]
a 2 tenors

12. Peter SCHWEIKL († 1466). Sanctus. Gustasti necis pocula [3:41]
trope | countertenor, tenor GH

13. Hermann EDLERAWER (c. 1395–c. 1460). Verbum bonum [3:48]
fauxbourdon sequence | countertenor, 2 tenors, baritone, bass

14. Cristus surrexit [1:16]

15. Guillaume DU FAY (1397–1474). Supremum est mortalibus [6:35]
motet | 2 countertenors, 2 tenors, baritone, bass

16. Guillaume DU FAY. Mille bon Jores [2:33]
[Mille bon iours]

17. Arnold de LANTINS († 1432). Tota pulchra es [3:00]
2 countertenors, 2 tenors, baritone, bass

18. Guillaume DU FAY. Sequitur adhuc semel Dulongesux [3:48]
[Deuil angoisseux]

19. Gilles BINCHOIS. Aliud Esclaphe [2:11]
[Esclave peut il]

20. John DUNSTAPLE (c. 1390–1453). Quam pulchra es [2:11]
countertenor, baritone, bass

21. Leonel POWER (†1445). Anima mea liquefacta [3:20]
countertenor, 2 tenors

22. Guillaume DU FAY. Portigaler [3:13]
[Or me veult]

23. En naturarum dominus [1:34]
cantio | tenor GH, bass

24. Credo [4:40]
2 countertenors, 2 tenors f , 2 basses

25. Johannes WARING (fl. c. 1440–c. 1460). Alle dei filius [1:32]
troped Alleluia | tenor KW, baritone, bass

26. Sanctus [2:06]
tenor KW, baritone, bass

27. Petrus WILHELMI [de GRUDENZ] (c. 1400–c. 1480). Presulem euphebeatum [3:21]
rota | 2 countertenors, 2 tenors, baritone, bass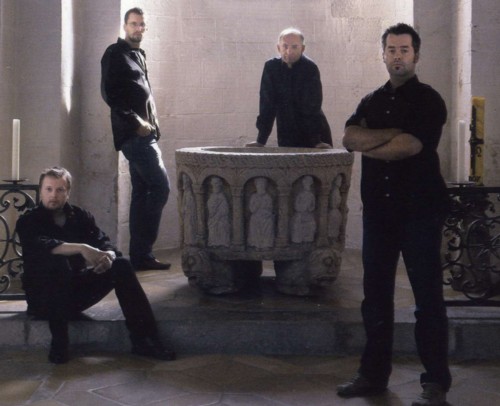 STIMMWERCK

Franz Vitzthum, countertenor
Klaus Wenk, tenor KW
Gerhard Hölzle, tenor GH
d Marcus Schmidl, bass

Guests:
Edzard Burchards, countertenor (tracks with 2 countertenors)
Christof Hartkopf, baritone

featuring
Ian Rumbold on #24 (bass)



Léon Berben,
on the historic organ of St. Andreas, Soest-Ostönnen




This recording is supported by the Arts and This recording is supported by the Arts and Humanities Research Council (UK) and is presented by kind permission of the Bayerische Staatsbibliothek, Munich.
Musicological consultants: Ian Rumbold and Peter Wright
Recording: August 2007, Klosterkirche Windberg-Bogen
Producer: Christoph Martin Frommen and Ian Rumbold
Engineering, editing & mastering: Christoph Martin Frommen
Microphones: Brüel & Kjær 4006
The Stimmwerck website: www.stimmwerck.de
Cover picture: Pfollenkofer-Relief, St. Emmeram, Regensburg;
Photos: Rainer Alexander Gimmel
Stimmwerck and all other photos: Christoph Martin Frommen and Marcus Schmidl
Facsimile from the St Emmeram Mensural Codex: Munich, Bayerische Statsbibliothek, Clm 14274, fol. 29v
Acknowledgements:
Stimmwerck would like to thank the "Stiftung Bayerischer Musikfonds" for the support, Professor Dr. David Hiley (University of Regensburg), Alois Späth, Rainer Alexander Gimmel and the monks of Windberg for their hospitality.
Thanks also to Erika Strelow, organist in St Andreas, Ostönnen.

'Pfollenkofer-Relief', St Emmeram church, Regensburg; photo: Rainer Alexander Gimmel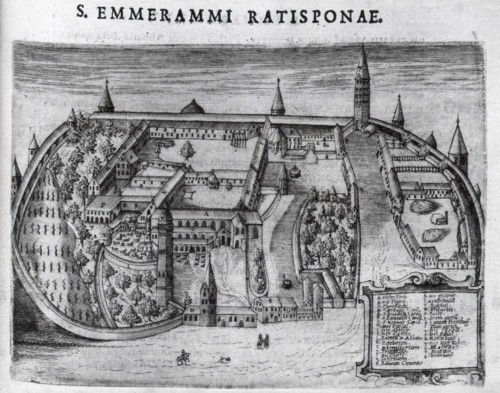 The St Emmeram Codex is one of the very few large manuscripts of polyphonic music to have survived in Western Europe from the late Middle Ages, and is arguably the most valuable witness to the practice of this type of music in the German-speaking part of Central Europe in the second quarter of the fifteenth century. Its name reflects the fact that it was preserved in the celebrated library of the Benedictine monastery of St Emmeram in Regensburg, although in fact it has little to do with the monks of that institution. Rather, it was the private music collection of Hermann Pötzlinger, who worked briefly as the master of their school around the middle of the century and, after he became ill in the late 1450s, spent the last years of his life living in the house next to the school where he had taught. Whether any of the contents of Pötzlinger's music book (already copied out before he moved to Regensburg in about 1448) were ever sung in the monastery church, or whether the manuscript is simply the product of his curiosity as a scholar, or a tool he used as a teacher, are questions that remain unanswered.

Hermann Pötzlinger was a respectable but in many ways a rather ordinary priest and scholar of the mid-fifteenth century. His family, presumably named after the village of Pötzling, a few kilometres to the east of Nuremberg, flourished in the late Middle Ages in Upper Franconia, especially in the region around Bayreuth. By the early fifteenth century they had acquired a considerable amount of property in the area; and by dint of intermarrying with two more prestigious families, the Entenburgs (German 'Ente' =duck) and the Zirkendorffers (German 'Zirkel' =pair of compasses), different branches of the Pötzlinger family had acquired the right to use two coats of arms.

Hermann was born around 1415–20. Most of his relatives belonged to the secular sphere: they were soldiers (at least two were captured and imprisoned for a spell in Nuremberg), servants of the Margraves of Brandenburg (one was supplied with lifetime use of a house on the condition that he agreed to travel on horseback on the margrave's business wherever and whenever he was instructed), or civic dignitaries (one was Burgermeister of Langenzenn, to the north-west of Nuremberg). Hermann, however, either opted for or – perhaps more likely – was pushed towards a different sort of career. He became a student at the University of Vienna, emerging in 1439 with a B.A. degree, and was ordained a priest.

Pötzlinger was born a little too early to derive much benefit from the invention of the printing press. One of the things students at the time were required to do was to copy down set texts that were read out loud to them by the university masters, and copying evidently became something of a passion with Hermann: by the end of his career he had accumulated a library of more than 100 manuscripts, half of them copied at least partly in his own hand. These (together with a year's salary from his schoolteaching job) he was able to use to purchase a retirement annuity from the monastery. His library may be the largest personal collection of books from Central Europe in this period to have been preserved more or less in its entirety, for these manuscripts, including his music book (still usually known among musicians as the 'St Emmeram Codex'), are still kept together in the Bavarian State Library in Munich.

We do not know how Hermann's career developed between his graduation in 1439 and his arrival in Regensburg in 1448, but the chances are that he remained in Vienna, with some kind of attachment to the university. Whatever he did enabled him to compile – between about 1439 and 1443, and with some help from others, including Wolfgang Chranekker, the organist of the church of St Wolfgang on the Abersee in Austria – an enormous collection of 255 pieces of music. A few of these are simple plainchants; but most are pieces of sophisticated polyphony that were composed over a period of half a century or more by musicians from across Europe – from England, through Northern, Central and Eastern Europe, to Italy. Pötzlinger's music book is more than just interesting; without it we would know considerably less than we do about music at this crucial interface between the Middle Ages and the Renaissance.

The idea of performing some of the music from the St Emmeram Codex was conceived in Bavaria itself, the home of the great Benedictine monastery from which the manuscript takes its name. In 2003, an international scholarly colloquium on the codex, organized by Professor Lorenz Welker, was held in the Bavarian State Library in Munich, from which developed the Pötzlinger Project, a collaboration at the University of Nottingham, funded by the Arts and Humanities Research Council (UK), between Ian Rumbold, who had studied the manuscript intensively in the 1980s, and Professor Peter Wright, a leading expert on fifteenth-century music. This team approached Stimmwerck with a view to producing a number of concerts, which took place at the University of Nottingham on 21 April 2007, in the church of St Ursula, Munich, on 29 April 2008 and in the church of St Oswald, Regensburg, on 30 April 2008, and it is they who have prepared many of the editions of the music used for the present recording. This interaction between performers and scholars in interpreting some of the musical treasures brought together by Hermann Pötzlinger has proved an extremely stimulating and rewarding one for all concerned.

Of the selection of pieces from the St Emmeram Codex presented here, some are relatively well known and survive in other sources too, while a number would have been completely lost to us if Pötzlinger and his colleagues had not copied them down. Many of the latter have probably not been heard for over half a millennium. Interspersed with the vocal pieces are performances of organ arrangements from the Buxheim Organ Book of a number of works that also appear (in vocal form) in the St Emmeram Codex, performed by Léon Berben on the organ at Ostönnen.




Works from the mainstream tradition of Northern Europe

The motet Christi nutu sublimato (1) was written for the church of St Lambert in Liège, where its composer, Johannes Brassart, was succentor for a time. Roullet, the composer of the Sanctus presented in this group (2), we know little about, except that he may have worked alongside Du Fay at some point. Liebert may have been master of the choirboys at Cambrai Cathedral in the 1420s, and his Agnus dei (3) comes from a complete musical setting of the Mass, something of a rarity at the time. Binchois's Virgo rosa (4) started out as a French love-song (Cest assés). Pötzlinger, being a German priest and schoolteacher, had no use for French love-songs as such. What he – or, rather, in this case, one of his colleagues – did was to write out the music, but omit the French text and insert a Latin sacred one instead, a process known as contrafactum.

Organ arrangement from the Buxheim organ book: Adyen ma tres belle (5)
Adieu mes tres belles amours is another song by Binchois that appears in the St Emmeram Codex with a Latin text ('Ave corpus Christi carum'). The Buxheim organ book – an important collection of organ music (more than half of it arrangements of vocal music) compiled in Germany around 1460–70 – contains three different arrangements of it.

Older music from Italy and France

The piece by the Italian composer Landini (6) is another contrafactum – it was originally a secular song with the Italian text 'Questa fanciulla', but turns up in Pötzlinger's manuscript with the text Kyrie eleyson. Vaillant's Par maintes foys (7) is notable for the fact that both its music and its text incorporate a realistic imitation of birdsong. Even though the original French text has again been replaced in Pötzlinger's book with a Latin sacred one, this is cleverly done in such a way as to preserve the bird-calls. The anonymous Italian motet O Maria virgo davidica / O Maria stella maris (8) has two different texts that are sung simultaneously.

Organ arrangement: Vierhundert Jare (9)
Pierre Fontaine's French song A son plaisir formed the basis for a German version by Oswald von Wolkenstein, which in turn was twice arranged for organ in the Buxheim Organ Book.

Local Central-European music

Pötzlinger's manuscript contains three settings of the German text Crist ist erstanden (10). Verse 1 of the text is sung here to the setting by Brassart, part of whose career was spent at the court of the Holy Roman Emperors, based in Austria; this is immediately followed by verse 2, sung to one of the anonymous settings. Rudolf Volkhardt von Häringen, a professor of theology at the University of Vienna when Pötzlinger was a student therein the 1430s, may have written the text of Levat autentica (11) himself (the first seven words incorporate the name 'Lazarus' as an acrostic): he was also a qualified medical doctor and a supporter of the leper's hospital of St Lazarus in Regensburg. The middle section of this piece is presented twice in the manuscript, first with a Latin text, then, as presented here, with 'Crist ist erstanden'. Rudolf later became dean of the Alte Kapelle in Regensburg, where Peter Schweikl, the composer of the third piece in this group, a troped Sanctus (12), was also a canon. The last piece in the group is by Hermann Edlerawer, who came from Mainz but spent most of his life in Vienna, where he became an important diplomat and civic dignitary. He probably wrote the sequence Verbum bonum (13) while he was cantor at the collegiate church (now the cathedral) of St Stephen between 1439 and about 1444. Sequences, like hymns, consist of many verses, often in pairs, and they were normally sung in alternation, one verse of each pair being sung to polyphony, the other to plainsong, as here. Edlerawer's polyphony is an example of fauxbourdon technique, in which the middle part simply duplicates the top part a fourth below.

Organ arrangement: Cristus surrexit (14)
This arrangement from Buxheim is of the anonymous setting that follows Brassart's as the second part of track 10.

Supremum est mortalibus by Guillaume Du Fay (15)

This celebratory motet contrasts three-voice passages supported by an elaborately structured tenor part, on the one hand, with lighter textures – duos for the upper parts or passages of fauxbourdon – on the other. The original version of this piece is a grand motet for a grand occasion – the arrival of King Sigismund in Rome on 21 May 1433 at the invitation of Pope Eugenius IV, ten days before Sigismund was crowned Holy Roman Emperor. The text of the motet refers to them both by name. Pötzlinger's version of this piece, however, has been adapted for a different occasion and different people, and the relevant portion of text reads 'Sit noster hic pontifex eternus Eugenius et dux beatus' ('Blessed forever be our Pope, Eugenius, and our duke') in one part and 'Sit beata hec sancta Eugenia et ducissa Beatrix' ('Blessed be St Eugenia and Duchess Beatrix') in another. The reference must be to the Pfalzgraf Johann III of Neumarkt in the Upper Palatinate and his second wife, Beatrix. Pfalzgraf Johann was largely responsible for a major victory over the Hussites at Hiltersried in September 1433. Although he did not take part in the battle himself, he raced immediately afterwards to Regensburg, where a summit meeting was taking place to settle differences between various members of the Wittelsbach family, in order to report the victory. A grand celebration followed in Regensburg Cathedral, and the news would soon have reached the Council of Basel. Whether the version of the piece recorded here would have been sung first in Regensburg or in Basel is unclear.

Organ arrangement: Mille bon Jores (16)
Du Fay's song Mille bon iours appears in St Emmeram with the Latin text 'Imperatrix celestis milicie', and in Buxheim in this organ arrangement.

Tota pulchra es by Arnold de Lantins (17)

Like most music from the second quarter of the fifteenth century, this great setting from the Song of Songs was originally written in three parts; but at some stage a fourth part was added, though not necessarily by the same composer. The work would have been sung in honour of the Virgin Mary.

Organ arrangements: Sequitur adhuc semel Dulongesux (18) and Aliud Esclaphe (19)
Du Fay's Deuil angoisseux and Binchois's Esclave peut il have no texts in St Emmeram apart from their French titles; both were arranged in Buxheim – the Du Fay song twice.

English music

English works were highly praised, frequently copied out and much emulated on the continent. The cult of the Virgin Mary was particularly strong in England, and, like the piece by Lantins, both of the works presented here were composed for that purpose. Dunstaple's beautiful and harmonious Quam pulchra es (20) is one of his best known works, and is followed by Leonel Power's exquisitely crafted Anima mea liquefacta (21).

Organ arrangement: Portigaler (22)
Du Fay's ballade Or me veult appears in St Emmeram both with the Latin text 'Ave tota casta virgo' and the unexplained title 'Portigaler', which is how it is also identified in Buxheim.

Works from Eastern Europe

Musical and liturgical traditions were markedly different in Bohemia. En naturarum dominus (23) is a simple two-part Bohemian cantio, or sacred song, a setting of a text which seems to have been specially written for the liturgy rather than taken from it. The melody for the Credo which follows (24) – the only example of monophonic music presented here – is another Eastern European speciality, and differs from plainsong in that it is highly rhythmicized. Alle dei filius (25) is by a composer called Johannes Waring, who may have come from Bratislava, and have taught at Leipzig University in the 1450s, when Pötzlinger was there. The anonymous Sanctus setting presented here (26) takes as its tenor a plainsong Sanctus that is otherwise known only from a single manuscript (in Prague). Unusually, the plainsong is harmonised, as two parts are added over the top of it, but there is no attempt to impose a rhythm – the three voices move together, note for note. The composer of the canon or 'rota' ('wheel') Presulem euphebeatum (27), Petrus Wilhelmi of Graudenz, wrote a couple of dozen works found mostly in Bohemian sources. Presulem was written in honour of St Martin, on whose feast it was traditional to kill the fatted goose. Although the text is in Latin, some of it sounds as if it is in German, and seems to refer to the traditional goose dinner: 'dire negans' ('refusing' in Latin) might, for example, be heard as 'dir eine Gans', or 'a goose for you', 'isti enti' as 'iss die Ente' ('eat the duck'), 'mitem mos te, mitem pro te' as 'mit dem Moste, mit dem Brote' ('with apple sauce, with bread'), and so on. Perhaps this musical 'joke' helps account for what was – to judge from the number of manuscripts in which the work has been preserved – its enormous popularity at the time.


Ian Rumbold



Stimmwerck was founded in Munich in 2001 by a quartet of specialist ensemble singers: the two tenors, Gerhard Hölzle and Klaus Wenk, and the bass, Marcus Schmidl, are complemented by the distinctive countertenor sound of Franz Vitzthum. Their focus is on the inexhaustible resources of Renaissance vocal music, and their work depends upon close collaboration with musicologists and intensive work in archives. Regular recordings (with Aeolus and Cavalli Records) are an important feature of Stimmwerck's artistic activity, and they have a particular interest in rediscovering the neglected composers of the German-speaking world. Their first CD was of the Bamberg composer Heinrich Finck (1445–1527) and won the top rating of five stars from the highly respected Goldberg Magazine. The second was devoted to the works of Adam von Fulda (1444–1505). Their third, recorded with Aeolus in April 2007, was an SACD in collaboration with the instrumental ensemble La Villanella (Basel): entitled Susanne un jour, it contains works by Orlando di Lasso (1532–94). The present recording of music from the St Emmeram Codex is their fourth release. Stimmwerck have a busy schedule of concerts both at home in Germany and abroad. The name itself comes from the German expression for a matched consort of instruments, as used for example in Michael Praetorius's Syntagma musicum. The ensemble holds annual festivals ('Stimmwercktage') at the Adlersberg near Regensburg, at which they aim to use modern technology (laptops, projections, etc.) alongside performance to enhance the exploration of the work of a selected Renaissance composer.

Léon Berben was born in 1970 in Heerlen (the Netherlands), but has been living for several years in Cologne (Germany). He studied harpsichord and organ in The Hague (Koninklijk Conservatorium) and Amsterdam (Sweelinck Conservatorium) with Rienk Jiskoot, Bob van Asperen, Ton Koopman and Gustav Leonhardt, and finished his studies with solo diplomas for both instruments. Since March 2000 he has been the harpsichordist with Musica Antiqua Köln (Reinhard Goebel). As such he has given concerts all over the world, travelling throughout Europe, Asia and North and South America, and has recorded several CDs for Deutsche Grammophon / Archiv Produktion. Musica Antiqua Köln dissolved at the end of November 2006, and Léon Berben has since focused his work on chamber music and, increasingly, on the solo repertoire. He gives solo recitals on harpsichord and organ. His solo CDs on historic organs and harpsichords – above all with the labels Aeolus and Ramée – have been highly acclaimed in the press, and have received numerous awards, including the
'Vierteljahrespreis der deutschen Schallplattenkritik', 'Choc' of Le Monde de la Musique and 'Diapason d'Or'. His repertoire stretches from around 1550 to 1750, with his main interest focussing on German music, the Virginalists and Sweelinck.

The organ of St Andrew's Church in Ostönnen, Germany, is, along with the instruments in Sion, Kiedrich and Rysum, one ofthe oldest organs in the world that are still in playable condition. The instrument was originally built for the Church of Old St Thomas in nearby Soest. The wood of which the windpipes are constructed suggests a date between 1425 and 1431, and 326 of the pipes seem to have been made before 1500. The first datable repairs were carried out in 1586 by one Meister Bartholdus, who also installed two new stops. Johann Patroclus Möller was responsible for moving the organ to Ostönnen in 1721–2. Bernhard Dreymann added the 2' superoctave in 1820. In 1888 the traction was reconditioned, and in 1892 the keyboards were renewed. An overhaul was carried out by Paul Ott in 1963, when the organ, apparently mounted over the altar since 1874, was removed to the west wall. Once the value of the instrument had been recognized, the organ builder Rowan West in Altenahr carried out a comprehensive restoration between 2000 and 2003.
For the specification please refer to page 16.


Specification

Manual CD-c3
Praestant 8'
Gedackt 8'
Octav 4'
Quinta 3'
Superoctav 2'
Sexquialtera II (1 3/5' + 1')
Mixtur IV
Trompete 8'

Pedal CD-g with coupler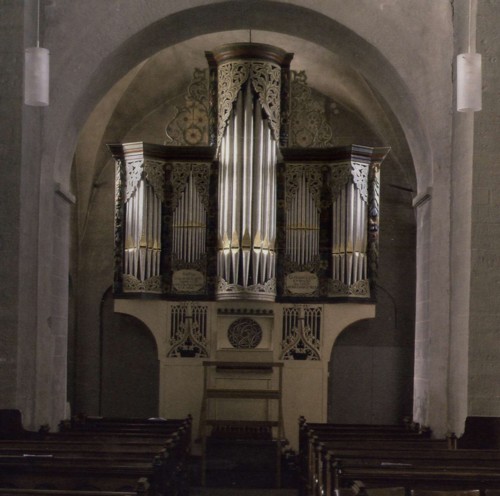 A facsimile of the St Emmeram Codex (Munich, Bayerische Staatsbibliothek, Clm 14274), with a commentary by Ian Rumbold and Peter Wright, has been published by Reichert-Verlag, Wiesbaden: Der Mensuralcodex St. Emmeram: Faksimile der Handschrift Clm 14274 der Bayerischen Staatsbibliothek München, Kommentar und Inventar von Ian Rumbold unter Mitarbeit von Peter Wright, herausgegeben von der Bayerischen Staatsbibliothek und Lorenz Welker, 2 vols. (Wiesbaden: Reichert Verlag, 2006). This publication was financed by the Oberfrankenstiftung. Ian Rumbold and Peter Wright are currently preparing a study of Pötzlinger and the St Emmeram Codex, to be published in 2009 by Boydell & Brewer (Woodbridge, UK).