John DOWLAND.

Selected Works
Studio der frühen Musik
CD:

I saw my lady weep

|

dowland

· songs & lachrimae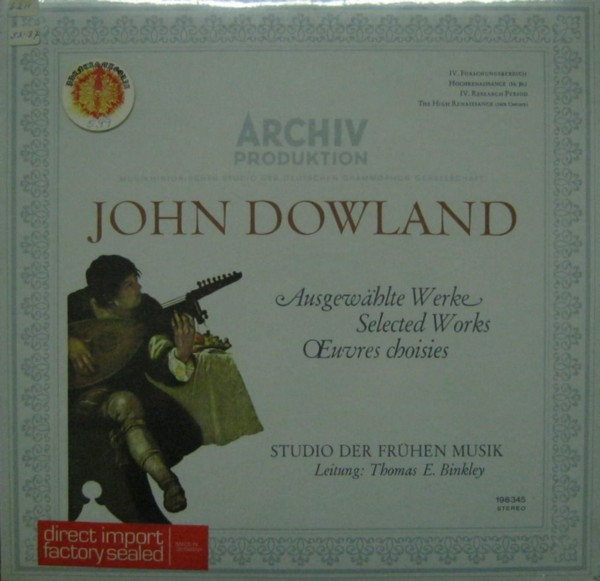 medieval.org
Archiv Produktion SAPM 198 345 (LP, stereo | 1966)
DG Archiv "Blue" 471 721-2 (CD | 2002)]







[A]

1. I saw my lady weep [5:34]
The Second Booke of Songes or Ayres, 1600, No. 1
tenor, lute

2. Go, nightly cares [5:47]
A Pilgrimes Solace, 1612, No. 9
mezzo-soprano, 2 gambas, lute

3. Can she excuse [3:16]
The First Booke of Songes or Ayres, 1597, No. 5
counter-tenor, lute

4. Lacrimae Verae [4:01]
Lacrimae or Seven Teares, 1604, No. 7
5 gambas, lute

5. Tell me, true Love [7:13]
A Pilgrimes Solace, 1612, No. 8
solo counter-tenor, vocal quartet, lute

6. Shall I sue [3:26]
The Second Booke of Songes or Ayres, 1600, No. 19
tenor, lute



[B]

1. Sorrow, stay [3:17]
The Second Booke of Songes or Ayres, 1600, No. 3
tenor, lute

2. Come, ye heavy states of night [2:49]
The Second Booke of Songes or Ayres, 1600, No. 14
mezzo-soprano, lute

3. In darkness let me dwell [3:18]
A Musicall Banquet, 1610, No. 10
counter-tenor, lute

4. Lachrimae Antiquae Novae [4:00]
Lacrimae or Seven Teares, 1604, No. 2
5 gambas

5. Thou mighty God [9:11]
A Pilgrimes Solace, 1612, No. 14-16
mezzo-soprano, counter-tenor, tenor, bass

6. Me, me, and none but me [2:41]
The Third and Last Booke of Songes or Ayres, 1603, No. 5
tenor, lute






Studio der Frühen Musik
Thomas Binkley

soloists:
Andrea von Ramm, mezzo-soprano
Grayston Burgett, counter-tenor
Nigel Rogers, tenor
Karl-Heinz Klein, bass

instrumental soloists:
Sterling Scott Jones, discant gamba | Günter Hellwig, Lübeck 1938
Laurentius Strehl, alto gamba | Friedemann Hellwig, Lübeck 1963
Kurt Haselhorst, alto-tenor gamba | P. Demouchi, Lyon 1633
Hans-Peter Winkel, tenor-bass gamba | Otto Wolf, Erlangen 1963
Johannes Fink, tenor-bass gamba | Otto Wolf, Erlangen 1961
Thomas E. Binkley, lute | Thomas Goff, London 1963



Recorded at München, Musikhochschule, Grosser Saal, 8-8/1964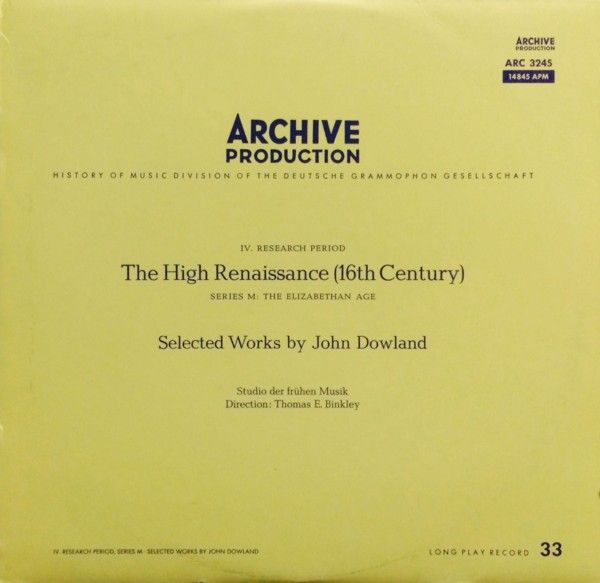 Archiv Produktion ARC 3245 (USA)




ARCHIVE PRODUCTION
HISTORY OF MUSIC DIVISION OF THE DEUTSCHE GRAMMOPHON GESELLSCHAFT

IV. RESEARCH PERIOD
THE HIGH RENAISSANCE (16th Century)
SERIES M: THE ELIZABETHAN AGE




Selected Works by John Dowland


Nothing is known of Dowland's parentage or early life. The theory of his Irish origin, first put forward by Dr. Grattan Flood in The Gentleman's Magazines in 1906, has no satisfactory documentation. In 1580 he went to Paris in the service of Sir Henry Cobham, Ambassador to the French Court. His return to England probably took place in 1584, and in 1588 he was admitted Mus. Bac. from Christ Church, Oxford.

About 1594 Dowland "became an humble suitor" for the place of one of Elizabeth I's musicians, but was not accepted, for as he says "my religion was my hindrance; whereupon my mind being troubled, I desired to get beyond the seas". Then the Duke of Brunswick invited him to Germany, while the Earl of Essex and Sir Robert Cecil obtained the necessary travel documents for him. Dowland described this trip himself:

"When I came to the Duke of Brunswick he used me kindly and gave me a rich chain of gold, £ 23 in money, with velvet and satin and gold lace to make me apparell, with promise that if I would serve him he would give me as much as any prince in the world. From thence I went to the Lantgrave of Hessen, who gave me the greatest welcome that might be for one of my quality, who sent a ring into England to my wife, valued at £ 20 sterling, and gave me a great standing cup with a cover gilt, full of dollars, with many great offers for my service. From thence I had great desire to see Italy and came to Venice and from thence to Florence, where I played before the Duke [Ferdinand I, Grand Duke of Tuscany] and got great favours".


After an attempt by exiled catholics in that city to involve him in plots against the life of Queen Elizabeth I, he hurriedly left Italy and made his way back to Kassel, where he entered the employment of the Landgrave. In the early months of 1597 he returned home at the urgent summons of his friend and one-time master, Henry Noel, a courtier who stood high in the Queen's affections. The Queen has been heard to ask for Dowland, and he came home in the full expectation of a Court appointment. Noel's untimely death however, left him without patronage, and he again failed to secure the greatly desired post. The Lamentatio Henrici Noel was written for his friend's funeral in Westminster Abbey in February, 1597. On the last day of October of the same year The First Booke of Songes was entered to Peter Short in the Stationers Register, and soon after, the printing was carried out. On the title-page Dowland is now styled "Barcheler of musicke in both the Universities". The success of this publication, the first of its kind in England, led to further editions in 1600, 1603, 1606, probably one in 1608, and another in 1613. In 1598 he accepted an appointment as lutenist to Christian IV of Denmark. In 1600 the manuscript of The Second Booke of Songes was sent home to Mrs Dowland, "From Helsingnoure in Denmarke", and she entered into an agreement with George Eastland who acted as publisher. The book was registered at Stationer's Hall on July 15th. During the years 1603 and 1604 Dowland spent some considerable time in England and arranged for the printing of The Third and Last Booke of Songs (1603) and Lachrimae or Seaven Teares (1604). On his return to Denmark his conduct was unsatisfactory, and he appears to have been involved in financial difficulties, in spite of the very generous salary of 500 dater a year paid by the King. On February 24th, 1606 he was dismissed. Back in London he found other composers already well established in the favour of James I and the Queen, with, apparently, no place for his own music at Court, although he still stood as high as ever in the esteem of the music-loving public. In 1610 he collaborated with his son, Robert, in the production of Varietie of Lute Lessons and A Musicall Banquet. Sometime after the printing of his translation of the "Micrologus" of Ornithoparcus in 1609, and before the appearance of A Pilgrimes Solace in 1612, he entered the employment of Theophilus Howard, Lord Walden, a close friend of Prince Henry, and one of the most prominent courtiers of his day. On October 28th of this same year, 1612, his ambition was at length fulfilled and Dowland became one of the Lutenists to James I. By this time, however, his main creative force seems to have been spent. From 1623 onwards he is styled Dr. Dowland, but no record of where he proceeded to his doctorate has, up till now, been discovered. His appointment at Court terminated on January 21st or 22nd, 1626, perhaps on account of ill-health, for he died within a month. The entry of his burial appears in the Register of St. Anne, Blackfriars, under the date February 20th, 1626: "John Dowland Doctor of Musick".

During his lifetime Dowland enjoyed unprecedented fame as a composer of both instrumental and vocal music, while his skill as a performer placed him among the leading lutenists of Europe. Judging by the number of entries in manuscript sources, his music, especially the songs, continued to find favour considerably later into the seventeenth century than has hitherto been generally supposed.


Diana Poulton