Minnesang und Spruchdichtung um 1200-1320
Studio der frühen Musik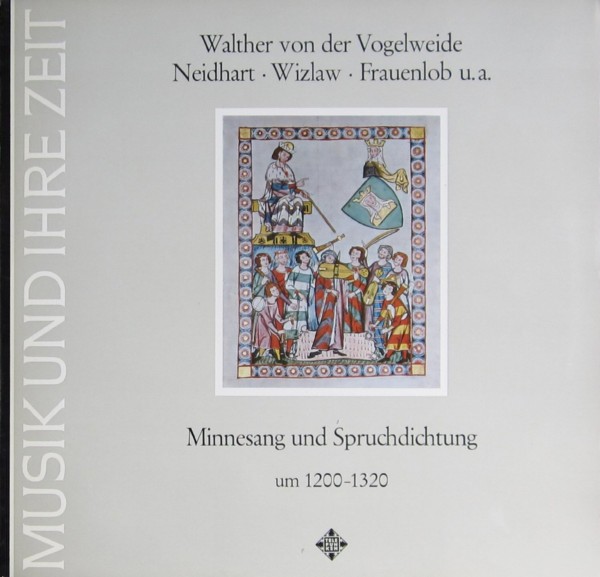 medieval.org
Telefunken "Das Alte Werk" SAWT 9487-A (LP )
1966







[Seite 1]


Walther von der VOGELWEIDE (ca. 1170-1230)

1. Mir hât hêr Gêrhart Atze ein pfert erschozzen zisenache [3:59]
Baß, Flöte, Schalmei, Harfe, Rebec, Schlaginstrumente
· Melodie: Stadtbibliothek Breslau, ms. 356 "Puschmanns Singebuch", Hg. G. Münzer 1906, S. 43 Nr. 57
· Text: Die Lieder Walthers von der Vogelweide, Hg. F. Maurer, I, 1960, Nr. II, 4 (= 103, 13 ff)

2. Unter der linden an der heide [3:24]
Mezzosopran, Psalterium
· Melodie: Paris, Bibl. de l'Arsenal 5198, Hg. P. Aubry, 1909 pag. 366 (= B. Kippenberg, Der Rhythmus im Minnesang. 1967, S. 28 f)
· Text: Die Lieder Walthers von der Vogelweide, Hg. F. Maurer, II (1962), Nr. 68 (= 39, 11 ff)

3. Nu alrest lebe ich mir werde (Palästinalied) [4:49]
Baß, Flöte, Schalmei, Harfe, Laute, Rebec, Schlaginstrumente
· Melodie: Staatsarchiv Münster, ms. VII, 51 (= Jaufre Rudel, Lanquan li jorn son lonc em may, vor 1147)
· Text: Die Lieder Walthers von der Vogelweide, Hg. F. Maurer I (1960), Nr. 2 (= 14, 38 ff)


Neidhart von REUENTAL (ca. 1190-1240)

4. Meie, dîn liehter schîn [3:57]
Tenor, Laute
· Melodie: "Sterzinger Miscellaneen-Handschrift" (= W. Schmieder, Die Lieder Neidharts DTÖ XXXVII, 11 Bd. 71, Faks. S. 24, Übertr. S. 41, S. 6)
· Text: Die Lieder Neidharts, Hg. E. Wießner - H. Fischer, 1963, Anhang II (= XI ff)

5. Blozen wir den anger ligen sâhen [4:21]
Mezzosopran, Zitôle (Cister), Rebec
· Melodie: Deutsche Staatsbibliothek Berlin. Ms. germ. fol. 779 (= W. Schmieder, Dic Lieder Neidharts, Faks. S. 7 f, Übertr. S. 33, c 28)
· Text: Die Lieder Neidharts, Hg. E. Wießner - H. Fischer, 1963, 26, 23 ff

6. Fürste Friderîch (Owê dirre nôt) [1:24]
Tenor, Flöte, Schalmei, Rebec
· Melodie: Deutsche Staatsbibliothek Berlin, Ms. germ. fol. 779 (= W. Schmieder, Die Lieder Neidharts, Faks. S. 14, Übertr. S. 36, c 93)
· Text: Die Lieder Neidharts, Hg. E. Wießner - H. Fischer, 1963, 101, 6 ff

7. Meienzît [4:50] (Pseudo-NEIDHART)
Tenor, Harfe
· Melodie und Text: Deutsche Staatsbibliothek Berlin, Ms. germ. fol. 779 (= W. Schmieder, Die Lieder Neidharts, Faks. S. 6, Übertr. S. 32, c 17 =
E. Rohloff, Neidharts Sangweisen, 1962, Nr. 9)



[Seite 2]

anonymous (um 1300)
8. Chançonetta Tedescha I [1:52]
Flöte, Schalmei, Harfe, Laute, Rebec, Schlaginstrumente
· Melodie: Aus einer norditalienischen Handschrift, London, Brit. Mus., Add. 29987

Reinmar von BRENNENBERG († vor 1276)
9. Wol mich des tages do mir alrest ist worden kunt [6:49]
Tenor, Flöte, Laute
· Melodie: Munchen, Bayer. Staatsbibliothek, cgm. 4997 "Colmarer Liederhandschrift", Hg. P. Runge, 1896 S. 158, Nr. 101
· Text: Deutsche Liederdichter des 13. Jahrhunderts, Hg. C. v. Kraus, 1952,
Nr. 44, IV, Str. 4, 7, 13

anonymous (um 1300)
10. Chançonetta Tedescha II [1:16]
Flöte, Schalmei, Harfe, Laute, Rebec, Schlaginstrumente
· Melodie: Aus einer norditalienischen Handschrift, London, Brit. Mus., Add. 29987

Der UNVERZAGTE (um 1280)
11. Der kuninc Rodolp [5:31]
Baß, Schalmei, Rebec
· Melodie: Universitätsbibliothek Jena, "Jenaer Liederhandschrift", Hg. G. Holz, F. Saran u. E. Bernoulli, 1901, Nr. XV S. 70, Übertr. II, S. 26
· Text: Fr. H. v. d. Hagen, "Minnesinger", Leipzig, 1838-1861, III, Nr. 14, S. 45 f

Heinrich von MEISSEN (FRAUENLOB) († 1318)
12. Ez waent ein narrenwise [4:28]
Baß, Flöte, Schalmei, Harfe, Fidel
· Melodie: Universitätsbibliothek Jena, "Jenaer Liederhandschrift", Hg. G. Holz, F. Saran u. E. Bernoulli, 1901, Nr. XXVII, Übertr. II, S. 67
· Text: Frauenlob, Hg. L. Ettmüller, 1843, Nr. 316, 318, 319, S. 181 ff

WIZLÂW (um 1300)
13. Ich warne dich, vil junger man, gezarte [1:32]
Mezzosopran
· Melodie: Universitätsbibliothek Jena, "Jenaer Liederhandschrift", Hg. G. Holz, F. Saran u. E. Bernoulli, 1901, Nr. XXIV, Übertr. H, S. 47
· Text: Hg. L. Ettmüller, 1852, Nr. 22, S. 35

14. Loibere risen [2:58]
Tenor, Fidel, Psalterium
· Melodie: Universitätsbibliothek Jena, "Jenaer Liederhandschrift", Hg. G. Holz, F. Saran u. E. Bernoulli, 1901, Nr. XXIV, Übertr. S. 51
· Text: Hg. L. Ettmüller, 1852, Nr. 44-45, S. 50 f







Studio der Frühen Musik
Thomas Binkley


Andrea von Ramm, Mezzosopran
Willard Cobb, Tenor
Sterling Jones, Rebec, Fidel
Thomas Binkley, Laute, Zitôle, Psalterium

Weitere Mitwirkende:
Max von Egmond, Baß
Leonore Wehrung, Flöte
Caroline Butcher, Schalmei
Helga Storck , Harfe
Horst Huber, Schlaginstrumente





Recording: Burghausen Castle on the Inn, 5.1966


Übertragung un Bearbeitung; Thomas Binkley
Revision der Texte and Übersetrungen: Burghart Wachinger

Titelseite: Heinrich Frauenlob aus der Manessischen Handschrift, Universitätsbibliothek, Heidelberg


Ausgaben:
Textausgaben
— Fr. H. v. d. Hagen, Minnesinger, 5 Bde., Leipzig 1838-61
— K. Lachmann, Des Minnesangs Frühling, (30. Aufl. v. C. v. Kraus, Leipzig 1950 u. öfters)
— C. v. Kraus, Deutsche Liederdichter des 13. Jahrhunderts, 2 Bde., Tübingen 1952-58
— Walther v. der Vogelweide, Hg. K. Lachmann, bearb. v. H. Kuhn, Berlin 1965
— Derselbe, Hg. Fr. Maurer, (Altdeutsche Textbibliothek 43 u. 47), Tübingen 1955-56
— Neidhart v. Reuental, Hg. E. Wießner, (Altdeutsche Textbibl. 44), 1955
— Frauenlob, Hg. L. Ettmüller, Quedlinburg und Leipzig 1843

Ausgaben von Liederhandschriften:
— Die Jenaer Liederhandschrift, Hg. G. Holz, F. Saran u. E. Bernoulli, 2 Bde., Leipzig 1901 (Nachdruck Hildesheim 1966)
— Die Sangesweisen der Colmarer Liederhandschrift u. der Donaueschinger Liederhandschrift, Hg. P. Runge, Leipzig 1896 (Nachdruck Hildesheim 1966)
— Die Lieder Neidharts, Hg. W. Schmieder, (Denkmäler der Tonkunst in Österreich XXXVII, 1, Bd. 71), Wien 1930
— Neidharts Sangweisen, Hg. E. Rohloff, 2 Bde. (= Abh. d. Ak. d. Wiss. zu Leipzig, Phil. hist. Klasse. Bd. 52, H. 3-4), Berlin 1962

Auswahlsammlungen von Singweisen:
— Fr. Gennrich, Troubadours, Trouvères, Minne- und Meistersang, (Das Musikwerk II), Köln 1951
— U. Aarburg, Singweisen zur Liebeslyrik der deutschen Frühe (= Ergänzungsheft zu H. Brinkmann, Liebeslyrik der dt. Frühe), 2. Aufl., Düsseldorf 1956
— E. Jammers, Ausgewählte Melodien des Minnesangs (= Altdt. Textbibl., Ergänzungsreihe I), Tübingen 1963
— R. J. Taylor, Die Melodien der weltlichen Lieder des Mittelalters, 2 Bde. (= Slg. Metzler 34-35), Stuttgart 1964




Lukas Richter. Minnesang und Spruchdichtung

(Eterna 8 26 133)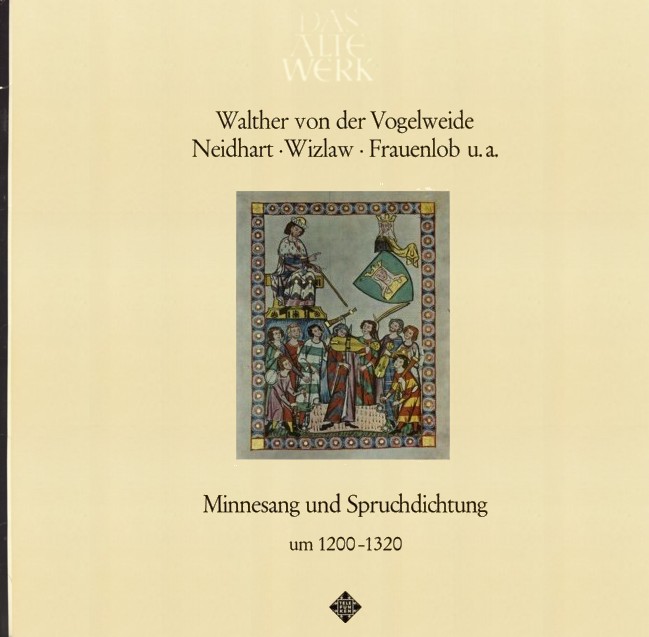 This is the first time that a recording devoted entirely to German Minnesang and Spruchdichtung has been produced.


The Sources

The sources of German Minnesang are of three kinds: (a) containing texts, (b) containing German melodies, (c) containing melodies related to the German ones, but having texts in another language. The most important text manuscripts, such a the Manessische and Wingartner songbooks contain no music whatsoever. The earliest musical source is the famed manuscript Carmina Burana (Munich, Bayerische Staastsbibliothek Clm 4660), which contains just a few stems of Minnesang among the many Latin songs and poems (cf. "Musik and ihre Zeit", Carmina Burana, SAWT 9455-A). About a dozen manuscripts fall between this and the Meistersinger sources of the fifteenth and sixteenth centuries, which contain more corrupt, some false Minnesang melodies. Certainly the most important musical source is the Jena song-book which was copied in the mid-14th century, and contains exclusively German Minnesang. The final group of sources of French Troubadour and Trouveres music, particularly the Chansonnier de l'arsenal (Paris, Bibl. de l'arsenal 5198).


The Transcription of the Melodies

The sources, spread over three centuries, were written in more or less decipherable notations ranging from staffless neuma (Carmina Burana), square notation (Jena) to mensural notation (Mondsee-Wiener song-book). For the central sources, e. g. the Neidhart MS or the Jena song-book, the transcription problem is focused on the question of rhythm. Scholars are not in complete agreement about the rhythmic interpretation of the notation, thre being four main theories, each supported by reasonable arguments: 1. Completely free rhythm, rather like chant, 2. Modal rhythm, 3. Word rhythm bound to strict regular meter, 4. Word rhythm bound to a metrical framework, but with considerable freedom permitted the executant.

We find no evidence that a rigid and consistent rhythmic interpretation ever existed within the bounds of this repertory. For we are dealing with what Eustache Deschamps calles "musique naturelle", music having no rules that might be learned, and something differing from "musique artificielle" which did have rules of composition. Almost all of the musical sources were compiled after the songs had been at the mercy of oral tradition for quite some time, a fact born out in the variants in the musical texts of different sources. A song, after having been composed and performed, enjoyed its own subsequent life, passing from performer to performer, from country to country. Ulrich von Lichtenstein wrote that his lady sent him "ein wîs diu unbekannt ist in tiutschen landen gar, dâ sult ir ir tiutsch singen in".

There is no such thing as a correct version of one of these songs exclusive of other correct versions. with the exception of the melismatic song of Wizlaw, "Ich warne dich", all the songs here are more or less metrical. The choice between duple and triple meter is not always obvious, and in one case, "Meien zît" we have applied the principle of "guet underschiedlich tact und mensura". The transcription of "Unter der linden" from the anonymous French contrafactum "En mai au douz tens nouvel" (suggested by Kippenberg) required only slight modification to fit the German text.


The Accompaniments

there is convincing evidence to show that these songs were often -but not always- accompanied. Pictures such as the cover illustration indicate the affinity of the instrumentalist and poet. Ulrich von Lichtenstein reports: "Nâch disen liedern sang ich dô einen leich mit noten gar, ir ralt gelauben mir für wâr, das iche des leiches tœsanc gar niu, manic fidelær mir danc ragt, das ich die not sô hô machet" (V. 1373), or "Vil fidelære dâ bî uns riten der vinger grôz unmuozze liten: ir seiten wâren gezogen hô, ir süeze dœn uns tâten frô" (V. 1455 biede Zitate aus Frauendienst).

The singers themselves were sometimes valued instrumentalists: "sô suoze mit dem munde, daz niemand wizzen kunde wederez suezer waere oder baz lobebaere, sîn harphen oder sîn singen" (Tristan V. 3267).

The next question arises, what did the instrumentalists play as accompaniments? Modern scholars tend to feel that the rôle of the accompaniment was insignificant, being more than an attention getting device (prelude) and a means of giving the singer a breather between strophes (interlude). But there is reason to believe it was more than that. A virtuoso instrumentalist would not be satisfied simply to play a drone, nor would the poet-employer be likely to pay good money for inconsequential services.

The instrumentalist might not have felt the need to become expert if the work were simple. But the instrumentalists were expected to be able to perform in different styles as well as to know all the forms. Isolde, for example, "videlte ir stampenie, leiche und sôfremdiu notelin diu niemer femder kunden sîn, in franzoiser wîse", whereas Tristan had played his vielle "in welhisher wîse" (Tristan V. 8062). Count Adân praised the six vielle players who impresed him with their "kunstelielichen griffen". They palyed with great precision, so that "deheiner dem andern nie einem übersach" (Wirnt von Gravenbere, Wigaloise, B. 7425, 8479).

This competent instrumentalists, aware of different styles, improvised accompaniments to the songs. The accompaniment participated in the song by underscoring its textual content and identifying the style. Walther's Palästinalied is accompanied here in the southern, Arabic style, while the accompaniments to his "Unter der Linde" is northern.


The Instruments

Questions concerning medieval instruments arise with reference to two elements: the structure of the instruments and its sound. Well over two dozens names of instruments are known to us from literary sources of this period, and scholars are trying to match them up with representations in paintings, miniatures and sculptures.

It is axiomatic that in the Middle Ages there were no completely standard forms of any instruments, although there were basic types of instruments having similar physical and acoustical characteristics. The variations within each group were immense.

Bowed string instruments included the vielle, the rebec and the bowed rota (crwth); plucked instruments included the lute, harp, psaltery, plucked rota and citole; the winds were variations of the flutes, shawms (double reeds), trumpets and bagpipes. the capsule instruments such as crumhorn and rauschpfeife see to be later developments.

Since practically none of these instruments have survived it is necessary to reconstruct them, and thus the question arises, how we can tell whether the sound of a reconstructed instrument is correct? Fortunately we have a great deal of written material from the period to aid us in coming with reasonable bounds of accuracy. The physical characteristics of some instruments indicate the desired direction of timbre and volume. Plucked instruments with tiny sound boards and gut strings have small resonance; instruments with metal strings have great resonance; double and triple stringing increases resonance; bridge placement significantly affect timbre, etcetera. Thus the harp, with single gut strings and a tiny sound board had minimum resonance (and thus the best pitch definition), the lute with double gut strings and larger sound board had greater resonance (and less good pitch definition), the large psaltery with triple gut strings and very large sound board had great resonance (and a wide pitch band), while the citole with pairs of metal strings had the greatest resonance (and the widest pitch fluctuation). Following this procedure to infinitely more detail, and coupling it with observations about the grouping of instruments, and finally comparing this with the material written about the instruments at the time yields a reasonably accurate pictures of the instrument and its sound. The question of sound must also be raised in connection with the voice: how did singers then sing? We have extensive information regarding singing styles and sound preferences. For example, Conrad of Zabern in the fifteenth century writes " ... dye hochsten note zu singen sein mit subtiler stym vnd nicht mitt vollem austrugck, vnd vor allen dengen, das man yn der pause die langen czegel vermeid vnd das man auch nicht pauß mach, do sie niche sein suellen. Hyer wider sundigen unzellige singer vnd singerin, die an tawsent enden pause machen, do keine sein sollenn, ettliche gar nach iglichen wortt". He speaks of male and female singers, he insists upon long phrases and he warns against high notes too loudly. He also warns singers not go put H's in the middle of words where there is a melisma. Fully five centuries earlier, Ekkehardt V said that although the Germans were able to learn beautiful melodies, they ruin them with their natural wildness and poor voices. The Germans, he said, were not able to sing in the melismatic style of the Romance countries. The ideal German voice was round, natural and manly, never reaching a full forte. The St. Gall Instituta of ca. 1000 stresses good sound and tone quality, with expression not dependent upon dramatic outburst but rather on inner intensity ("sine strepitu vocis, cum affectu sine defectu pari voci"). The singer is warned specifically to avoid singing through his nose or employing any unnatural voice. Nasality in singing was never praised, and on the contrary, the words employed to describe the voices of Tristan and Isolde were "sweet" and "soft".


Thomas Binkley