Peter Abélard

/ Studio der frühen Musik


Planctus David · Planctus Jephta · O quanta qualia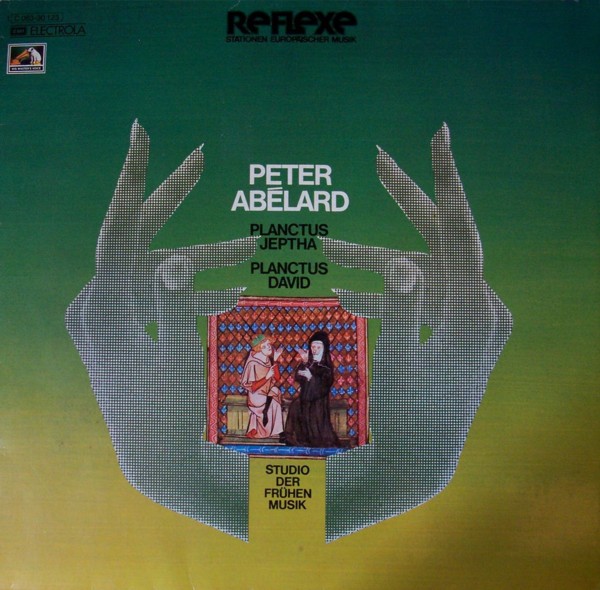 medieval.org
LP 1974: EMI Reflexe 1C 063-30123
CD 2000: EMI Classics 8 26492 2









Seite 1
Aufgenommen: 1.-3.V.1973, München, Bürgerbräu

1. Planctus David [22:31]
Andrea von Ramm, mezzosoprano, organetto
Richard Levitt, alto, percussions
Sterling Jones, lyra, rebec
Thomas Binkley, lute


Seite 2
Aufgenommen: 14.-17.VI.1974, Berlin, Studio Zehlendorf

2. Planctus Jephta [15:24]
Andrea von Ramm, mezzosoprano
Sally Smith, Barbara Thornton, Pilar Figueras, Montserrat Savall (CD: Figueras) – singers
Sterling Jones, lyra
Thomas Binkley, flute
Richard Levitt, tabor

Hymnus
3. O quanta qualia [7:48]
Andrea von Ramm, mezzosoprano
Richard Levitt, alto
Sterling Jones, chitarra saracenica
Thomas Binkley, lute





CD:

Produzent: Gerd Berg
Tonmeister: Johann-Nikolaus Matthes

Titelbild: Héloise und Abélard, Miniatur aus
Le Roman de la Rose von Jean de Meung (15. Jhdt.-);
Château de Conde, Chantilly
Cover-Design: Patelli
Litho: Repro Schmitz KG, Cologne

Ⓟ 1974 EMI Electrola GmbH
Digital reamastering Ⓟ 2000 by EMI Electrola GmbH
© 2000 by EMI Electrola GmbH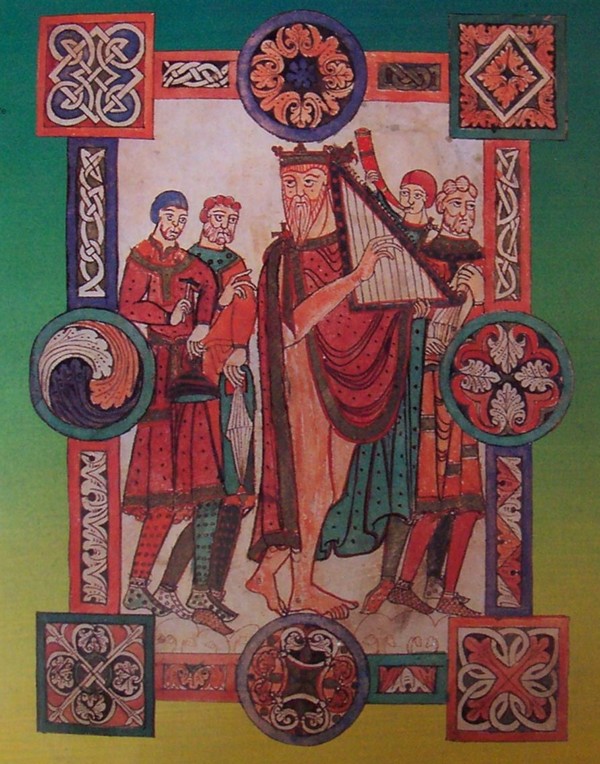 THE MUSIC OF PETER ABELARD

Peter Abelard (1079-1142) was born in Pallet near Nantes, the first son of a noble family. Going against tradition as he did all of his life, Abelard looked for a career of the mind rather than to continue his family traditions. He studied dialectic and describes himself as a pupil of Roscellinus, canon of Compiègne (died after 1120), master of Nominalism. When but twenty he went to Paris where he visited the lectures of William of Champeaux, the disciple of St. Anselm, who related faith and reason in an attempt to establish proof of God'd existence. There was real conflict! Boethius' Universals were at the bottom of it: for Anselm, the rational and the real were one, white for Roscellinus only the individual entities were real - the persons of the Trinity were real, the idea of Trinity unreal. Abelard crystallized a new aid moderate position after defeating his teacher William who had to admit that his theory of essences was not tenable. Abelard viewed Universals as real things but only in the object, and neither before nor after it. (Unknown to Abelard, this same discussion had been resolved in a similar manner by Arab philosophers in the previous century). About 1115 he was given the chair at Notre Dame. He got into difficulty when he applied his doctrine to the Trinity, but this difficulty was less crucial in his life than another, more violent one

Abelard, young, personable, brilliant and famous teacher in Paris, became attracted to the niece of the canon Fulbert, and this young woman was herself of good house, attractive and unusually quick of mind. Abelard became resident in the house of Fulbert and teacher to his niece Héloise. The love between the pair is a story often told - how Héloise became pregnant, how Fulbert discovered the relationship, how Héloise went to Brittany where she gave birth to a son, how Abelard married her under a promise of secrecy (to protect his career), and how Fulbert broke the secrecy. Héloise's womanly devotion led her to deny that she was married to Abelard and with Abelard's help went to her childhood convent of Argenteuil. Fulbert, humiliated by Héloise's bold and drastic actions, and firmly believing that Abelard was throwing her off, organized his revenge. By dark of night Fulbert's two envoys broke into Abelard's room and castrated him. Abelard then experienced years of abject misery. He could no longer become a priest nor hold canonic office. He went to the Abbey of St Denis but found no peace there. He returned to teaching, but was charged with the heresy of Sabellius because of his rational approach to the Doctrine of the Trinity.


His teaching temporarily at an end, he was shut up in a monastery. He was unpersonable, disliked, and soon forced to leave because of his talent for find, objectionable and sensitive questions for debate. He tried to become a hermit, but his solace was broken by the arrival of large numbers of students who replaced his hut with a building which since then has born the name Paraclete. Abelard left the Paraclete to assume the directorship of an abbey in the North, of St Gildas de Rhys. There he struggled for ten years with an unruly house which defied reform and very nearly saw Abelard killed. Héloise, who had taken orders at Agenteuil was in search of a new place when she and her nuns were evicted. Abelard was able to have her installed in the Paraclete which had been empty since he moved away. Faced with the threat of violence at St Gildas, Abelard left. Soon after he produced his Historia Calamitatum, a sort of autobiography. A copy of the Historia reached Paraclete, and Héloise's reaction was to begin a correspondence with her husband and former lover, from whom she had no communication for about a dozen years. Héloise probably did not know all the misfortunes of Abelard since the separation, She points out that he is wasting his efforts to reform people who pay no attention to him while the nuns at the Paraclete would respond eagerly to his advice and encouragement. She demands a personal explanation of Abelard's silence and lack of acknowledgement of Héloise sacrifice of entering monastic life out of love not of God but of Abelard. Abelard's response was to write to Héloise as an abbot to an abbess, and to refuse to be engaged on a persona level. He refers to the power of prayer and the integrity of faith. Héloise replied that she had taken vows because of Abelard, that the sexual frustration she experienced was severe and that she found it hateful to live such a hypocritical life. This letter is full of passion and painful in its description of a soul in desperate agony.

Abelard's response is a light reprimand. He will not bring up the past with nostalgic remorse. They had sinned. They had made love in the nunnery of Argenteuil and even during the Passion Season they had made love in the house of Fulbert, and in many other ways they had taken God lightly. She should look to Christ who really loved her and who had suffered more for her than had Abelard.

Never again did the two exchange personal letters. They did continue to communicate with each other but always in matters of institutional significance. Héloise ask for advice in regulating matter at the Paraclete, how the nuns should dress and how much work they should do. She asks for information on he history of nuns and nunneries, and advice on food. Abelard prepared two long Letters of Direction, still formal documents.

In another letter of Abelard we find a response to one now lost of Héloise in which Héloise had requested that Abelard write new hymns for the Paraclete. Abelard notes in his letters that Héloise's reasons for the request are strong: " ... I have written what are called hymns in Greek and tehillim in Hebrew. At first I thought it superfluous for me to write new hymns when you had plenty of old ones ... (but you wrote) that the Latin Church in general and the French in particular follows customary usage rather than authority as regards both hymns and psalms ... the translation of the psalter is of doubtful origin ... the hymns are in considerable confusion ... the words so irregular that is impossible to fit them to the melodies ... " (Cousin vol. 1 p. 296-8). Evidently Abelard sent a total of 133 Hymns to the Paraclete in three books.

In another letter Abelard seems to refer to the six Planctus (Laments) he composed when he wrote: "I recently completed at your request a little book of hymns or sequences (!) ... and then as you asked me several short sermons." (Cousin vol. 1 p. 350). Abelard explains that he placed emphasis on the literary clarity in the sermons (and also the sequences?) in order to be able to reach the women (in the Paraclete) of little understanding.

If we keep in mind that hymn meant for Héloise simply the praise of God in song, and that Abelard equated his real hymns with the Greek word and the Hebrew word, but when referring to this "little book" he equates them with sequences, which in essence the planctus are, then it seems convincing that his "little book of hymns or sequences" is the collection of six planctus and not part of the 133 hymns.


There is no evidence that Abelard ever again visited the Paraclete nor came in personal contact with Héloise. Apparently was teaching in Paris when his final great conflict occurred, his conflict with Bernard of Clairvaux, St Bernard. Bernard, a Cistercien, offered an alternative to the dominant Benedictine rule of Cluny, at that time led by another great man, Peter the Venerable. The difference between these two rules is important: the Benedictine rule was older and attempted a life according to the spirit of the law, white the Cistercien was a new order attempting to revive the asceticism of the "Desert Fathers of Anthony, friend of Athanasius, Archbishop of Alexandria, and the fratres peregrinos. Bernard believed that faith, not learning led to Christ. Nothing should be learned that was not learned in the pursuit of Salvation.

Clearly the clash between Abelard and St. Bernard was of far greater meaning than simply the clash between two strong and proud men: it was the search for the resolution of a cardinal problem of the 12th century. Abelard feels that with his knowledge he is defending the Christian faith white Bernard feels that faith transcends knowledge. The problem was not resolved. Alter considerable intrigue, Bernard was able to see Abelard declared a heretic and his followers excommunicated. Peter the Venerable intervened on the side of Abelard and the sentence was rescinded. A year and a half later Abelard died in a Cluniac monastery at St. Marcel near Châlon-sur-Saône.

Astralabe, the son of Abelard and Héloise never pictured prominently in the lives of the two. One simple event: Astralabe (an anagram of the French version of Abelard, Esbaillard = Asbelart?) was aided by Peter the Venerable to obtain a church benefice after Abelard's death.

One is tempted to treat the collection of Latin Planctus as part of the catharsis attempted by Abelard during Me 1130s about the time he wrote the Historia Calamitatum. All of the planctus are old-Testament situations of human calamity. Jacob's ravished daughter. Jacob's lament as his youngest son Benjamin leaves for Egypt, lsraeli vergines lament the daughter of Jephta, the people of Israel lament the death of Samson and David laments the death of Saul, Jonathan and Abner. There is no previous tradition to account for Abelard's selecting to write such accounts of biblical stories. As mentioned above, they were probably written for the nuns of the Paraclete to make the suffering in stories more real by retelling them in the first person.

All six Planctus are contained in the manuscript Città del Vaticano, Biblioteca Apost. Vaticana Cod. Reg. lat. 288. Many attempts have been made to transcribe the staffless neums in this manuscript but none have been really successful. More recently with the discovery of these works in other manuscripts it is possible to come somewhat closer to the original. The David Planctus survives in the manuscript Oxford University Library Ms, Bodl. 79 fol. 53'-56, an English 13th century manuscript written in square notation on a four-line staff. Another version of the David Planctus is contained in the manuscript Paris Bibl. Nat. f. nouv. a. Latin 3126, fol. 88'-90'. This is a late 12th century manuscript also written in square notation on a four-line staff.

There are no knowm concordant sources fort other Abelard Planctus, although material help in the transcription of Jephta comes in its proximity to a French Secular piece, the lai des pucelles. The manuscript, Paris Bibl. Nat. f. fr. 12615, fol 711, 13 century, presents this piece in square notation on a five-line staff. Although by no means identical to the Abelard Planctus, it is very similar to it.

We cannot pretend that these melodies are absolutely identical to Abelard's, any more than we can be certain the Vatican manuscript preserves the melodies in original form, however it is important to stress that this element of historical accuracy is less necessary than in much other music. The melody is not composed as an expressive line complementing the text but rather, as is very common in 12th century composition, fragments of melodic material are architecturally combined to enhance the structure of the poetry. Thus it is possible to find wide differences in the preserved melodies of the David Planctus, for example, without any being wrong, nor less well fulfilling the function of that melody.

If the reader will agree with me that these Planctus were originally written by Abelard for the nuns of the Paraclete, then it is not unreasonable to perform one as it might have been done there, sung by female voices. The use of instruments is perfectly in keeping with Héloise's rule there as well as in harmony with French practice of Adam of St. Victor and others. In the case of the David planctus we have made the Performance somewhat later in style in conformity with the later sources, a performance in a more international vein.

The hymn O quanta qualia was still more popular than any of the Planctus. It is one of the four hymns that became part of the repertory of the cloisters other than the Paraclete. We find it in a manuscript at St. Gall, Stiftsbibl. 528, containing the repertory of the Großmünster in Zürich (14th century), and it was a permanent part of the repertory al the Cistercian abbey ot Rheinau. How ironic that St. Bernard's Cistercians should be the ones to transmit a hymn of Abelard, for apart from more major differences between the two, Abelard once admonished Bernard for composing new hymns which Abelard felt were superfluous! Héloise had written to Abelard that hymns were the praise of God in song, that she needed them for her nuns, and Abelard wrote them with the idea that they be easy to learn and to remember. It seems reasonable to suppose that these hymns were not only liturgical but were devotional. Thus the performance here is not that expected in the celebration of the mass but that of the oratory.

The music of Peter Abelard will never attain the stature of his philosophical importance, yet it is one side of a remarkable personality and helps to complete a picture of this man of the 12th century, a man of the mind, of the flesh and of the spirit, a man of pride and passion and of suffering


Thomas Binkley

Bibliography:
· V. Cousin, Petri Abaelardi opera, Paris 1848
· Lorenz Weinrich, Peter Abélard as Musician, MQ vol. LV No. 3-4
· Giuseppe Vecchi, Pietro Abélardo I, Modena 1951
· E. M. Bannister, Monumenti Vaticani..., vol. XII, Leipzig 1913
· Bruno Stäblein, MMMA 1. Kassel 1956
· Additional bibliography of Weinrich