The Age of Cathedrals

/ Theatre of Voices


Music from the Magnus Liber Organi






medieval.org
Harmonia Mundi HMU 90 7157
1996








1. Resonemus hoc natali [3:20] Anonymous — St. Martial

2. Natus est rex [5:24] Anonymous

3. In hoc anni circulo [7:37] Anonymous — St. Martial

4. Congaudeant catholici [3:51] Albertus PARISIENSIS — Codex Calixtinus cc 96

5. De monte [2:29] Anonymous

6. Ve mundo [3:13] Philip the CHANCELLOR

7. Benedicamus domino. Humane prolis [2:41] Anonymous — St. Martial

8. In Natale [6:01] Adam of ST. VICTOR

9. Lilium floruit [4:30] Anonymous

10. Propter veritatem [6:58] LEONINUS

11. Orienti oriens [2:18] Anonymous — St. Martial

12. Virgo flagellatur [6:26] Anonymous — School of Perotinus

13. Mors [1:34] PEROTINUS

14. Templum cordis [5:32] Adam of ST. VICTOR

15. Benedicamus Domino [4:18] Anonymous — School of Perotinus

16. Beata viscera [10:04] PEROTINUS / Philip the CHANCELLOR








THEATRE OF VOICES
Paul Hillier

Paul Elliott
Alan Bennett
Paul Hillier

Neal Rogers, Mark Daniel, Hugh Davies, Tom Hart, Boyd Jarrell



harmonia munch usa, 2037 Granville Avenue, Los Angeles, CA 90025 ℗ © 1996
To request information by e-mail: info@hmusa.com
Recording: May 14-17, 1995, St. Vincent's Church, San Rafael, CA
Executive Producer: Robina G. Young
Sessions Producer: Brad Michel
Engineer: Craig Silvey
Editing: Paul F. Witt

Cover: Frontispiece of Florence Notre-Dame manuscript
(Biblioteca Medicea Laurenziana, Florence, Ms. Laur. Plut. 29.1., fol. iv; Paris, c. 1250)
The decorated initials in the text are also from Ms. Laur. Plut. 29.1.
Booklet design: Steven Lindberg

Recorded and produced in the USA

Made in Germany





The Age of Cathedrals + Hoquetus :: Monastic Chant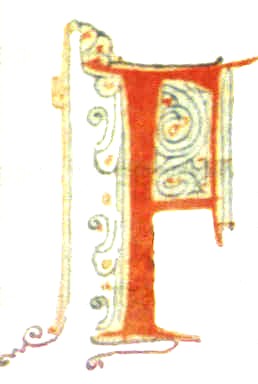 rance witnessed an unprecedented flowering of learning, art, and music in the twelfth century. Most of this "Renaissance" occurred within the Church -all, within the great Gothic cathedrals that sprang up throughout France from the 1130s on. The cathedral was the bishop's church, the seat of ecclesiastical power and administration. Equally important, it was the center of religious life, and above all of the celebration of the liturgy, with elaborate ceremonial and festive music. Building on traditions that had long been fostered in the monasteries, the cathedral musicians drew inspiration from the brilliant and spectacular spaces that the new cathedral buildings provided, producing monophonic and polyphonic lyrical masterpieces of unprecedented dimensions, subtlery, and power. This recording explores the extraordinary musical achievements fostered by the cathedral of Notre Dame in Paris and its antecedents in the great abbey of St. Martial in Limoges.

All of the music from St. Martial is anonymous, reflecting the self-effacing, collective spirit that was typical -and expected- of medieval monastic life. Not so the music from Notre-Dame. Not only are many of the composers known, they were among the most distinguished members of the cathedral community. Adam of St. Victor was cantor at Notre-Dame from early in the century until his death ca. 1140. In that role, he was one of the highest ranking dignitaries in the cathedral hierarchy. His duties included supervision of the music sung in the liturgy, and it was probably in this capacity that he created a body of song that became famous throughout Europe (tracks #8, 14). Adam was succeeded as cantor by Albert (d. 1177), whose Congaudeant catholici (4) was his contribution to the famous liturgy of St. James sung at the Spanish cathedral of Santiago de Compostela, the most important pilgrimage site in medieval Europe. Philip, chancellor of Notre-Dame between 1218 and 1236, was not only a key official in cathedral administration; he was also one of medieval France's most important theologians and moralists, as his Ve mundo (6) will attest. Leoninus was active in cathedral affairs between the 1160s until his death ca. 1201. His magnus liber organi, or "great book of polyphony", became the most celebrated polyphonic repertory of the middle ages (10). And Perotinus, finally, worked with the bishop of Paris, Eudes de Sully, to reform the liturgy and its music at the close of the twelfth century, weeding out excesses that had crept in around the popular "Feast of Fools", and providing polyphonic settings on an unprecedented scale for the major church festivals (12, 13, and 15), collaborating with Chancellor Philip on a number of these works (16, among them).

What is noteworthy about these musicians from Notre-Dame is not only their prominence, but also the fact that we know their names at all. The music surviving from St. Martial seems to have originated through improvisation, and to have circulated mainly in the memories of the monks who sang and heard it. The music of Notre-Dame, on the other hand, was fashioned by composers working with quill and parchment, and sung by musicians who learned it from the manuscripts, not by rote. In this sense as in many others, the music of Notre-Dame breathes a profoundly new spirit.

This music served a variety of functions within the medieval ecclesiastical community. Much, if not all of it was intended to enhance and embellish both the great festivals of the church year and the day-to-day religious activity of the monks and clergy who sang and listened to it. Propter veritatem (10) and Virgo flagellatur (12) are florid, rhapsodic meditations on the Scripture readings that precede them in the service, filling the church with sound as the great stained glass windows filled it with light. Mors (13) is a spectacular expansion of a small portion of such a piece, turning it into an intricate four-voice tapestry of rhythmic counterpoint. Perotinus' Beata viscera (16), a lyrical meditation on the Virgin, may be a substitute for the Offertory or Communion chant sung during one of the Masses to the Virgin celebrated at Notre-Dame. Similarly, some pieces (1, 8, and 14, among others) acted as introductions to the reading of the Gospel that followed them in the Mass, lyrical commentaries on the sacred text. Some pieces are festive conclusions to the service, musical and poetic elaborations on the final benediction (4, 7, 15, and probably others). Some have the character of sermons, interpreting mysteries such as the Virgin Birth (2), or excoriating mankind and the Church for their corruption (6). Still others seem to have had no prescribed function; they could have substituted for the Gregorian chant that was the normal vehicle for liturgical song, or they may have been performed in private devotions, or during the routine activities of ecclesiastical life, such as processing to the dining hall. But they all bear witness to a creative outpouring with few parallels in the history of European music.

EDWARD H. ROESNER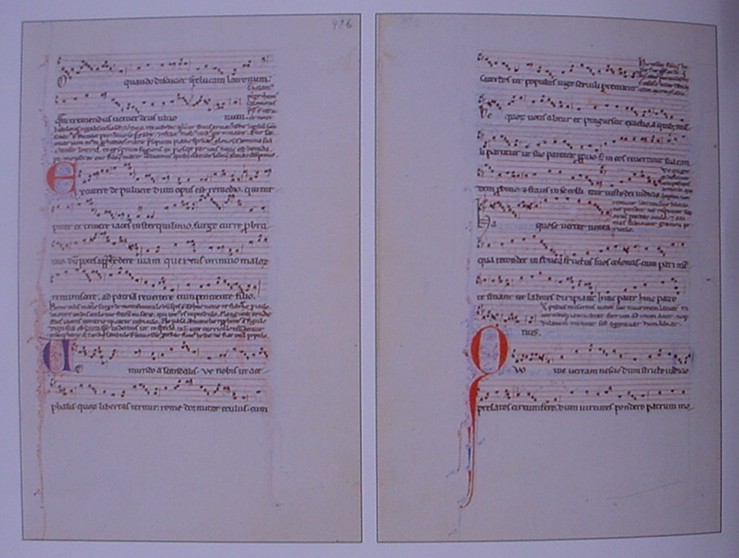 THEATRE OF VOICES is based in the San Francisco Bay Area and regularly tours throughout the USA and Europe. Its founder and artistic director, Paul Hillier, is Professor of Music at the University of California at Davis. The group is flexible in number and its repertoire has three main areas of specialty: medieval and renaissance polyphony, Anglo-American folk psalmody (including the Shape Note tradition), and contemporary tonal composers such as Steve Reich and Arvo Pärt.

The idea of the group was formed while Hillier was looking for ways to expand into different styles of singing while still performing the early music of his choice. Under the name Theatre of Voices he began creating projects and programs devoted to the music of John Cage and Arvo Pärt. After moving to California in 1990, he started to form the nucleus of the present Theatre of Voices, which gave its debut concert at the Berkeley Early Music Festival in June 1992. The group has performed in such venues as the Opéra Bastille in Paris, Hessischer Rundfunk in Frankfurt am Main, the Schauspielhaus Berlin, Vredenburg in Utrecht, the Frick Collection and Alice Tully Hall in New York, the Library of Congress, in Washington, DC, and has appeared on Minnesota Public Radio's St. Paul Sunday Morning.

Theatre of Voices now records exclusively for harmonia mundi usa and has several CDs to its credit, ranging from medieval cantigas to contemporary composers. Its recordings of renaissance music have enjoyed popular success, and discs devoted to the music of Josquin and Mouton (HMU 907136), Lassus (HMU 907076) and Tallis (HMU 907154) will soon be joined by the music of Byrd and other great composers from the Golden Age of English music. Chant and medieval music is also one of the group's strongest areas, as testified to by the present recording, the Cantigas at the Court of Dom Dinis (medieval Portuguese songs, HMU 907129) and a recital of Trouvère songs (in preparation, HMU 907184). Theatre of Voices has also begun to record early American music, some of which can be heard on their best-selling CD Carols from the Old and New Worlds (HMU 907079). The group is now preparing further early American music, to be presented in concert with works of contemporary American composers who are sympathetic to the earlier style. Theatre of Voices has just completed a recording of works by Arvo Pärt to be released in 1997 (HMU 907182).



PAUL HILLIER, the founder and artistic director of Theatre of Voices, began his career as a singer in the choir of St. Paul's Cathedral in London and also became a member of the Queen's Chapel Royal at Windsor Castle. For many years he devoted his principal energies to the Hilliard Ensemble, of which he was co-founder (in 1974) and musical director. During his tenure the group rose to international prominence, making tours throughout the world, with numerous television and radio appearances. He also established its summer festival and planned and directed over thirty recordings, many of which earned distinguished prizes.

Throughout the 1980s, Hillier increasingly divided his time between England and America: during 1980-81 he taught at U. C. Santa Cruz, and in 1984 he was Copeland Colloquium Fellow at Amherst College. In 1990, he moved to the United States, where he was Professor of Music at the University of California at Davis until 1996. Currently, he is Director of the Early Music Institute at the Indiana University School of Music, Bloomington.

A Grammy nominee and recipient of two Edison Prizes, Hillier is now active as a solo singer and as a frequent guest conductor with choirs around the world. His wide musical interests range from medieval to contemporary music and include singing and conducting, composing and writing.

Hillier has written a book about Pärt which will be published in 1996 by Oxford University Press, and has published several anthologies of choral music. He is also General Editor of Fazer Editions of Early Music (Helsinki) and a member of the Advisory Council of Early Music America.





The music on this recording has been gathered from various editions, with additional reference to facsimilies of the original sources. In virtually every case, however, considerable alterations have been made, particularly to details of rhythm and word placement. The Notre-Dame polyphony was sung directly from versions prepared by Edward Roesner for the Oiseau-Lyre complete Magnus Liber edition (in progress). The St. Martial monodies were sung from Leo Treitler's versions in his 1967 dissertation "The Aquitanian Repertory of Sacred Monody in the Eleventh and Twelfth Centuries", For the St. Martial and Codex Calixtinus the (very different) editions by Theodore Karp (The Polyphony of Saint Martial and Santiago de Compostela; 2 vols. Oxford 1992) and Hendrik van der Werf (The Oldest Extant Part Music and the Origin of Western Polyphony; 2 vols. Rochester 1993) were consulted -- the results are very much our own responsibility. The Adam of St. Victort sequences were prepared from the 1900 edition by Pierre Aubry. Our gratitude is extended to all of the above and to the University of California at Davis which gave financial assistance to the original project. A special acknowledgement is also due to Humanities West of San Francisco who proposed the theme of The Age of Cathedrals and organised a symposium on the topic in that city's Grace Cathedral during May 1992.

PAUL HILLIER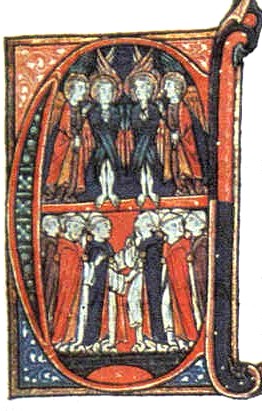 n Francia, el siglo XII conoció un florecimiento sin precedentes de las ciencias, el arte y la música. Gran parte de este renacimiento surgió auspiciado por la iglesia, sobre todo por las grandes catedrales góticas que se construyen en Francia a partir de la década de 1130. La catedral era la iglesia del obispo, el centro de la administración y del poder eclesiásticos. No menos importante: era el centro de la vida religiosa y, sobre todo, de la celebración de la liturgia, con elaborada música ceremonial y festiva. Basándose en las tradiciones que se habían mantenido en los monasterios, los músicos catedralicios se inspiraron en los espacios brillantes y espectaculares de las nuevas catedrales para producir obras maestras monofónicas y polifónicas de dimensiones, sutileza y fuerza sin precedentes. Esta grabación explora los extraordinarios logros musicales conseguidos en la catedral de Notre-Dame, en París, y sus antecedentes en la gran abadía de San Marcial de Limoges.

Toda la música de San Marcial es anónima y refleja su espíritu autodestructivo y colectivo característico — y supuesto — de la vida monástica medieval. No sucede así con la música de Notre-Dame. No sólo la mayor parte de sus compositores eran conocidos, sino que, además, se contaban entre los miembros más distinguidos de la comunidad de la catedral. Adam de San Víctor fue cantor en Notre-Dame desde principios de siglo hasta su muerte hacia 1140. Desde ese puesto se convirtió en uno de los más altos dignatarios de la jerarquía catedralicia. Entre sus deberes se incluía la supervisión de la música cantada durante la liturgia, y es posible que fuese esta tarea la que le permitiese crear un conjunto de canciones que se hicieron famosas en toda Europa (pistas 8, 14). Albert (†1177) sustituyó a Adam en su puesto de cantor. Su Congaudeant catholici (4) fue su contribución a la famosa liturgia de Santiago, cantada en el lugar de peregrinación más importante de la Europa medieval, la catedral de Santiago de Compostela, en España. Philip, canciller de Notre-Dame entre 1218 y 1236, fue no sólo un oficial clave en la administración de la catedral, sino, también, uno de los teólogos y moralistas medievales más importantes de Francia, como pone de manifiesto su Ve mundo (6). Leoninus desarrolló su actividad en asuntos catedralicios entre la década de 1160 y hasta su muerte ca. 1201. Su Magnus liber organi, o "gran libro de polifonía", llegó a ser el repertorio polifónico más célebre de la Edad Media (10). Finalmente, a finales del siglo XII, Perotinus trabajó con el obispo de París, Endes de Sully, para reformar la liturgia y su música, y extirpar los excesos que se habían desatado alrededor de la popular "Fiesta de los locos", proporcionando arreglos polifónicos, de una escala nunca vista hasta ese momento, para las mayores celebraciones eclesiásticas (12, 13 y 15), colaborando con el canciller Philip en un número de estas obras (16, entre ellas).


En estos músicos de Notre-Dame es notable no sólo su importancia, sino también el hecho de que conocemos sus nombres. La música que ha sobrevivido en San Marcial, parece haber surgido de la improvisación y haber circulado, en mayor parte, gracias a la memoria de los monjes que la escuchaban y cantaban. En cambio, la música de Notre-Dame fue hecha por compositores que trabajaban con pluma y pergamino, y cantada por músicos que la aprendieron de los manuscritos, no de memoria. En este sentido, y en otros muchos, Notre-Dame respira ya, profundamente, un nuevo espíritu.

Esta música servía para varias funciones dentro de la comunidad eclesiástica de la Edad Media. Mucha, si no toda, estaba dedicada a embellecer y resaltar tanto las grandes celebraciones del año litúrgico como el día a día de la actividad religiosa de los monjes y clérigos que debían cantarla y escucharla. Propter veritatem (10) y Virgo flagellatur (12) son unas meditaciones rapsódicas y floridas sobre las lecturas de las escrituras que las precedían en los servicios, que llenaban la iglesia de sonido tal y como las vidrieras la llenaban de luz. Mors (13) es un espectacular desarrollo de una pequeña parte de esta obra, que se convierte en un intrincado tapiz de contrapunto rítmico a cuatro voces. La Beata viscera (16) de Perotinus, es una meditación sobre la Virgen. Puede utilizarse como sustituto del canto en el ofertorio o la comunión durante alguna de las misas a la Virgen celebradas en Notre-Dame. Igualmente, algunas obras (1, 8 y 14 entre otras) se utilizaron como introducciones a la lectura del Evangelio que las seguía en la misa, como comentarios líricos a los textos sagrados. Algunas obras son finales festivos para los servicios, elaboraciones musicales y poéticas de la bendición final (4, 7, 15 y otras, probablemente). Algunas tienen carácter de sermones e interpretan misterios como el del nacimiento de la Virgen (2) o denuncian a la humanidad y a la Iglesia a causa de su corrupción (6). Hay incluso obras que no parecen tener una función prescrita; podían haber [sustituido] al canto gregoriano, que era el vehículo habitual del canto litúrgico o podían haber sido interpretadas en devociones privadas o durante las actividades rutinarias de la vida eclesiástica, como, por ejemplo, en el camino hacia el refectorio. Pero todas ellas dan testimonio de un florecimiento creativo que apenas tiene igual en la historia de la música Europea.

EDWARD H. ROESNER
Traducción: Ana Mateo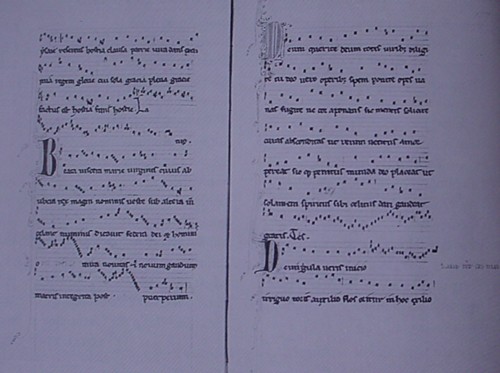 THEATRE OF VOICES tiene su sede en la zona de la bahía de San Francisco, desde donde realiza frecuentes giras por todo Estados Unidos y Europa. Paul Hillier, su fundador y director artístico, es profesor de música en la Universidad de California, en Davis. El grupo, cuyo número de componentes es variable, ha especializado su repertorio en tres grandes áreas: polifonía medieval y renancentista, salmodia popular anglo-americana (con la tradición de la "shape note" incluida), y compositores tardíos contemporáneos como Steve Reich o Arvo Pärt.

Hillier decidió formar el grupo por su deseo de buscar diferentes estilos de canto y de poder seguir interpretando la música antigua de su elección. Bajo el nombre de Theatre of Voices comenzó a elaborar proyectos y programas dedicados a la música de John Cage y Arvo Pärt. Una vez establecido en California, en 1990, conformó el núcleo del actual Theatre of Voices, que ofreció su primer concierto en el Festival de Música Antigua de Berkeley en junio de 1992. El grupo ha actuado en escenarios como la Opera de la Bastilla, en París, la Hessischer Rundfunk, en Frankfurt am Main, la Schauspielhaus de Berlín, el Vredenburg de Utrecht, la Frick Collection y el Alice Tully Hall de Nueva York, la Biblioteca del Congreso de Washington, DC, y, en Minnesota, ha intervenido en el programa radiofónico St. Paul Sunday Morning.

En la actualidad, Theatre of Voices graba en exclusiva para harmonia mundi usa y ha editado diversos discos compactos que abarcan desde cantigas medievales hasta compositores contemporáneos. Sus grabaciones de música renacentista han recibido una gran acogida del público, y a las dedicadas a la música de Josquin y Mouton (HMU 907136), Laso (HMU 907076) y Tallis (HMU 907154) se unirán en breve, los discos dedicados a Byrd y a otros grandes compositores ingleses de la Edad de Oro. El canto llano y la música medieval son otros de los puntos fuertes del grupo; de ello dan fe la presente grabación, las canciones medievales portuguesas agrupadas bajo el título de Cantigas en la corte de Dom Dinis (HMU 907129) y un recital de canciones trovadorescas en preparación (HMU 907184). Theatre of Voices ha comenzado a grabar también música antigua americana. Una muestra de ello puede escucharse en su disco Carols from the Old and New Worlds (HMU 907079). El grupo está preparando más repertorio de este tipo para ofrecerlo en concierto junto con obras de compositores americanos contemporáneos compatibles con el estilo antiguo. Theatre of Voices acaba de terminar la grabación de obras de Arvo Pärt que serán publicadas en 1997 (HMU 907182).



PAUL HILLIER, fundador y director artístico del Theatre of Voices, comenzó su carrera como cantante en el coro de la catedral de San Pablo en Londres. Fue también miembro de la Real Capilla de la Reina en el Castillo de Windsor. Durante muchos años se dedicó en cuerpo y alma al Hilliard Ensemble, del que fuera cofundador (en 1974) y director musical. En ese tiempo, el grupo alcanzó fama internacional, viajando por todo el mundo e interviniendo en numerosos programas de radio y televisión. Creó, además, su propio festival de verano y elaboró y dirigió más de treinta grabaciones, muchas de las cuales obtuvieron afamados premios.

Durante la década de 1980 Hillier dividió su tiempo entre Inglaterra y América: entre 1980 y 1981 impartió clases en la Universidad de Santa Cruz, y en 1984 fue miembro del Copeland Colloquium en el Amherst College. En 1990 se trasladó a los Estados Unidos, en donde ha sido profesor de música en la Universidad de California, en Davis, hasta 1996. Actualmente es director del Instituto de Música Antigua en la Escuela de Música de la Universidad de Indiana, Bloomington.

Hillier ha sido nominado a un premio Grammy y ha recibido dos galardones Edison. Actualmente se prodiga como cantante solista y como director de coros por todo el mundo. Sus vastos intereses musicales abarcan desde la música medieval a la contemporánea, e incluyen el canto, la dirección, la composición y la escritura.

El Hillier ha escrito un libro sobre Pärt que será publicado en 1996 por la Oxford University Press, y ha publicado diversas antologías de música coral. Es también editor general de las ediciones Fazer de música antigua (Helsinki) y miembro del consejo asesor de Early Music America.