Traveler

/ The Waverly Consort


Cantos de España. Medieval Journeys through Times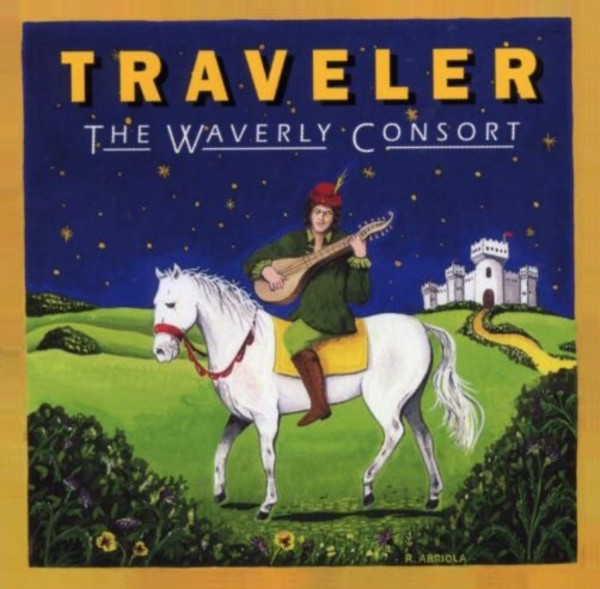 medieval.org
amazon.com
Angel CDC 7 2435-55559-2 2
1995







Pilgrim Songs from the "Llibre Vermell" of Montserrat [33:20]
(Catalonia, 14th century)
1. O Virgo splendens [2:47] LV 1
2. Stella splendens in monte [5:44] LV 2
3. Laudemus virginem — Splendens ceptigera [1:34] LV 3 — LV 4
4. Los set gotxs recomptarem [5:50] LV 5
5. Cuncti simus concanentes [3:22] LV 6
6. Polorum regina [3:25] LV 7
7. Mariam matrem virginem [4:45] LV 8
8. Imperayritz de la ciutat ioyosa [2:14] LV 9
9. Ad mortem festinamus [3:48] LV 10


Galician-Portuguese Lyrics (13th century) [16:20]
MARTIN CODAX (fl. c. 1230): "Seven Cantigas d'amigo"
10 - [4:22]
Ondas do mar de Vigo ca I
Mandad' ei comigo ca II
11 - [5:31]
Mia irmana fremosa ca III
Ay Deus se sab' ora ca IV
12 - [6:35]
Quantas sabades amar amigo ca V
Eno sagrado en Vigo ca VI
Ay ondas eu vin veer ca VII


13. Song of Praise: "Santa Maria strela do dia" [3:27] CSM 100
(No. 100 from "Las Cantigas de Santa Maria" of King Alfonso X, "el Sabio")


Traditional Judeo-Spanish Ballads
14. El buesca del padre [5:36] "The Father Quest"
15. Las hermanas reina y cautiva [2:43] "The Sisters, Queen and Captive"
16. El sueño de la hija [3:27] "The Daughter's Dream"






THE WAVERLY CONSORT
Michael Jaffee

Shannon Anderson, soprano
Rita Lilly,soprano
Timothy Leigh Evans, tenor, tambourine
Larry Lipnik, tenor, baritone, bowed psaltery
John Olund, tenor
John Shankweiler, tenor
Joel Frederiksen, bass
Kay Jaffee, harp, hammered psaltery, recorder, organetto, chimes, drone fiddle, gemshorn, percussions
Michael Jaffee, medieval cup bells, plucked psaltery, citole, hurdy-gurdy, small harp, handbells
Rosamund Morley, vielle, kemençe, finger cymbals

with

Michael Hinton, percussion
George Mgrdichian,oud


Recording:
Sommer Center Performance Hall, Concordia College, Bronxville, New-York, U.S.A
June 1995




The pilgrim songs of the Llibre Vermell present a microcosm of the varies social classes that went through the shrine at Montserrat. either coming to ir as their goar or on their route to and from other shrines, a rich cross-section of the social and cultural strands of the fourteenth century in the frontier between France and Spain.

After centuries of invasion, the Iberian remnants of the Roman empire consolidated into two enduring kingdoms, Portugal and Castile. The lyric poetry and song from medieval Iberia reveal these two kingdoms in dynamic overlap, with their languages, cultures, and politics distinct but intertwined, well before the formation of modern fixed nationalities.

For the Spanish Jews, 1492 was a tragic year - one that would never fade from their memory. On March 31st, more than two months after the Moors surrendered at Granada, and six months prior to the discovery of the New World, the Catholic monarchs, Ferdinand and Isabella, issued the Edict of Expulsion giving Jews until August 1st to leave every domain of the newly established hegemony. Five years later, during the reign of Manuel I, the same fate befell the Jews of Portugal.