S'amour dont sui espris

/ Ensemble Xeremia
Troubadours · Trouvères · Cantigas du roi

ALPHONSE X de Castille






medieval.org
xeremia.com
Xeremia XRM 0420
2000






1. A que por muy gran fremosura [2:53] CSM 384 ALPHONSE X de Castille (1221 - 1284)
guiterne, luth, flûtes, bendir, chalémie

2. L'autrier m'en aloie [2:02] pastourelle, anonyme
harpe, flûte de bambou


3 - [3:55]
De muitas guisas nos guarda de mal CSM 58 ALPHONSE X de Castille
guiterne, luth, flûtes, bendir
Quem a virgen ben servir CSM 59 ALPHONSE X de Castille
flûte, rek


4. Muit'é benaventurado [2:26] CSM 263 ALPHONSE X de Castille
cornemuses

5. Anc enemics qu'eu agues [3:14] UC de SAINT CIRC (...1216 - 1253...)
luth, chant

6. Toda cousa que a Virgen seia prometuda [3:22] CSM 117 ALPHONSE X de Castille
harpe, guiterne, psaltérion a plectre, rebec, coquilles Saint Jacques

7. Deus enim in prima [4:35] HILDEGARD von BINGEN (1098 - 1179)
Laude de Sainte Ursule | chant

8. De muitas guisas los presos solta [3:40] CSM 158 ALPHONSE X de Castille
orgue, psaltérion à archet

9. Chevalier, mult est guariz [3:22] chanson de croisade, anonyme
vielle à roue, hautbois du poitou, chant, rek

10. Pois que Deus quis da Virgen fillo [2:09] CSM 38 ALPHONSE X de Castille

en el libreto:
10 - [2:09] anonyme
Iudea et Jérusalem, répons B.N. 10482 - transcription: Michel Hugo
Constantes estote, verset codex Engelberg - transcription: Brigitte Lesne

11. A madre do que livrou [4:01] CSM 4 ALPHONSE X de Castille
psaltérion à plectre, luth, vièle d'archet

12. Aver non poderia [2:02] CSM 403 ALPHONSE X de Castille
luth, rebec, flûte, derbouka

13. S'ieu ja trobat non agues [4:24] Guiraud RIQUIER (..1254 - 1292...)
vièle d'archet, chant

14. Madre de Deus, ora por nos [3:05] CSM 422 ALPHONSE X de Castille
vielle à roue, luth, crotales

15. Galeas [2:35] chant judéo-espagnol, anonyme
chant

16. Como poden per sas culpas [3:28] CSM 166 ALPHONSE X de Castille
vielle à roue, cromorne, flûte, derbouka, cornemuse

17. Madre de Deus, non pod' errar [1:57] CSM 24 ALPHONSE X de Castille
vielle à roue, cromorne, flûte, derbouka, cornemuse

18. S'amour dont sui espris [5:54] anonyme
a) Gauthier de Coincy (?) Blondel de Nesles (?) fin du XIIème siècle — saltérion à archet, chant
b) conduit — vielle à roue, flûte à bec
c) motet — harpe, psaltérion à plectre, guiterne






Ensemble Médiéval XEREMIA
Robert RESSICAUD


Philippe CURT - luth ('oud), guiterne, flûte, cornemuse, chalémie, chant
Marie Rhéa DOUILLER - chant, harpe, flûte
Benoît PIERRON - vièle d'archet, chant
François GINESTE - chant
Serge SANA - vielle à roue, percussion
Robert RESSICAUD - rebec, cornemuse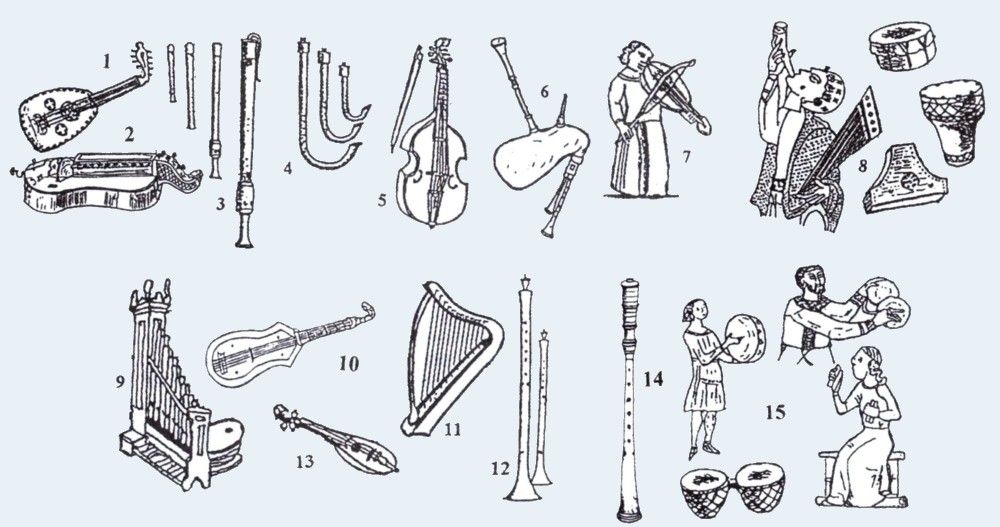 LES INSTRUMENTS DE XEREMIA
1. luth (Oud) - 2. vielle à roue - 3. flûte à bec - 4. cromorne - 5. viole de gambe
6. cornemuse - 7. vièle d' archet - 8. psaltérion - 9. orgue - 10. guiterne
11. harpe - 12. chalémie (xeremia) -13. rebec - 14. hautbois du Poitou - 15. percussions





Enregistré au studio du Charmet
par Pascal CACOUAULT en décembre 1999
01 Saint TRIVIER sur MOIGNANS
D.D.D. - 0420 I
Production : avril 2000 - Association XEREMIA
mel : xeremia@wanadoo.fr
http://perso.wanadoo.frixeremia

En couverture : enluminure du manuscrit de Montpellier - H 196 folio 270 r





S'AMOUR DONT SUI ESPRIS


"L'amour dont je suis saisi m'incite à chanter" dit le poète. L'amour est au Moyen Âge (comme de tous temps et en tous lieux) un des principaux thèmes des poètes et musiciens que sont troubadours et trouvères. Ils chantaient l'amour divin ou l'amour pour la Dame, qu'elle soit la mère de Dieu ou l'épouse du seigneur, la guerre, pour y appeler comme la chanson de ce disque "Chevalier, mult estes guariz" ou la condamner par exemple lors de la croisade des albigeois. Leurs chansons évoquaient aussi les bergères, la politique, les légendes et les épopées.

Le roi ALPHONSE X de Castille (1221-1284), comme ses prédécesseurs, accueille à sa cour de Tolède des savants, médecins, astronomes, des poètes, des musiciens des trois religions. Juifs, chrétiens et musulmans cohabitent dans le royaume et travaillent ensemble. Alphonse X écrit et fait écrire un recueil de 420 chansons en l'honneur de Sainte Marie. De nos jours ce recueil est un des plus importants qui nous soient parvenu pour son contenu musical et la richesse de ses enluminures dont 42 représentent des musiciens avec leurs instruments.

Le troubadour Uc de Saint-Circ (...1217-1253... ) était pauvre. Il voyagea de cour en cour pour gagner sa vie, en Occitanie, en Italie et en Espagne où il vécu la cour du roi Alphonse X en Castille. Il serait l'auteur de la biographie de Bernard de Ventadour.

Hildegarde de Bingen (1098-1179) comme Aliénor d'Aquitaine et bien d'autres est une grande femme du Moyen Âge. Religieuse mystique du XIIème siècle, écrivain, médecin, musicienne et visionnaire elle laisse une importante littérature et de très nombreuses compositions.

A la fui du XIIIème siècle Guiraud Riquier (...1254-1292...) est le dernier des troubadours. Son œuvre, abondante et raffinée et ses talents de mélodiste l'ont rendu célèbre.

Lorsque les juifs furent expulsés d'Espagne en 1492, ils émigrèrent dans les pays autour de la mer méditerranée. La chanson judéo-espagnole "Galeas" a été collectée en Turquie.

Les troubadours rimaient en langue d'oc, les trouvères en langue d'oïl. Blondel de Nesle (...1175-1210...) est un des premiers trouvères. La chanson "S'amour dont sui espris", jouée ici de trois façons, est un exemple de l'évolution d'une mélodie au moyen âge. La mélodie primitive seule est jouée à l'instrument puis chantée, la même mélodie (avec si bécarre) jouée en conduit à deux voix et enfin en motet
trois voix.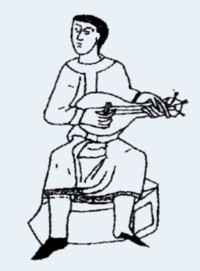 SU AMOR QUE ME TIENE PRENDADO


"El amor que me tiene prendado me incita a cantar" dice el poeta. En la Edad Media (igual que en todo tiempo y lugar), el amor es uno de los principales temas de los poetas y músicos que son los trovadores y troveros. Solían cantar el amor a Dios o a su Dama, bien sea la madre de Dios, la esposa de su señor, o la guerra, para celebrarla a la manera de la canción "Caballero sé valiente", o al contrario para condenarla, por ejemplo cuando la cruzada contra los albigenses. Sus canciones evocaban también a las zagalas, la política, las leyendas y epopeyas.

El rey Alfonso X de Castilla (1221-1284), igual que sus antecesores, acoge en su corte de Toledo sabios, médicos, astrónomos, poetas y músicos de las tres religiones.

Judíos, cristianos y musulmanes conviven en su reino y trabajan juntos. Alfonso X mismo participa en la redacción de un libro de 420 canciones en honor de Santa María. Hoy día, este libro es uno de los más importantes que hayan llegado hasta nosotros por lo que se refiere a su contenido musical y a la riqueza de sus pinturas, 42 de las cuales representando músicos con sus instrumentos.

El trovador Uc de Saint Circ (... 1217-1253 ... ) era pobre. Fue viajando de una corte a otra para ganarse la vida, por Occitania, Italia y España, donde vivió en la corte del rey Alfonso X de Castilla. Sería el autor de la biografia de Bernard de Ventadour.

Hildegard von Bingen (1098-1179), igual que Aliénor d'Aquitaine y otras muchas, es una gran figura femenina de la edad media. Religiosa mística del siglo XII, escribana, médica, música y visionaria, deja una importante obra literaria y musical.

A fines del siglo XIII Guiraud Riquier (...1254-1292...) es el último de los trovadores. Su abundante obra refinada y sus talentos de melodista le hicieron célebre.

Cuando la expulsión de los judíos de España en 1492, emigraron a los países alrededor del mediterráneo. La canción judío-española "Galeas" fue recogida en Turquía.

Los trovadores versificaban en la lengua de Oc (sur de Francia), los troveros en la de Oïl (norte). Blondel de Nesle (...1175-1210...) es uno de los primeros troveros. La canción "Su amor me tiene prendado", que tocamos aquí de tres formas es un ejemplo de la evolución de una melodía en la Edad Media. La melodía primitiva es tocada sola en el instrumento, luego cantada, la misma melodía (con si becuadro) viene a continuación interpretada "en conducta" de dos voces y por fin en motete de tres voces.


Traductora: Jean MILLIEN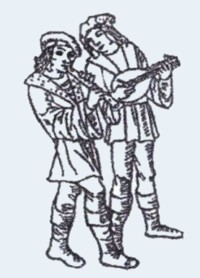 S'AMOUR DONT SUI ESPRIS
('tis love I have smitten with)


"The love that has me in thrall urges me to sing", or so the poet says. In the Middle-Ages, as indeed at all times and in all places, love has been one of the main themes of those poets and musicians called trouvères and troubadours. They sang of love divine or of the love for the Lady, whether she be the mother of God or the wife of the local lord, they also sang of war to glorify its calling as in the song recorded here "Chevalier mult estes guariz" or to condemn it as they did for example during the crusade against the Albigeois. Their song also dealt with shepherdesses, politics, legends and epics.

Like his predecessors, King Alfonso X of Castille (1221-1284) welcomed at the Court of Toledo learned men, physicians, astronomers, poets and musicians of the three confessions. Jews, Christians and Muslims lived peacefully together in the kingdom and worked together. Alfonso X himself wrote, and got artists to write a collection of 420 songs in praise of the Virgin Mary. To this day the collection remains one of the most important legacies of the past to us both on account of its musical contents and of the wealth of its illuminated designs, 42 of which represent musicians playing their instruments.

Uc de Saint Circ (... 1217-1253...), a troubadour, was a poor man. To make a living he had to travel from Court to Court, through Occitanie, Italy and Spain where he lived for a while at the Court of King Alfonso X. It is assumed that he was the man who wrote the biography of Bernard de Ventadour.

Just like Aliénor d'Aquitaine and many others, Hildegard von Bingen (1098-1179) was one of the most impressive women of the Middle-Ages. She was a XIIth century mystic, and also a writer, a physician, a musician, and a visionary and she has left us with innumerable musical compositions and a vast amount of literature.

Living at the end of the XIIIth century Guiraud Riquier (...1254-1292...) is the last of the troubadours. He was both a prolific and refined composer and his gifts at writing melodies made him famous.

When the Jews were chased out of Spain in 1492, they emigrated to the countries around the Mediterranean basin. The Judeo-Spanish song "Galeas" was collected in Turkey.

The troubadours used the "langue d'oc" (Southern dialect) in order to write their poetry whereas the trouvères used the "langue d'oïl" (Northern dialect). Blondel de Nesle (...1175-1210...) was one of the first trouvères. His song "S'amour dont sui espris" ('tis love I have been smitten with) is performed in three different ways and offers a good illustration of the way melodies evolved in the Middle-Ages. The primary melody is first played on the instrument and then sung, the same melody (with the B natural note) is sung as a two-voiced conductus and finally takes the form of a three-voiced motet.


Translation: Claude MAISONNAT