Troubadours & Trouvères

. Musique des XII, XIII, XIVe s.
Ensemble Médiéval Xeremia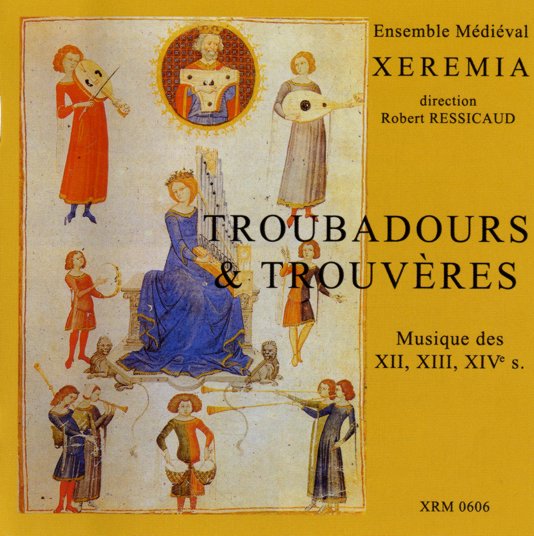 xeremia.com
Xeremia XRM 0606
2006






1. La quinte estampie real [2:56] anonyme XIV° s.
cornemuse, bendir · bagpipe, bendir

2. Ne m'oubliez mie [3:24] manuscrit de Montpellier, fin XIII° s.
cornes de flûte, flûte à bec basse · gemshorns, bass recorder

3. Cuncti simus [3:12] Llibre Vermell de Montserrat, début du XIV° s. LV 6
vielle à roue, luth ('oud), flûte, chant · hurdy-gurdy, lute ('ud), recorder, voice

4. Ad mortem festinamus [0:50] Llibre Vermell de Montserrat LV 10
orgue portatif, tambourin · portativ organ, drum

5. Je vivroie liement [1:40] Guillaume de MACHAUT (1300-1377)
vielle à roue, cornemuse · hurdy-gurdy, bagpipe

6. Los set goytx [2:12] Llibre Vermell de Montserrat LV 5
harpe, vièle d'archet, flûte de corne · harp, medieval fiddle, gemshorn

7. Ar mi puesc [2:24] Peire CARDENAL (11..-1275)
flûte, luth ('oud), vielle à roue · recorder, lute ('ud), hurdy-gurdy

8. Nas mentes [2:12] ALPHONSE X de Castille (1221-1284), cantiga de Santa Maria CSM 29
derbouka, cornemuse · derbuka, bagpipe

9. Lo pastouro e lou segnor [1:48] anonyme provençal - XIV° s. (?)
psaltérion (avec archet) · psaltery (with bow)

10. Ich was ein chint so wolgetan [3:14] Carmina Burana, XII° - XIII° s. CB 185
vielle à roue, chant, flûte à bec · hurdy-gurdy, voice, recorder

11. Au tens plein de felonie [2:38] THIBAUT de Champagne (1201-1253)
vielle à roue, flûte, voix · hurdy-gurdy, recorder, voice

12. Amours me fait comencier [2:52] THIBAUT de Champagne
zarb, harpe · zarb, harp

13. Quen a omagen [1:14] ALPHONSE X de Castille, cantiga de Santa Maria CSM 353
orgue portatif · portativ organ

14. Bonnement m'agree [2:46] Jehan de LESCUREL (12..-1304)
chifonie, chant, flûte tenor · chifonia, voice, recorder

15. Non sofre [3:18] ALPHONSE X de Castille, cantiga de Santa Maria CSM 159
luth, bendir, rebec, flûte, cromorne · lute, bendir, rebec, recorder, crumhorn

16. Contre le temps qui devise [2:34] THIBAUT de Champagne
psaltérion (avec archet) · psaltery (with bow)

17. Mandad' ei conmigo [3:24] Martin CODAX, Espagne XIII° s. cantiga de amigo ca II
luth ('oud), chant · lute ('ud), voice

18. Ne sai que je die [1:12] manuscrit de Montpellier
harpe, cromorne · harp, crumhorn

19. Saltarello [1:42] anonyme - manuscrit du XIV° s.
flûte (soprano), saz · recorder (soprano), saz

20. Ma viele [2:12] Guathier de COINCY (1178-1236)
orgue, psaltérion (avec archet) · organ psaltery (with bow)

21. Reis glorios [2:06] Guiraut de BORNEIL, fin du XII° s.
deux cornemuses · two bagpipes

22. La rosa enflorece [3:04] anonyme, judéo-espagnol
luth, chant · luth, voice

23. Lamento de Tristan & Rotta [4:58] anonyme XIV° s.
coboz (luth), rebec, flûte/voix · coboz (lute), rebec, recorder/voice

24. Puis que bele dame [0:46] manuscrit de Montpellier
rebec, orgue portatif · rebec, portativ organ

25. Sire cuens, j'ai viele [1:36] Colin MUSET, XIII° siècle
rebec, tambourin, chant, chalémie · rebec, drum, voice, shawm

26. Trotto [2:38] anonyme - manuscrit du XIV° s.
flûte bambou, saz · recorder bamboo, saz

27. Pois que Deus [2:12] ALPHONSE X de Castille, cantiga de Santa Maria CSM 38
bendir, vielle à roue, luth ('oud), rebec, cromorne (ténor)
bendir, hurdy-gurdy, lute ('ud), rebec, crumhorn (tenor)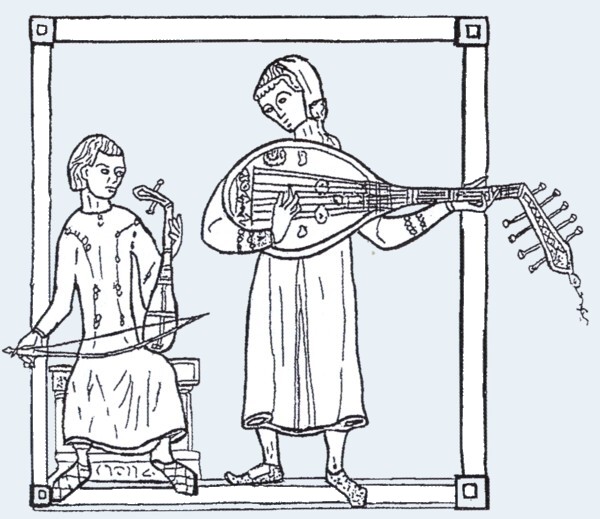 Ensemble Médiéval XEREMIA
Robert RESSICAUD

Philippe CURT · Serge SANA · Brice DUISIT · Benoît PIERRON · Robert RESSICAUD




L'Ensemble Médiéval XEREMIA


Jouant sur un grand nombre d'instruments médiévaux reconstitués, l'Ensemble XEREMIA fait revivre les riches heures médiévales avec le souci constant de se référer aux manuscrits et d'être à l'écoute des musiques traditionnelles de nombreux pays. Que le programme soit sacré ou profane, les musiciens font alterner les caractères de ces musiques qui interpellent notre sensibilité contemporaine.

Rendant vivant un patrimoine millénaire, l'Ensemble Xeremia réactualise un art, une époque où les troubadours savaient conter poésies à la belle de leur Seigneur et divertir la cour, où Moines et Paysans partageaient le même labeur de la terre et la même ardeur à la prière. Une période où abondent les découvertes scientifiques, humaines, artistiques et architecturales.

L'Ensemble XEREMIA se produit en formation allant de deux à cinq musiciens.
Il s'est produit en : Autriche, Grande Bretagne, Allemagne, Hongrie, Libye, Inde, Slovénie, Italie, Suisse, Pays Bas, Tunisie, Chypre, Canada, Qatar, Arabie Saoudite, Lituanie, Andorre, Antilles, Tchéquie, Algérie, Mauritanie, Maroc, Equateur, U.S.A., Irlande, Ouzbékistan, Liban, Malte, Namibie, Mongolie, Cameroun...

Le disque illustre le foisonnement musical qui traverse l'Europe et les nombreux échanges musicaux avec l'Orient. Bien que la musique médiévale soit essentiellement vocale, elle était régulièrement accompagnée d'instruments qui progressivement prennent une place que les siècles suivants confirmeront. C'est bien volontairement que nous avons pris cette option et instrumente un bon nombre des pièces qui, à l'origine, étaient chantées. Pour l'orgue portatif, observez le bruit naturel du soufflet.


Production 2006 - Association XEREMIA



Les instruments de Xeremia: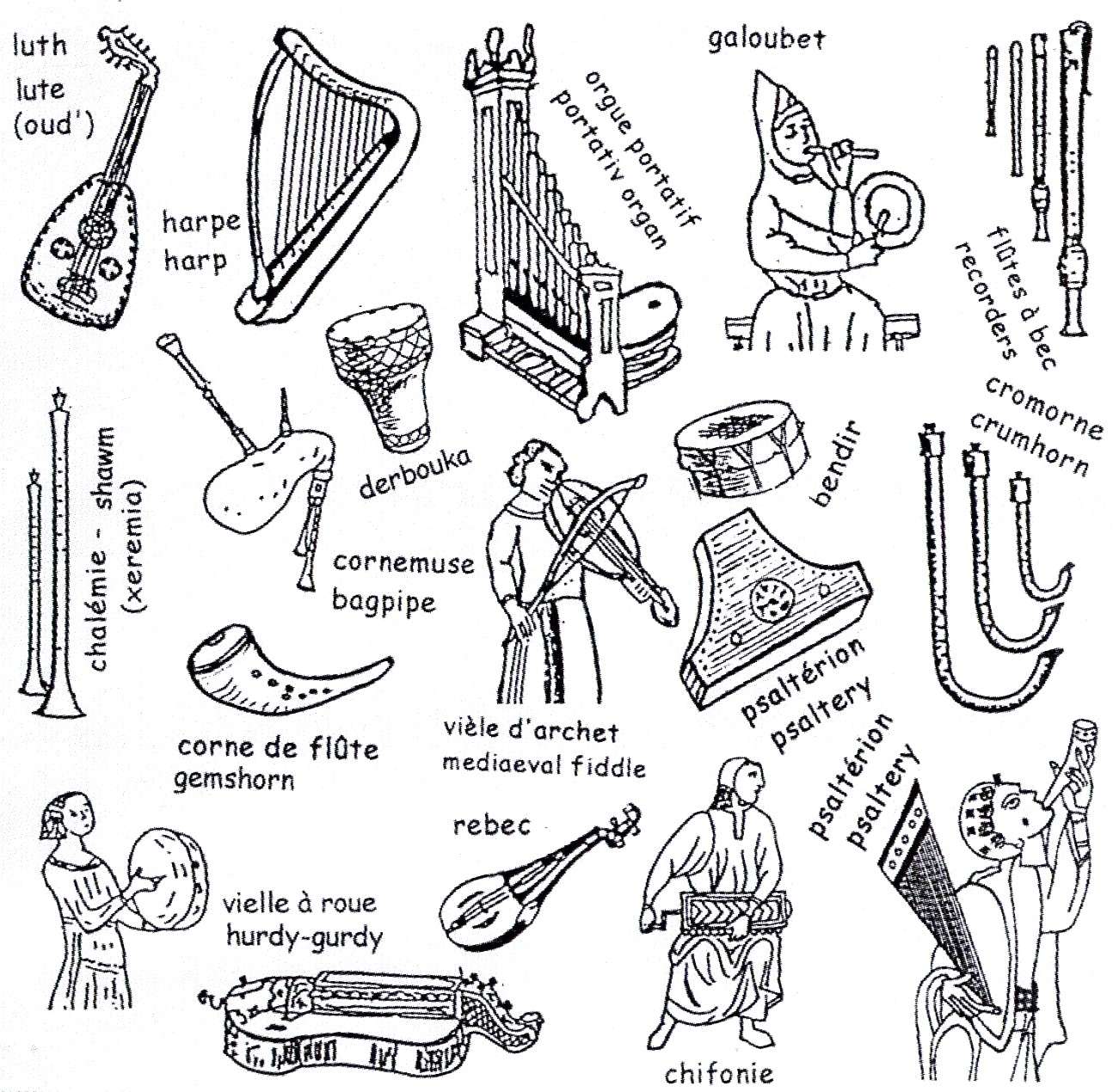 MUSIQUE MEDIEVALE


Le "miracle" de la poésie lyrique occitane du moyen âge est d'apparaître d'emblée constituée avec le premier des troubadours dont l'œuvre nous soit parvenue, Guilhem septième comte de Poitiers et neuvième duc d'Aquitaine (1071-1127). Dans la dizaine de chansons qu'on lui attribue figure déjà l'ensemble des thèmes que développeront les poètes des deux siècles suivants. De ce premier Troubadour seulement une chanson (cançon) nous est parvenue avec une notation musicale.

On dit que l'amour était une invention des troubadours. Il n'en est pas moins vrai que l'amour est une idée neuve dans l'Europe des XI et XIIème siècles. La femme n'est plus seulement l'objet d'un amour physique, la fin'amor ne le proscrit nullement mais le retarde, créant ainsi une tension extrême qui se transcende dans la création poétique et musicale.

Durant près de deux siècles, la poétique médiévale des Troubadours et des Trouvères connaît un large rayonnement. Les nobles, qui ont pris l'habitude d'une vie large et fastueuse, aiment les arts, protègent poètes et musiciens et ne dédaignent pas de composer eux mêmes des cansos.

Géographiquement, les Trobars se répartissent ainsi : au sud (pays d'Oc) les Troubadours, au nord (pays d'Oïl) les Trouvères. Ce qui différencie surtout le Troubadour du Trouvère, c'est que ce dernier prend naissance près d'un siècle plus tard. Aussi, la lyrique des Trouvères, plus narrative, relate les faits de guerre (croisades), il n'hésite pas à écrire des textes de plus en plus revendicatifs - sans oublier sa quête permanente de l'amour...

Des Troubadours, 350 chansons nous sont parvenues avec la musique et si on arrive à déchiffrer la hauteur des sons, la notation rythmique reste encore très aléatoire. Par contre, des 3000 chansons écrites par 600 Trouvères, la notation rythmique donne des indications qui permettent d'entrevoir une possibilité d'interprétation.

Il y a plusieurs catégories de ces faiseurs de musique : ceux venus du rang des intellectuels (nobles, bourgeois, clercs..) qui trouvent et écrivent poésies et mélodies et ceux d'origine plus modeste qui n'inventent ni chansons, ni poésies mais qui interprètent celles des Trouveurs : JONGLEURS, interprètes acrobates, saltimbanques et faiseurs de musique. Plus tard ces jongleurs sont appelés : MENETRIERS ou MENESTRELS vivant dans les cours au service d'un maître.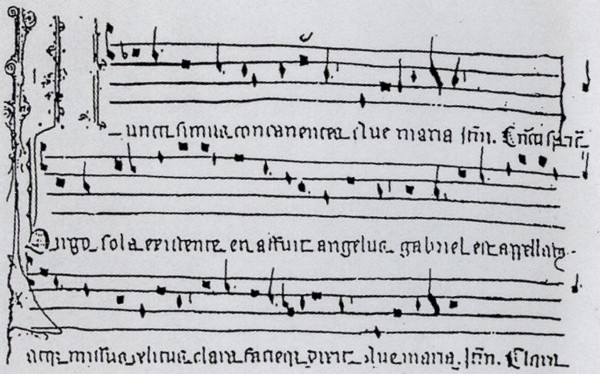 MEDIAEVAL MUSIC


The miracle of mediaeval poetical lyrics is that it they appeared simultaneously with the first Troubadour whose masterpiece came down to us : Guilhem 7th Count of Poitiers and 9th Duke of Aquitaine (1071 - 1127). In the dozen songs attributed to him we find the themes that the poets of the following 2 centuries developed. Only one song (cansos) by this first troubadour came down to us with its musical score.

By choosing colloquial language, the poetry of the troubadour (TROBAR from the Latin word TROPARE : to find, to invent) distinguishes itself from the latin culture which it comes from. The tunes the Trobards composed are very much influenced by church music and the use of modes reminds us of Gregorian chant. It is said that Troubadours invented love.

It's true that love was a new idea in 11th and 12th century in Europe. Woman was no longer just the object of physical love, not that fin'amor banned physical love but it delayed it. This created an extreme tension which transcended itself in poetical and musical creation.

For about 2 centuries the Troubadours' mediaeval poetry expanded with great success. Noblemen who had got used to leading a expansive and ostentatious life appreciated art, protected poets and musicians and compose cansos themselves. Geographically the Trobars were divided like this : in the south (land of Oc) lived the Troubadors, in the north (land of Oïl) lived the Trouveres. The main difference between the Troubadours and the Trouveres is that the latter appeared a century later. Therefore the Trouveres' lyrics were more narrative, they described wars (the crusades), they had no hesitation in writing more and more song of protest (but they would never forget about their permanent search for love...).

350 or so Troubadour songs came down to us with music and although we manage to decipher the height of the sounds, the rhythmic score remains uncertain. On the other hand the rhythmic score of the 3000 songs by 600 or so Trouveres has given us information thanks to which we can interpret the music.

There were various categories of these music makers : those from the intellectual class (nobles, middle class, clergy) who composed poems and tunes and those from a lower class who invented neither poems nor songs but interpreted the Trouveres work : jugglers, interpreters, acrobats and music makers. Later these jugglers were called : FIDDLERS or MINSTRELS. They lived at court and were at the lord's service.



THE XEREMIA ENSEMBLE


Playing a large variety of re-created mediaeval instruments, the Xeremia Ensemble revives the wealth of mediaeval times with a constant concern for authenticity, hence the necessity for them to refer constantly to manuscripts. Whether it be through a programme of religious or lay music, the performers enjoy alternating the character of the pieces of unknown origin that they play, pieces which challenge our traditional responses.

The Xeremia Ensemble brings to life a cultural patrimony that is ages old and gives a new lease of life to a form of art, a period of history when troubadours knew how to recite poetry to the lady love of their Lord, when Monks and Peasants shared in a common toll to till the land and a common urge to prayer. This was a period when scientific human and artistic discoveries were many.

Concerts played so far in : Austria, The United Kingdom, Italy, Tunisia, Switzland, Germany, India, The Netherlands, Cyprus, Hungary, Canada, Qatar, Saudi Arabia, Uzbekistan, Libya, Andorra, The West Indies, Morocco, U.S.A., Lituania, Equador, Algéria, Slovenia, Lebanon, Mauritania, Czech Republic, Eire, Malta, Namibia, Mongolia, Cameroun...

The record :
This CD illustrates the musical profusion that goes through Europe, also the musical exchanges with Oriental countries. Although mediaeval music was essentially vocal, it was regularly accompanied by music instruments which use increments through centuries. That is the reason why we chose to play music on master pieces that were originally songs. Concerning the portable organ, listen to the natural sound of the bellows.