Gérard Zuchetto chante Les troubadours, XIIe et XIIIe siècles — vol. 3

Tensons e partiments de trobairitz
Gérard Zuchetto · Katia Caré · Gisela Bellsolà · Patrice Brient · Guy Robert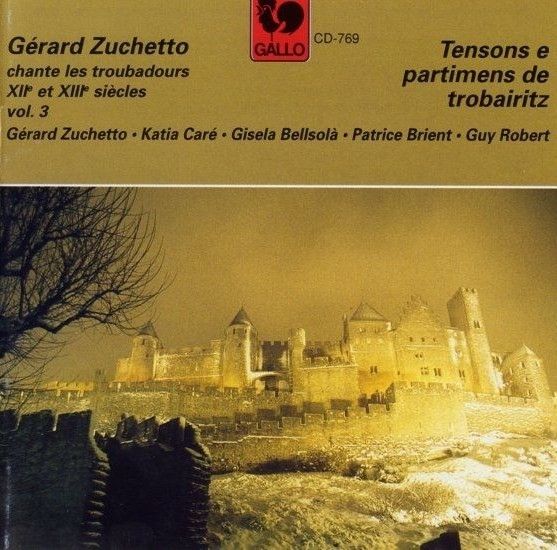 medieval.org
Gallo CD-769
1993







1. Rosin digatz [11:14]

2. Na Lombarda [9:50]

3. Amics, en gran cossirier [7:30]

4. Maria de Ventadorn [15:25]

5. Isabella [9:43]

6. Na Guillelma [8:05]



chant:
Gérard Zuchetto • Katia Caré • Gisela Bellsolà

Patrice Brient • psaltérion, chiffonie, rebec
Guy Robert • luth médiéval, oud, harpe





Nous remercions:
· pour les traductions: Jan Rüdiger (allemand), Meg Bogin (anglais),
Daniel Ungar (anglais), Jeanne Faure-Cousin (français)
· et pour leur aide: la ville de Chinon, la Région Languedoc-Roussillon,
l'Ensemble Perceval (avec l'aimable autorisation des éditions ARION)

Restitutions musicales:
· Gérard ZUCHETTO/Katia CARÉ : 1, 3, 4, 5
· Gérard ZUCHETTO : 2, 6
Éditions musicales: Lausanne-Musique

Prise de son et direction artistique: C.R.E.M.M. - TROBAR
Photos: Eric Sinatora. Promotion : Catherine de Rodays
Avec le soutien de la Région Languedoc-Roussillon
Co-production :
· C.R.E.M.M. - Trobar, F-11000 Carcassonne
· Disques VDE-GALLO, Ale 31, CH - 1000 Lausanne 9

Ⓟ 1993 VDE-GALLO © 1993 VDE-GALLO




Dans les Tensons et les Partimens que nous présentons ici sous une forme musicale, la lyrique occitane apparaît comme un dialogue entre initiés au cœur duquel la Dame mène le jeu. Ce jeu qui procède si bien de ce que le professeur Aurelio Roncaglia appelle «L'éducation sentimentale de l'Europe».
Jongleurs d'aujourd'hui, nous avons élaboré cet enregistrement dans la confrontation et l'improvisation vocale et instrumentale en essayant de donner aux œuvres l'actualité qu'elles contiennent.
Nous dédions cet album «à toutes les femmes de mérite qui chantèrent sans être chantées».

Gérard ZUCHETTO

Ces textes provenant des différents manuscrits médiévaux français et italiens, sont contenus pour l'essentiel dans les livres d'Oscar Schultz-Gora «Die Provenzalischen Dichterinnen» (Leipzig 1888) et de J. Boutière et A. Schultz «Biographies des Troubadours» (A. G. Nizet Paris 1971). Ils ont été rassemblés par Meg Bogin dans son ouvrage «The Women Troubadours» (Paddington Press Ltd, London/New York 1976 et Denoël/Gonthier Paris 1978).


«La Tenson est constituée par une discussion entre deux ou plusieurs troubadours qui soutiennent respectivement des opinions opposées relatives à une même question.(...) Le débat se développe librement. Dans le Partimen ou Joc partit c'est le questionneur lui-même qui pose à son interlocuteur le choix entre les deux hypothèses, se réservant automatiquement de défendre le parti inverse.(...)» — Pierre BEC, Anthologie des Troubadours 10/18, Union Générale d'Edilions, Paris 1979.


In the Tensons and Partimens, which we have set to music, the lyric poetry of the Langue d'Oc takes the form of a dialogue between initiates. This game, in which the lady sets the rules, is a fine example of what Professor Aurelio Roncaglia calls «The sentimental education of Europe».
In this recording, we, as modern jongleurs, have attempted to highlight the contemporary nature of these poems through vocal and instrumental improvisation and confrontation. We dedicate this album «to all the women of value who sang but went unsung».

Gérard ZUCHETTO


The texts, taken from medieval French and Italian manuscripts, are mainly to be found in «Die Provenzalischen Dichterinnen» by Oscar Schultz-Gora (Leipzig, 1888) and «Biographies des Troubadours», by J. Boutière and A. Schultz (A. G. Nizet Paris 1971). They were also compiled by Meg Bogin in her book «The Women Troubadours» (Paddington Press Ltd, London New York 1976 and Denoël/Gonthier, Paris 1978).


«The Tenson is made up of a discussion among two or more troubadours who hold opposing views on a given question... The debate develops freely. In the «Partimen» or «Joc Partit», it is the questioner himself who offers his partner the choice between two hypotheses, while reserving the right to defend the opposite position» — Pierre Bec, Anthologie des Troubadours, 10/18 Union Générale d'Editions, Paris, 1979).


Translated in English by Daniel Ungar