Polyphonics

/ Zorgina


a capella interpretations of medieval and Renaissance polyphony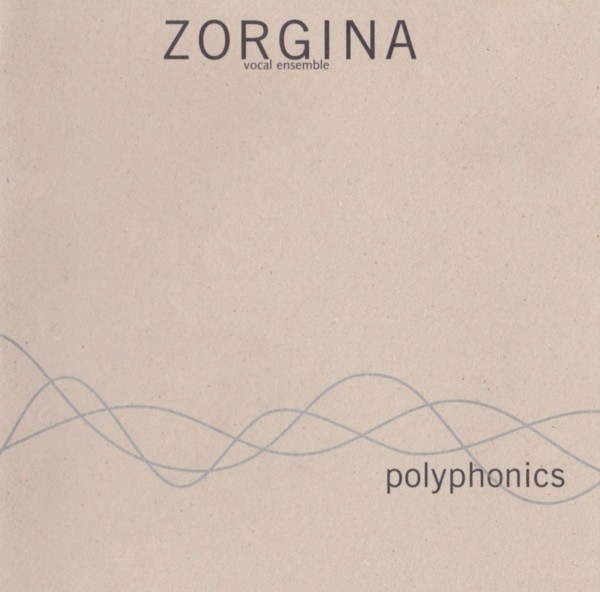 medieval.org
Ohmnibus Records 2000-15
1996





1. Congaudeant catholici [4:48] cc 96
Codex Calixtinus, early 12th c.

2 - [4:13]
Ex illustri nata prosapia · Motet · Hu 132
Sicut a prophetis + Sicut audivimus · Conductus-motet · Hu 84
Las Huelgas Manuscript, 13th c.

3 - [2:11]
In seculum d'Amiens longum
Breve
Montpellier Manuscript, 13th c.

4. La bele estoile + La bele en qui + Iohanne [1:19]
5. S'on me regarde + Prennés i garde + Hé, mi enfant [1:11]
6. On parole de batre + A Paris + Frese Nouvele [1:37]
Motets, Montpellier Manuscript, 13th c.

7. Honte, Paour, doubtance [6:24]
Ballade, Guillaume de Machaut (1300-1377)

8. Fumeux fume [6:09]
Rondeau, Solage, late 14th c.

9. Der Winter will hinweichen [1:59]
Lochamer Liederbuch, ca. 1450

10. Der Wald hat sich entlawbet [3:19]
Music : Lochamer Liederbuch, ca 1450
Text : Lochamer Liederbuch, Zwickauer Flugblatt, 1529

11. Trois filles [1:16]
Pixiérécourt Manuscript, 15th c.

12. Vita mia [3:25]
Madrigal, Giovane Domenico da Nola, 16th c.

13. Oh, what shall I do? [3:35]
Madrigal, John Wilbye, 16th c.

14. Dindirindin [2:19]
Cancionero de Palacio, 16th c.

15. Što mi e milo [3:12]
Folk song, Macedonia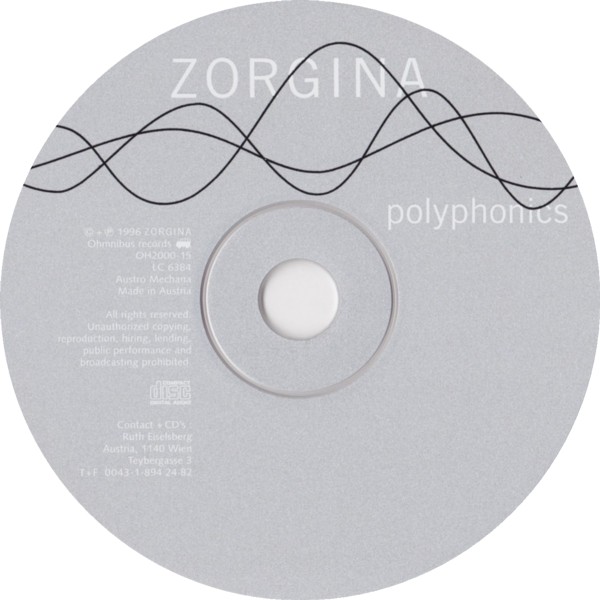 notes

#1.
The oldest known 3-voice composition, from a manuscript found in Santiago de Compostela (Spain),
one of the most important pilgrimage sites in the Middle Ages.

#2.
From the manuscript Las Huelgas of the famous cloister in Burgos, Spain

#3.
Among the few works of this time without text,
this piece employs a technique known as hocketting (French hoquet = hiccup), the trading-off of the melody between different lines of music.

#8.
Solage belonged to a group of avantgarde poets and intellectuals in Paris known as the "Fumeurs" (literally, the Smokers).

#11.
A courtly composition, with a partly nonsensical text based on a folk song.





Zorgina
Ellen Santaniello (USA)
Rebecca Bain (Canada)
Ruth Eiselsberg (Austria)



We met in 1993 at a music festival in France, and formed ZORGINA shortly thereafter. We are from three different countries and two continents and have performance backgrounds and academic degrees in disciplines as diverse as modern, jazz, avantgarde, pop, folk, early and classical music, dance, theatre and law. Our approach to early music is historically informed, yet decidedly influenced by our own modern sensibilities.

Looking at the surviving composed music from the Middle Ages, and to a certain degree the Renaissance, one would say that the most important instrument was the voice. The beauty and richness of this repertoire is, for us, enhanced by the fact that the music has so much to offer the unaccompanied voice.

As women musicians singing historical music, we are interested in women in musical history. We have primarily chosen songs where women are the subject of the texts, or where the text is written from a women's point of view, to show various images of women in this literature. While we don't know of any female composers of medieval polyphony, a great deal of this music was written by "Anonymous", and there is ample evidence that women did perform this repertoire.




Dedicated to Wolf
Thanks to: Wolf, Maud, Brigittc, Hermannfried, Stefanie, Rom, Denny, Piccino, Graf+Klinke, KlangfarbenWolf

Arrangements : ZORGINA
Translations : ZORGINA
Recorded, mixed and mastered by Wolf Eiselsberg
Jump in test, little "s", nursing : Wolf Eiselsberg
Produced by Ruth Eiselsberg
Coproduced by Wolf Eiselsberg
Graphics Stefanie Ackermann
Photos : Denny Moers
Recorded 1996 in Mitterretzbach, Austria
©+℗ 1996 ZORGINA
Ohmnibus records de