Music from Ethiopia / CAPRICE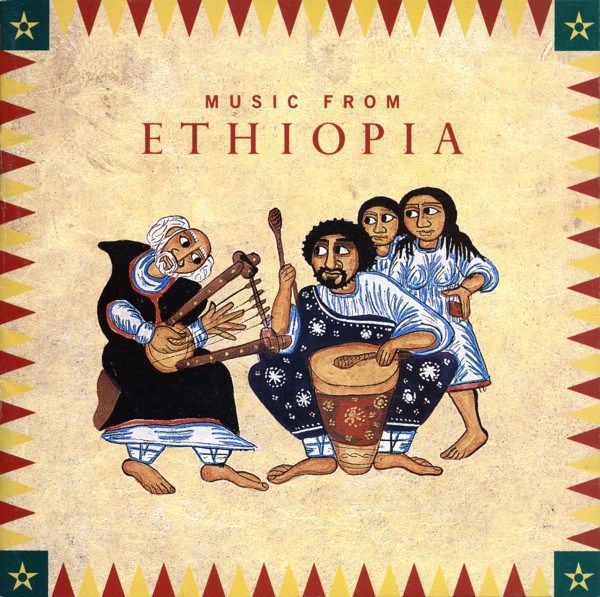 amazon.com
Caprice CAP 21342
Recorded in Addis Abeba 1992 March, 20-26




ETHIOPIA IS A COUNTRY vibrant with music and a nation where elements of ancient tradition form a natural part of everyday musical and social life. Even in a big city like Addis Abeba, traditional music is very much in evidence.
It is present in Ethiopian church music, which is perhaps among the oldest living traditions of Christian music anywhere in the world. But folk music too is very widespread in a professional, big-city form. It has its appointed place in the big Government Theatres and in the many traditional restaurants, as well as in the small, cosy bars where singer-poets, asmaris, entertain guests with traditional songs accompanied by the performer on a string instrument called the masinko. And in the dance music of hotels and nightclubs, the traditional music of the common people is a cornerstone of the exciting sound mix of modern popular music.

And yet these examples come only from the capital, Addis Abeba. Rural communities in the rest of the country, of course, have a still more motley and active body of popular music—making for both ordinary and festive occasions, and for both joyful and sorrowful moments. This CD presents only a limited selection of Ethiopia's immense wealth of music and music-making.
Pride of place goes to modern popular music, above all with the Abyssinia Band, today one of the foremost groups of its kind. The piece played by the Yared Orchestra represents perhaps a slightly older trend, though the singer, Aregahegn Werashe, is one of the most popular of the younger generation.

The traditional heritage is perhaps above all manifested in the antiquated ceremonial music played by Areru Shegane, Teka Tema and Yohannes Afework on three embilta flutes. But the religious songs performed by Lemma Gebre Hiwot, accompanied on the masinko, and by Alemayehu Fanta to the begena, also belong to earlier traditions, like Mr Fanta's more worldly lyric with masinko accompaniment.
Yohannes Afework gives a personal interpretation of traditional material in his improvised flute variations on one of the basic modes of Ethiopian music, and so too does Asnakech Worku, singing her own, profoundly personal lyric on the sorrows of love to her own accompaniment on the krar.
The Sne Babel Group, finally, gives us a taste of the folk music — in the big city — from two of Ethiopia's many cultures outside Addis Abeba.




01 - Lemma Gebre Hiwot - Medina / Zelesegna [04:51]
(trad.)
vocal with masinko acc

02 - Abyssinia band - Yedejih abeba negn [06:47]
"I am a flower at your yard"
(music/text: Abebe Berhane, arr: Abyssinia band)
Hanna Shenkute, voc

03 - Yohannes Afework - Ambassel [04:33]
(trad./music: Yohannes Afework)
washint flute solo

04 - Abyssinia band - Mis men gidifkini [04:22]
"With whom did you leave me"
(music: Girmai Biable/Daniel Aman, text: Girmai Biable, arr: Abyssinia band)
Girmai Biable, voc

05 - Asnakech Wortu - Tizita [04:50]
(music: trad, text: Asnakech Wortu)
vocal with krar acc

06 - Abyssinia band - Endenew yisemah [05:32]
"Feel the way I do"
(music/text: Abebe Berhane, arr: Abyssinia band)
Hanna Shenkute, voc

07 - Areru Shegane/Teka Tema/Yohannes Afework - Tigrigna [03:19]
(trad.)
3 embilta flutes

08 - Yared Orchestra - Alegntaye [05:33]
"My belonging"
(music: Abebe Mellese, text: Yllma Gebreab, arr: Roha band)
Aregahegn Werashe, voc

09 - Alemayehu Fanta - Salamta [03:03]
"Praise the Lord"
(trad.)
vocal with begena acc

10 - Abyssinia band - Yiberral libbe [04:26]
"My heart is flying"
(music/text: Abebe Mellese, arr: Abyssinia band)
Dawit Mellese, voc

11 - Sne Bahel - Haya wolalome [02:31]
(trad. - wollaita music)
Muleta Mekonne, lead vocal with trad group, vocal, krar, masinko and drum acc

12 - Alemayehu Fanta - Anchihoyelene / Tizita [07:05]
(trad.)
vocal with masinko acc

13 - Abyssinia band - Esketayew [04:37]
"Till you feel the way I do"
(music: Mogess Teka/Dawit Mellese, text: Mogess Teka, arr: Abyssinia band)
Dawit Mellese, voc

14 - Sne Bahel - Dowa dowe [03:24]
(trad. - oromo music)
Taddese Alemu, lead vocal with trad group, vocal, krar, masinko and drum acc

15 - Abyssinia band - Tizita [07:11]
"Memories"
(music/text: trad., arr: Abyssinia band)
Hanna Shenkute, voc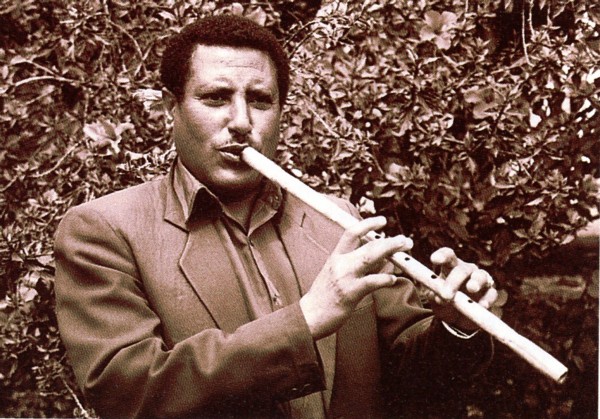 Yohannes Afework
washint flute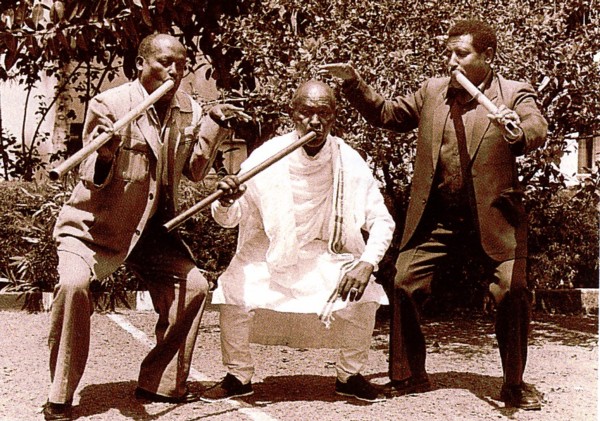 Areru Shegane • Teka Tema • Yohannes Afework
embilta flutes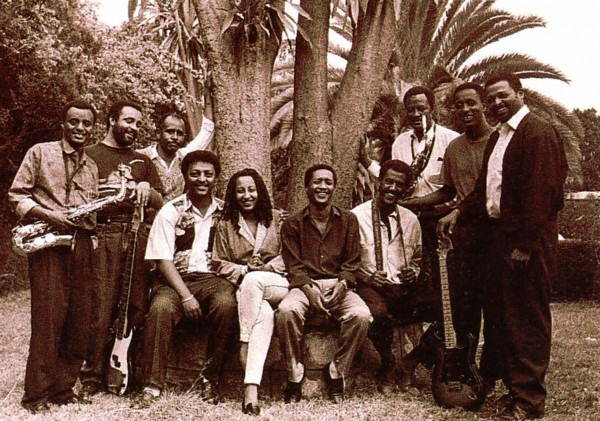 Abyssinia Band
Feleke Hailu, alto sax · Negusse Aseffa, tenor sax
David Kassa, guitar · Nabiu Tesfaye, keyboards
Abiyou Solomon, bass · Elias Bekele, drums
Hanna Shenkute, vocal · Girmai Biable, vocal
Dawit Mellese, vocal · Solomon Shibeshi, vocal





Lemma Gebre Hiwot
vocal with masinko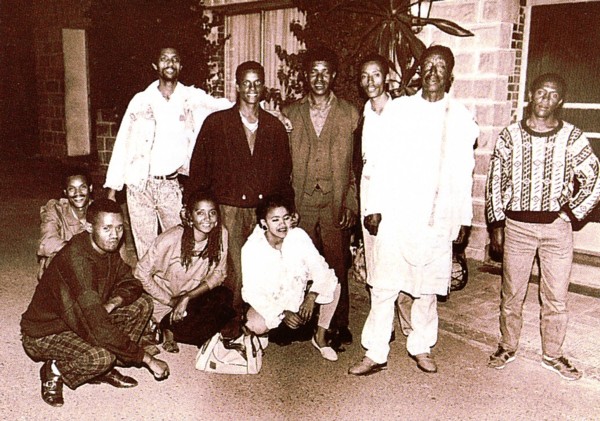 Sne Bahel
Taddese Ejigu, masinko · Brhanu Sisay, krar · Solomon Bekele, kebero (drums)
Mekonnen Muleta, choir + lead voc "wollaita music"
Taddese Alemu, choir + lead voc "oromo music"
Hagersh Dennnesa · Hagere Yetemegne · Tsegaye Berta & Mesfin Terfasa, choir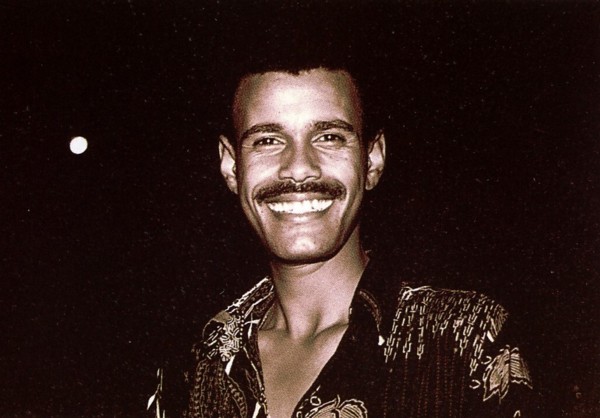 Aregahegn Werashe
vocal



URBAN TRADITIONAL MUSIC


The traditional music in these recordings is represented by urban musicians performing "folk music" on a professional basis.
They may be musicians who are, or have been, employed at one of the big Government Theatres where traditional music forms an important, weekly recurring item of the repertoire. Or freelance musicians performing at one of Addis Abeba's traditional restaurants.
One of the performers teaches at the Yared Music School where he trains professional folk music performers.
All contributors represent a high standard of musical insight and technique, and they belong to a generation of musicians which has been actively involved in adapting traditional music for concert performances — in most cases with a firm dedication to authentic performing practices.
They have succeeded well, and even today, cassette recordings of this kind of traditional music sell by tens of thousands. Ethiopia is rather unique in the way in which these forms of music compete with popular music in almost the same market.
There are several reasons for this. One of them, presumably, can be sought in cultural policy during more than a decade of military dictatorship, until May 1991. At the same time as difficulties were put in the way of communication with the outside world, support was given to traditional music. It is hard to predict what changes the more open society of today may have in store for Ethiopia's ancient traditions of music.
Up till now, immensely important work of documentation, research and education has lagged behind. In all these fields, swift and vigorous action needs to be taken to save irreplaceable cultural values for coming generations.

The traditional, ceremonial embilta music (track 7), for example, is one of the musical forms now threatened. Three flautists play together using a "hocket" technique, which means that each flute can only produce a couple of notes, so that the melody is divided up between the performers.
This form of music goes a very long way back in time, and perhaps it was even being played something like this before the birth of Christ. Such music is connected with important ceremonies, weddings, funerals and so on, and with the ceremonial of the nobility and the royal courts.
The leading flautist, Areru Shegane, learned the art as a boy more than 50 years ago, when in service at one of the courts of the period. He recalls that there are at least 17 different rhythms to be performed on the embilta. The dance steps executed by the players and facilitating rhythmic articulation are an important part of music played on this instrument.

Another example of ancient tradition comes in Lemma Gebre Hiwot's song Medina/Zelesegna (track 1), which is a specimen of vocal music performed exclusively in order to praise God. This particular music is associated in Ethiopia with the long period of fasting before Easter.
The words of such songs of praise, as in many other forms of lyric in "Amharic" — Ethiopia's most spoken language — conform to the traditional principle of "wax and gold".
The expression comes from the old cire—perdue technique, in which, first of all, a wax figure was fashioned and baked into a clay mould. Molten gold was then poured into the mould to replace the wax as it melted and escaped. The clay mould was then broken. The text of the song, similarly, has to incorporate a poetic second sense which gradually supersedes the first one displayed, just as the gold supplants the wax.
Mr Lemma accompanies himself on the masinko, a very common bowed instrument in traditional Ethiopian music. Both the one and only string and the playing hair of the bow are horse hair. The string is shortened with the middle joints of the fingers of the left hand — "in the air", as it were, without touching any fret board. The soundbox is rhomboid and hide-covered.

Alemayehu Fanta uses the same instrument to accompany his more "worldly" songs (track 12). The song itself is preceded by a virtuoso instrumental prelude. The piece is built up round two of the traditional scale structures which are commonest in traditional Ethiopian music — anchihoyelene and tizita.
Mr Fanta, who is the only teacher of traditional music at the Yared Music School, also performs on the ancient begena (track 9). This is used exclusively for accompanying religious music, but never in church. Primarily it belongs to the musical world of the former aristocracy.
The instrument, a lyre, with a box-shaped resonator and 8-10 strings, sometimes called the "David's harp", most probably has a very ancient history. Similar instruments are depicted in Jewish, pre-Christian tradition and related forms are even to be seen in Sumerian sculptures. The flat bridge produces a buzzing tone which also puts one in mind of Asiatic instruments.

A smaller, 5-stringed lyre instrument, the krar, is one of the commonest in Ethiopia's folk music cultures. Both these instruments have been likened to the classical Greek kithara and lyre, and attempts have been made to reconstruct the ancient instruments and their tuning on the basis of present-day Ethiopian instruments and practice, but on very uncertain terms and with very uncertain result.
Asnakech Worku, who accompanies herself on the krar, is one of the country's most respected and best-known women artists, with many years wide-ranging experience. As a singer, actress and dancer she has entranced a whole generation of theatre— and music—lovers.
Women vocalists employ a different style from the men — more introvert and less strident. Ethiopian culture defines special requirements for a woman's expression of her love. The poetry has to have distinctive qualities. Asnakech Worku presents an old, traditional melody, Tizita, in a new guise, with her own words about a lost love (track 5).

There is an instrumental counterpart to this in the form of a solo piece for the washint (track 3). Yohannes Afework bases his improvised flute variations on one of the traditional scales, Ambassel. This type of flute, to be found in large parts of East Africa, is blown over the edge at one end. The number of finger holes and their positioning vary depending on the scale to be produced. This particular specimen has four holes.
Sne Bahel is a private dance and music group performing folklore music and dances from various cultures in Ethiopia. With lead singers from several different tribes, it can present a sampler of the country's musical diversity. Here we have music from the Oromo (track 14), one of he largest ethnic groups in Ethiopia, and from the Wollaita (track 11). In both cases the music is performed by a lead singer and chorus (call and response) together with an instrumental accompaniment. The latter is played on the krar, masinko and a couple of keberos, the kebero being a small drum with skin at both ends, played with a pair of drumsticks.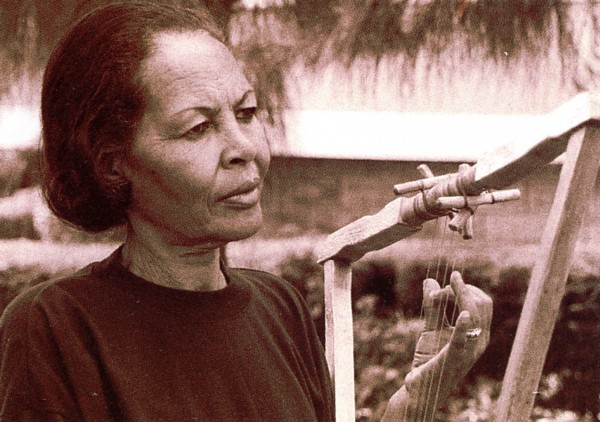 Asnakech Worku
vocal with krar



POPULAR MUSIC


The history of popular music in Ethiopia began, in a manner of speaking, in 1920, when the ruler Ras Tafari Mekonnin (later crowned as the Emperor Haile Sellasie I) ordered the formation of the "Bodyguard Orchestra". This consisted originally of orphans from Jerusalem of Armenian origin, and the instruments were imported from Europe.
Eventually more orchestras were formed in the army, and these were also engaged to accompany famous singers. During the 1930s the German Odeon company and British HMV began distributing records of popular European and American music of the period, and at the same time a certain amount of Ethiopian traditional music and patriotic songs.
The Italian occupation, from 1936 until 1941, brought another influx, of Italian and other European music. At this time there were several Italian orchestras playing in Addis Abeba.

An important step in the development of Ethiopian popular music was taken in 1955, with the opening of the Haile Sellasie I Theatre (since renamed the National Theatre). Actors and musicians were engaged at the initiative and expense of the government.
Apart from a group of traditional dancers, singers and musicians, there was also a "modern" orchestra playing western instruments. The repertoire consisted of new Ethiopian popular music, but also of music from the rest of Africa, from Latin America, the USA and Europe, "Ethiopianised".

Ethiopia, unlike other African countries, is usually said to have stood apart from outside influences, the reason being that the country had succeeded in preserving its independence and did not have any "colonial" ties. But the fact is that modern music followed much the same pattern of development as in the international sphere, with Ethiopian texts being sung to "twist", rock'n'roll, soul and all the rest of it.
On the other hand, after the change of regime in 1974, Ethiopia's business and tourist links with the western world were greatly reduced. The censorship bureau of the Ministry of Information "kept an ear" on music taken out of the country — or brought into it! This, presumably, is part of the reason why Ethiopian music did not achieve the same international breakthrough as, for example, West African music during the seventies and eighties.

The new style launched by the Roha Band at the beginning of the 1980s marked an important turning point in the popular music of Addis Abeba. The musical idea was a simple one — the traditional style, with the instruments playing more or less in unison with the singing (heterophony) was transferred to the modern orchestra.
In addition, the music was "harmonised" — given chordal accompaniments — and modern, electrically amplified instruments,like synthesizers, began to be used.
The Roha Band achieved great popularity with its new style and was much in demand for accompanying the most popular vocal artists of the time. The group is still active today (1992), mainly as a studio band.
The Roha Band's recordings were rapidly distributed through the music cassette industry, which accounts for practically all distribution of recorded music in Ethiopia. Cassettes recorded by the simplest technique imaginable are reproduced by an equally simple copying technique — such as a couple of "domestic" cassette recorders linked together — and editions often run into tens of thousands.

Other groups were forced to imitate the style of the Roha Band in order to satisfy producers and audiences. The standard forces for a dance band of this kind came to comprise a modern drum set, bass, electric guitar, keyboard and wind section (usually comprising a trumpet and saxophone or two saxophones).
The state-employed groups are affiliated to the Government Theatres, the private groups to restaurants and night clubs. Until the latest change of régime (in 1991) there were also a number of groups in the army playing popular music!

The Yared Orchestra is one of these state-employed groups, affiliated to the National Theatre. It has a larger wind section than is usually the case with an "ordinary" night club band — four saxophones, a trumpet and trombone.
Here this group accompanies singer Aregahegn Werashe, one of the most popular of the younger vocal stars in Addis Abeba today, who was giving guest performances with the Yared Orchestra at the time of the recording. The original arrangement of the very popular song Alegntaye (track 8) came from the Roha Band, but in this recording the big orchestra gives it an old-time atmosphere.

Popular songs are very closely bound up with the artist who first performed them, becoming almost his or her private property. Most output in recent years has come from a handful of popular composers and lyric writers, hence the uniformity of style. It is usually the singers and producers — seldom the instrumentalists — who make contact with the composers. The arrangements, on the other hand, are generally made by the bands.

The Abyssinia Band started in September 1991 at the night club of the Ghion Hotel in Addis Abeba. Most of its members had played in other top groups of the private sector — night club bands and studio groups from innumerable recordings made for the local cassette industry. This group represents the very latest developments in Ethiopian popular music, and all of its vocalists belong to a new generation of talented performers.
Their express aim is to gradually transform the so-called "Roha style" and develop one of their own, with strong traditional roots, partly with their sights on a market outside Ethiopia!

The songs are mostly about love, as in popular music the world over, though occasionally there is a nature lyric contemplating some beautiful place in the home country. Most of the material is presented in Amharic, the official language of Ethiopia.
Some pieces, though, e.g. Mis men gidifkini (track 4), are in Tigrigna, which is spoken by another of the largest ethnic groups in Ethiopia. The rhythm, known as "disco-beat", has for a long time been one of the most popular among the ethnic groups in the North, due in part, presumably, to the influence of Italians who have been living in the region for decades, but also to similarities to rhythms used in local folk music traditions.

In fact, the same rhythm is also used in Endenew yisemah (track 6), though this is performed in Amharic. Another popular rhythm straight from the traditional music of the Addis Abeba region is "chikchika". This is used in Ydejih abeba negn (track 2) and Esketayew (track 13).
Yiberral libbe (track 10) is something of an experiment by Ethiopian standards, this being the first instance of a song in Amharic being performed in a style which, more than anything else, resembles "high life", or a Zairean "rhumba".
This kind of thing has not been tried previously, but similar rhythms and others reminiscent of Latin American music are used in traditional music in the southern parts of Ethiopia. This song also employs an "ordinary" European major scale instead of the local pentatonic scales. It has quickly become very popular with the younger generation.

The last number, Tizita (track 15), has already figured in a couple of more traditional versions. This is an old love song, very well-known in Ethiopia, about the memory of a loved one. The arrangement used by the Abyssinia Band closely conforms to previous recordings by various artists, this being a song which people prefer to hear without any great changes.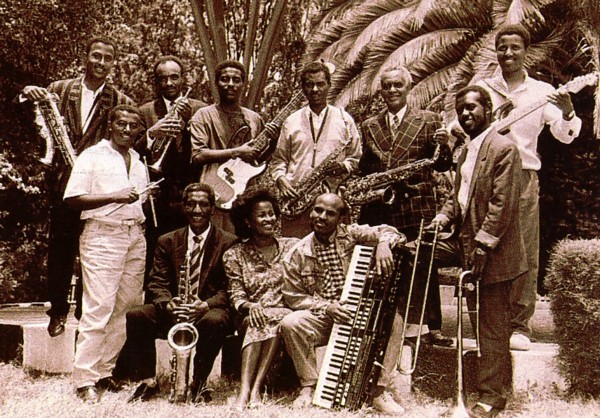 Yared Orchestra
Zeyede Temtime, trumpet · Dangadsew Demissie, alto sax
Meray Sitote, alto sax · Solomon Abate, tenor sax
Wondmu Tolla, tenor sax · Wondwossen Gudeta, trombone
Tamre W/Yesus, guitar · Lemma Demamu, organ
Chernet Lemma, bass · Zeirun Bekele, drums


SCALE SYSTEMS


Large parts of Ethiopia's traditional music are based on a number of scale systems or modes. Church music has three of these, and legend has it that they were revealed to St Yared during a vision in the 6th century. These three modes, however, differ in more respects than the pitches. Each of them is associated with various "skeleton melodies", and they are performed using different vocal techniques. Furthermore, they are associated with different festivals and different seasons of the year.
Although a system of notation does exist, also attributed to St Yared, music at several different schools is passed on mainly by aural tradition. The notation system, which is presumably of much later date, possibly from the 16th century, provides only very sketchy information on how the music is to be performed. Consequently, a variety of traditions and interpretations have evolved at different schools, with rather complicated results today from the viewpoint of music theory.

The same applies, but for different reasons, to scale structures in the more "secular" traditional music. In a society with several related but still distinct musical cultures, it is difficult, perhaps even futile, to try and construct a uniform theoretical foundation. After reading a number of accounts of Ethiopian music, therefore, one is left with an extremely confusing picture.
The situation is further complicated by intervals, for the most part, not tallying with European scales, added to which they differ from one tribal culture to another.
For all these various reasons, the present account conforms to the approach indicated by the musicians taking part in the recordings. It should be noted, however, that most of these performers belong to the Amhara people and are professional musicians in Addis Abeba.

As they see it, use is made above all of four pentatonic scales, kignit, two of which are sub-guided into two variants each. The term kignit is connected with the tuning of instruments, but it also includes a kind of reference to melodic models instead of merely corresponding to our own "scale", "mode" or "tuning".

To convey some idea of the interval structure of the scales and to facilitate comparisons, the scales are shown below, with reference to a western scale beginning on C.
It must be realised, though, that this is a purely theoretical comparison. The intervals as they actually sound are not in any way geared to a western tempered scale but can be either larger or smaller than their European counterparts.

1. Tizita ("memories") — C, D, E G A. (There is also another version of this which might perhaps be equated with "minor" in western music theory: C, D, Eb, G, Ab.)

2. Bati (a place name in the Wollo region) — C, E, F, G, B. (Bati, similarly, also occurs in a "minor" version: C, Eb, F, G, Bb.)

3. Ambassel (another Wollo place name) — C, Db, F, G, Ab.

4. Anchihoyelene ("you cry out to me") — C, Db, F, Gb, A.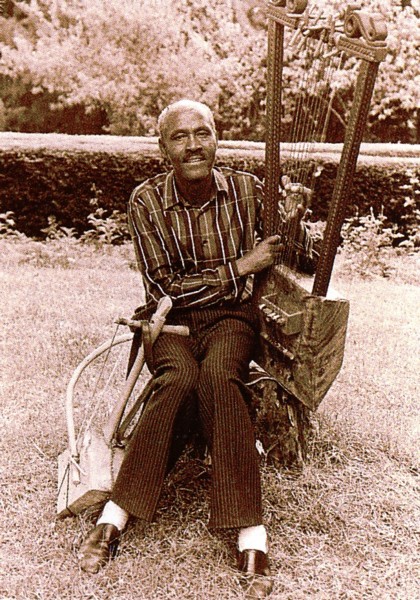 Alemayehu Fanta
vocal, begena and masinko