Ancient Airs, Cantigas & Dances for Flute & Guitar
---
Allan Alexander & Jessica Walsh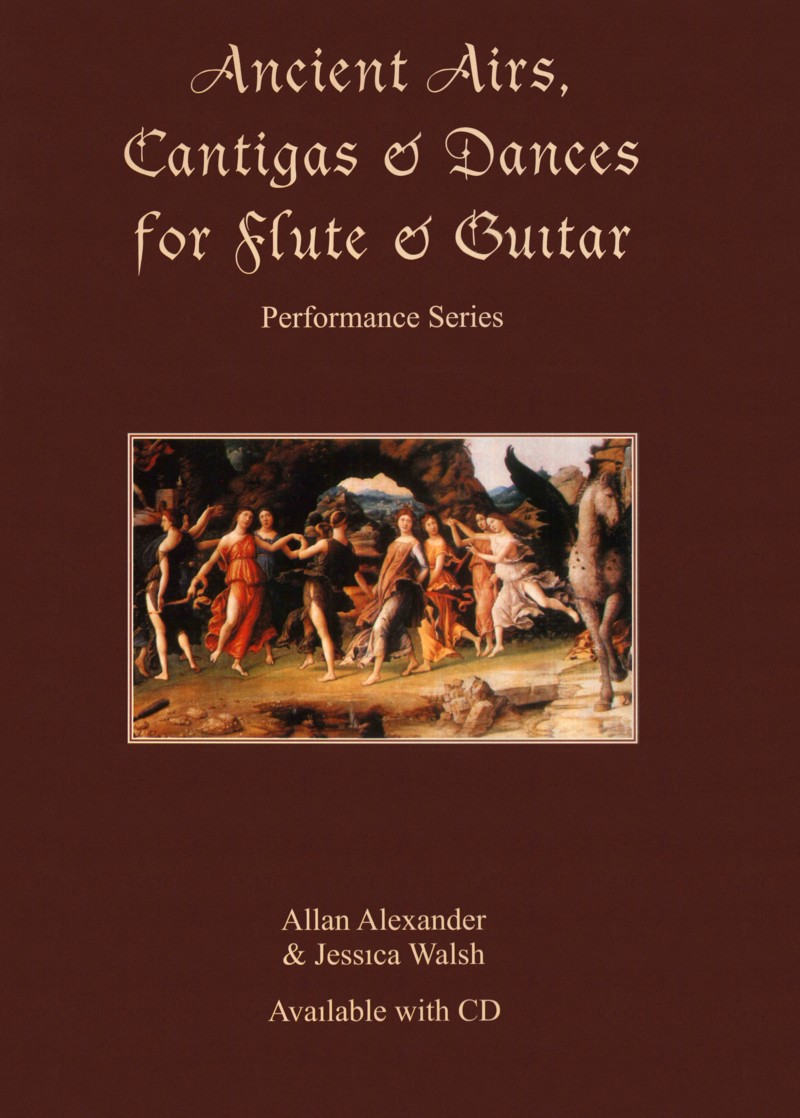 oberlin.edu | fluteandguitar.com | worldcat.org
ADG records
2001
[1:14:39]








1. Quest for the Seven Rings [4:15] Cantiga 780

2. Acorrer Nos Pode [2:26] CSM 86
3. De Todo Mal [1:59] CSM 129

4. Cantiga Two [2:00]
5. The Wizards of Arren [2:54] Cantiga 701

6. A Virgen En Que [3:52] CSM 134
7. Sempr'acha Santa Maria [2:08] CSM 137

8. The Sword of Arren [2:44] Cantiga 700

9. Ben Pode Santa Maria [3:21] CSM 189
10. Aquele Que Ena Virgen [2:33] CSM 208
11. O Que En Santa Maria [3:08] CSM 216

12. Ben Pode Seguramente [2:56] CSM 271
13. Muito De Mostra a Virgen [2:16] CSM 292
14. A Sennor Qui Mui Ben Soube [2:33] CSM 324
15. Quen Omagen [3:56] CSM 353

16. A Qua Sas Cousas Coitadas [2:11] CSM 358
17. En Toda Nos Faz Mercee [3:04] CSM 375
18. Os Sete Does [2:24] CSM 418

19. Voyage of the Unicorn [4:27] Cantiga 784
20. Fantasia No. 1 [2:48]
21. Corrento [1:41]
22. Cantiga Encantador Leitão [2:46] Cantiga 702

23. Leitões Dançando de Santa Maria [3:28] Cantiga 703
24. Fantasia [2:06]
25. Come With Me My Giselle [2:31]
26. My Heart is Entrusted to You [2:23]

27. O Que Diz Que Servir [1:47] CSM 311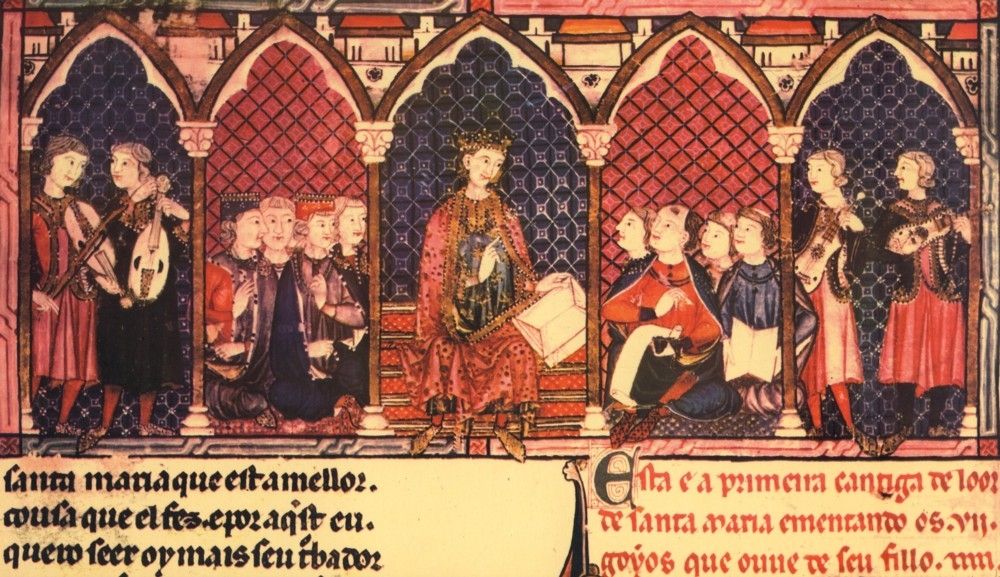 During the thirteenth century, there was a "Mary Mania". Thousands of miracles were attributed to Mary, the mother of Jesus, and there were many songs composed celebrating them. For example, in the thirteenth century a collection of poems titled "Les miracles de Notre Dame" was composed by Gautier de Coincy. The collection also contained 37 songs praising Mary.

The Cantigas of Santa Maria were composed, collected and published in book form circa 1280 by King Alfonso X. There are over 400 Cantigas in the collection, and they contain both words and music. Every tenth piece was written in praise of Mary. Many of the others detail miracles and well-known legends of the blessed mother, as well as other subjects such as trade and travel in the times. The words are in Galician-Portuguese.

The courts of powerful rulers were often very good places for musicians, scholars, scientists and historians to be employed, and there were few courts better than that of Alfonso X (1221-1284), who was also known as "el Sabio" (the Wise). He was King of Castile and Leon in the thirteenth century; his court was located in Toledo. Alfonso X was a learned man and a supporter of the arts. His staff did important translations, and he brought to his court the best scholars he could hire, including Muslims and Jews as well as Christians. Such religious diversity was very unusual. An astronomers' handbook, "The Alfonsine Tables," was developed by his court; it gives coordinates of celestial positions and was a standard reference for all astronomers. King Alfonso was a benevolent ruler and was revered by the people.

The musicians in King Alfonso's employ composed many of the melodies for the Cantigas especially to fit the lyrics, and the King is said to have composed some of the music himself. A few of these melodies existed previously as troubadour songs, and others have a folk or pagan origin.


♦ ♦ ♦


Early music staff notation was created by Guido Aretinus in the eleventh century. He was a Benedictine Monk who, needing a system by which to teach his students church melodies, developed one himself and taught it both to his students and to the other monks. Having accomplished this, Guido became the focus of disdain by the heads two monasteries. The road of an innovator is often rocky. Before long, though, he came to the notice of the Pope, John XIX, who asked him to come to Rome. Upon much urging, Guido made the trip and taught his notation system to the Pope. The Pope was amazed and pleased at how easy the system was to master. It allowed him to learn the music without a teacher. Guido was invited to stay and teach the other monks, but fell ill and had to leave. On returning to his own monastery, he was given a hero's welcome.


♦ ♦ ♦


When we play the Cantigas on flute and guitar, we find that they lend themselves to simple harmonies. Often we will state the theme in unison and follow with variations. All of these melody lines exist originally as single-line solos. We have used sparse harmony in the guitar parts, often for a percussive effect. The simplicity and power of each of these Cantigas is striking, and because we love the sound of these pieces, we have written a few of our own.

Allan & Jessica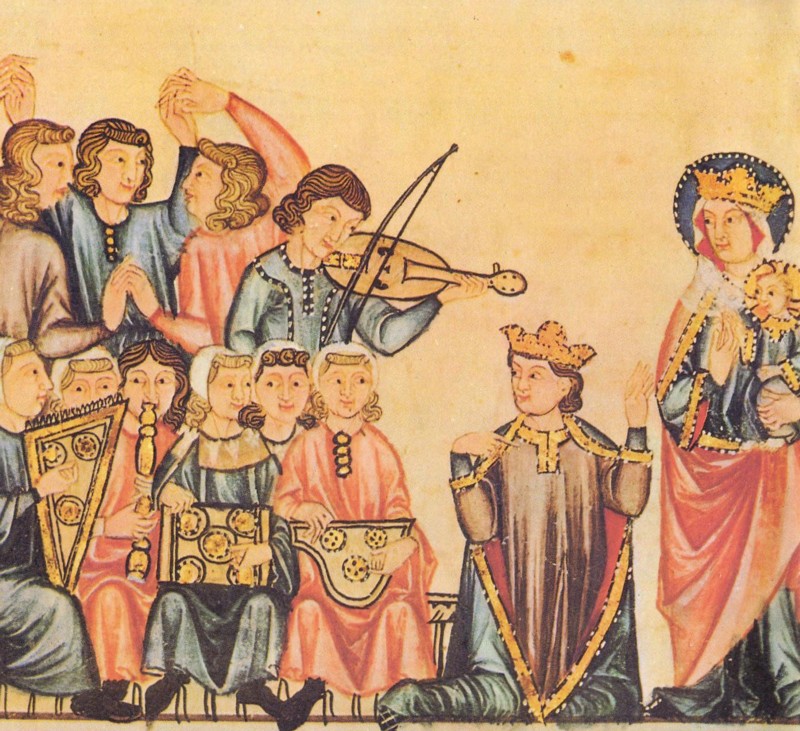 This music is fun to play. It's addictive. You will find yourself humming it, and you'll come back to play these pieces again and again. Many of these melodies are more than nine hundred years old; yet these pieces are as vibrant, as exciting, and as seductive as they were centuries ago. Each piece in this collection has its own powerful personality.

Many of the Cantigas have an indefinable feel we have not heard in music from other periods. The music creates a texture that fills the room, permeating the air and painting pictures in your mind. You hear it and you feel it down to your toes. This is music that you will want to play again and again.

If you are an intermediate player, you will find that most of these high-quality pieces are readily accessible. If you are a professional, you will find this book to be a resource that you will draw on repeatedly. If you just like to play for yourselves, it will be a great source of entertainment. For us, this collection is all of the above. These pieces work for concerts, for weddings, and for restaurants. This is some of our favorite music, and we hope that you have as much fun playing it as we do.

A poem written by Australian poet and author Liam Guilar is printed near the beginning of the book. It is one of our favorites.




Late in the evening, their banners in tatters
crossing the drawbridge the weary host clatters
In the dark, in slow motion, battered and sore:
The Lord of the castle is back from the war.

The serf in the field and the priest at his mass
will bow to the ground when he proudly rides past

A fighter by training, a killer by choice
He thinks with his sword and he never thinks twice.
Born to the saddle, he can't even read
He's an expert in ways of making men bleed
He fought for his race, his language his rights
Calling on god as he charged with his knights
He butchered "the heathen", he flattened their town
And danced by the flames as their library burnt down
He bled for religion, for honour and fame
And nobody now can remember his name

His country has vanished, his language is dead
sheep graze in the field, where thousands lay dead
His castle has crumbled, flowers grow in his halls
Where bored tourists yawn, unimpressed by it all

The Things he ignored, despised and disdained
As not worthy of notice, a weak child's game:
the tune of the shepherd, the priest's chant at mass
the song of the minstrel: These things will last.
Those beautiful tunes he was too drunk to hear,
Are all that remain, now his world's disappeared.


— Liam Guilar




Publisher & Distributor
ADG Productions
15517 Cordary Ave.
Lawndale, CA 90260
Phone (800) 748-5934
web site address: www.adgproductions.com

ISBN 1-882146-76-X



Also available:


• World Music for Flute & Guitar — Allan Alexander & Jessica Walsh
• Celtic Music for Flute & Guitar — Allan Alexander & Jessica Walsh
• Renaissance Music for Flute and Guitar — Allan Alexander & Jessica Walsh
• Celtic Music for Flute — Jessica Walsh
• Medieval & Renaissance Music for Flute — Jessica Walsh
• Christmas Music for Guitar — Allan Alexander
• Celtic Music for Guitar Vols I & II — Allan Alexander
• Renaissance Music for Guitar Vols I & II — Allan Alexander
• Easy Pieces for Guitar — Allan Alexander
• World Music for Guitar — Allan Alexander
• The Celtic Piano Collection — Allan Alexander, recorded by Andrew D. Gordon

Each book is available with an optional CD.
The music is presented in both music notation and guitar tablature.
The CD's are also available separately from ADG Records.