Portals of Grace
Azam Ali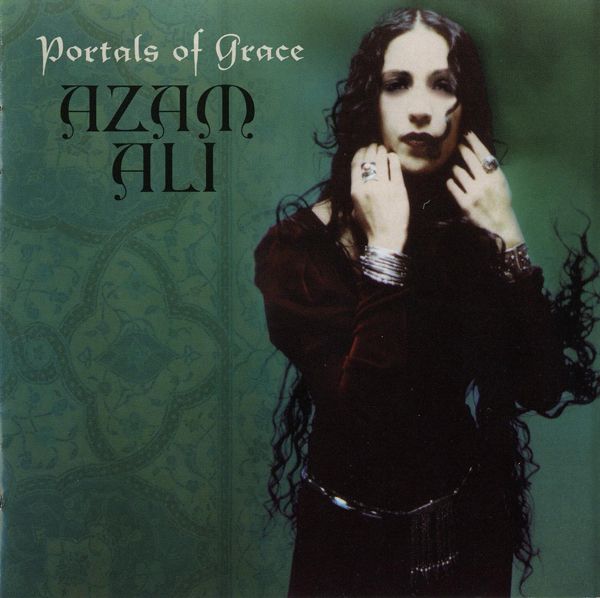 amazon.com
Narada·World 72438-11390-2-8
2002






1. Lasse pour quoi [refusai] [6:21]
an. early 14th century, French

2. La Serena [4:32]
Sephardic, Judeo-Spanish

3. Breton Medley [3:58]
instrumental, Brittany

HILDEGARD von BINGEN
4. O Felix [anima] [5:19]
responsorium · Riesencodex, fol. 470v
12th century, Latin

5. Ben pode Santa Maria [3:09] CSM 362
13th century, Galician-Portuguese

Peter ABELARD
6. O Quanta Qualia [4:00]
12th century, Latin

7. Sackpipslåt [2:41]
instrumental, Sweden

Martin CODAX. Cantiga de amigo VII
8. Aj Ondas [5:13] ca VII
early 14th century, Galician

Comtessa BEATRIZ de DIA
9. A chantar m'er [6:32]
Late 12th century, French Provençal

10. Inna-l-Malak [5:24]
Byzantine, Arabic

11. El Rey de Francia [4:32]
Sephardic, Judeo-Spanish





Azam Ali, vocals, hammered dulcimer

Greg Ellis, frame drums, riq, dumbek, bells, keyboards, tuned gong and bowls, vocal drones, karkarba, cajon, nagara
Ethan James, hurdy gurdy, nyckelharpa
Shira Kammen, rebec, vielle
Dann Torrez, saz
Naser Musa, oud
Cameron Stone, cello
Pejman Hadadi, tombak, daf
Chris Bleth, duduk

Nicole Baker, soprano voice
Mark Beasom, bass voice
George Stearne, tenor voice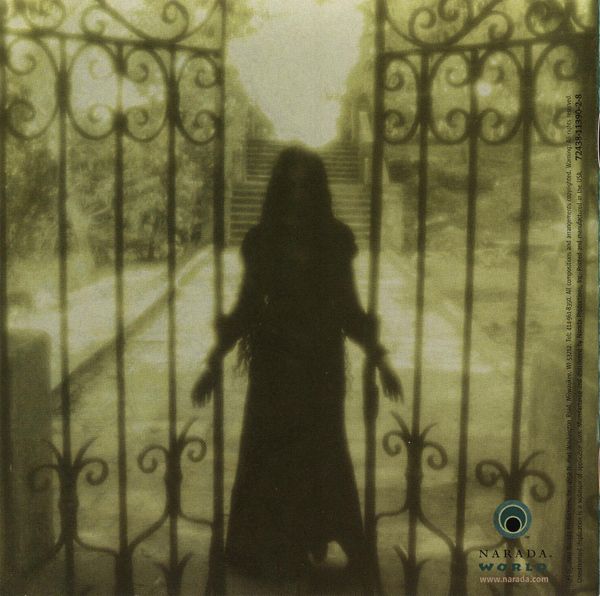 Having been born in Iran and grown up in India, I was introduced to the music of medieval Europe only after arriving in the United States in 1985. What initially struck me about the music was how similar the melodic sensibilities were to the music of my heritage. I could not help but feel the same shudder of awe when I first heard the music of Hildegard Von Bingen as I did when I was a child walking by temples in India and hearing prayers and chants sung through the sound of ringing bells. I felt that, even though the musical approach was quite different due to cultural differences, the root desire of the music conveyed the same sentiments — to commune with God and sing his praises. Other times I feel this music strikes a chord within me that is as old as my soul itself and transcends the confines and myths of illusory time and space.

It is hard for me to regard this body of work as a solo debut, given that these are all traditional pieces which have been around since before my lifetime and have been interpreted or recorded by numerous musical theorists and performers. I think of this album rather as a small detour from my work with Vas, not only to pay tribute to some of the music and composers that have inspired me on my musical journey, but to explore through these compositions the correlation between the music of medieval Europe and the music of the Arab world.

Although any evidence as to the influence of Arabic music on that of medieval Europe proves to be highly ambiguous, there are many who believe the influence was great; still, there are many purists who dispute this theory, thus shying away from introducing any Arabic elements into their work. All this having been said, it is important to note that the evidence with respect to the true performances of some of these pieces is veiled in the mystery of their time, therefore leaving much room for the numerous interpretations and theories that exist.

My intent was to give this music a contemporary feel in hopes of exposing its beauty to people who, with absolutely no reference point, may find the more purist, academic approach to be too austere or inaccessible. Having a vast collection of medieval music myself, I highly encourage anyone who responds to the works here to seek out the sources of this music and discover this magnificent treasure trove of our human legacy. For this reason I decided to show the many colors of medieval music by uniting the works of various regions and composers on one canvas.

But mainly my desire to do this project was born of a need to communicate with this music in my own way; to honor the memory and echo the sentiments of all the magnificent voices who have sung these songs throughout the ages and kept them alive for all of us. I have abandoned all rules and restrictions in order to interpret these songs and chants in a way most natural to me and have sung them as honestly as possible, given that I do not speak the languages represented.

I believe that all artistic creation is a direct response to an innate call each artist receives. Sometimes that call comes in the form of nature, love, an experience, etc., but for me that call has most often come in the form of music. I am constantly interacting with the music that I discover and love. I see this interplay as an ongoing dialogue and a longing in our quest for the divine. In medieval times, the voice was regarded in the highest esteem, above all other instruments, for it reflected the purest image of God. I share this sentiment in that, for me, singing and praying are one and the same.

l see the human voice as a reflection of the truest self within us, through which we can mirror forth, either through prayer or song, the beauty and the Grace of God.

— Azam Ali




This album is dedicated to the memory of Phoolan Devi, India's "Bandit Queen", who lost her life on July 18th, 2001. May she never be forgotten so that her tragic life will have not been lived in vain.

And

To the women of Afghanistan, Iran and elsewhere in the Middle East who are the first victims of fanaticism and intolerance. Their courage in the face of insurmountable oppression has made them into the world's most unwilling soldiers.

A portion of the proceeds from this album will go to support the efforts of RAWA (Revolutionary Association of the Women of Afghanistan)
www.rawa.org





Lasse Pour Quois
(Anonymous, early 14th century. French)

Of the countless 12th and 13th century Trobairitz (female poet-musicians) who graced the magnificent courts of medieval Europe, we know only the names of a mere handful, which is why the source of many of the poems and melodies such as this one remains a mystery. The language of the troubadours, known as Old Provençal, was the language spoken in the southern half of present day France. The poems of the Trobairitz mostly portrait the joys or sorrows of a woman in love. Here a woman sings of her regret for refusing the one whom she loves.

Chris Bleth: duduk
Greg Ellis: frame drum, riq, dumbek, bells
Ethan James: hurdy gurdy
Shira Kammen: rebec
Dann Torres: saz
Azam Ali: voice, hammered dulcimer


La Serena
(Sephardic, Judeo-Spanish)

"A woman sits in the window of a tower in the sea
and sings melancholically to the sailors going by".

The songs of the Sephardim (Spanish Jews), handed down orally from generation to generation, tell the stories of their lives, their history, and their culture during their settlement in the Iberian peninsula until their exile in 1492. The Sephardic language is known as Judezmo or Judeo-Spanish, which is the Spanish language of the middle ages.

As a result of the Jewish Diaspora Sephardic communities were established throughout the Mediterranean, North Africa, Turkey, Egypt, Greece, Palestine, Syria, and the Balkan states. Although they managed to preserve their culture by maintaining their Hispanic traditions wherever they lived, their music became greatly influenced by the cultures they inhabited, hence creating the immensely diverse repertoire of Sephardic songs we hear today.

The one thing that intrigues me most is that during the Islamic conquest of Spain, the Muslims and the Jews lived in peaceful co-existence. Their communities were strongly linked until the 14th century when the Catholic re-conquest and the Inquisition brought the peace between them to a bitter end.

Chris Bleth: duduk
Greg Ellis: keyboards, orchestral percussion
Shira Kammen: vielle
Naser Musa: oud
Cameron Stone: cello
Azam Ali: voice


Breton Medley
(instrumental)
This piece is based on three traditional folk dances melodies from Brittany.

Chris Bleth: duduk
Ethan James: hurdy gurdy
Shira Kammen: vielle
Prejman Hadadi: tombak, daf
Greg Ellis: frame drum, riq, bells


O felix
(12th century, Latin)

It was the music of the visionary Abbess Hildegard Von Bingen that first opened my ears and my heart to the music of medieval Europe. In my opinion, she was one of the greatest and most prolific souls to have graced this earth. Although she is best known for her music, which are some of the most beautiful and unique compositions written in the middle ages, she was also a mystic, naturalist and playwright. Her renunciation of the world, her passionate dedication to a life of creativity, and her extreme devotion to God have left us with a profoundly deep legacy of music and spirituality.

Greg Ellis: tuned gongs & bowls, keyboards, vocal drones
Azam Ali: voice


Ben Pode Santa Maria
(Cantigas de Santa Maria, 13th century, Galician-Portuguese)

The Cantigas de Santa Maria is the largest collection of monophonic songs to have survived along with the texts. They are compiled from some 400 songs that celebrate the divine virtues of the Blessed Virgin Mary and recount tales of the miracles she performed. It is widely believed that in the 13th and the 14th century, the Jewish and Arab musicians of the courts played a very important role in the performance of the Cantigas. This pieces tells of how the Virgin Mary restored the sight of a goldsmith of Chartres.

Naser Musa: oud
Greg Ellis: frame drum, karkarba, cajon, nagara
Azam Ali: voice


O Quanta Qualia
(12th century, Latin)

Written by Peter Abelard, a French philosopher, poet, and musician. His love affair and secret marriage with the niece of Canon Fulbert, Heloise, tragically ended after Fulbert had Abelard castrated. As a result, they both retreated to monastic lives.

Aside from his numerous theological writings, which aroused much opposition and caused him to be charged a number of times with heresy, he composed a hymn book for Heloise of which the melody for only this piece O Quanta Qualia, the hymn for Saturday, has survived. It is believed that he also composed many love songs, but if this is true, they have all sadly been lost.

Nicole Baker: soprano
Azam Ali: soprano
Mark Beasom: bass
George Stearne: tenor


Sackpipslåt
(instrumental)
This is a Medieval melody from Sweden, which is traditionally played on the bagpipe.

Ethan James: nyckelharpa
Cameron Stone: cello
Greg Ellis: frame drums, riq, bells


Aj Ondas
(Early 14th century, Galician)

Written by the Galician troubadour Martin Codax from the perspective of a woman looking out to sea, singing to the waves as she longs for her lover who is far away.

Chris Bleth: duduk
Greg Ellis: keyboards, tuned gong, cymbal, wood block
Azam Ali: voice


A Chantar m'er
(Late 12th century, French Provençal)

Written by the mysterious Comtessa Beatrix de Dia, this piece is sadly the only extant melody written by a Trobairitz. Known as one of the greatest poetess of all time, here she bitterly tells the tale of unrequited love for a man other than her husband. The opening line literally translates as "I must sing of that which I would rather keep in silence".

Chris Bleth: duduk
Greg Ellis: frame drum, riq, cymbal, bells, keyboards
Pejman Hadadi: tombak
Shira Kammen: vielle
Azam Ali: voice


Inna-l-Malak
(Byzantine, Arabic)

This is an original composition by Soeur Marie Keyrouz who is originally from Lebanon but resides in France. It is a chant to the Blessed Virgin on the resurrection of Christ. The melody is based in the ancient Byzantine tradition, in which chants are sung strictly a cappella without the use of any western instrumentation.

Although I have taken many liberties on this album, it was Soeur Marie Keyrouz's wish that I maintain the traditional and sacred integrity of this chant by keeping it true to the format in which she composed and performed it.

In my opinion, her voice is one of the most beautiful an precious jewels in this world. For the past seven years since I discovered it , it has been part of my everyday life. The performance of this piece is a humble attempt on my part solely to pay tribute to a woman who has greatly inspired me.

Greg Ellis: vocal drones
Azam Ali: voice


El Rey de Francia
(Sephardic, Judeo-Spanish)

"One day while embroidering, a princess, the youngest if three daughters of the King of France, falls into a dream. Awakened by her mother, she recounts her dream in which her mother interprets as an omen of a princes who will come to carry her off to far away lands".

Naser Musa: oud
Pejman Hadadi: tombak, daf
Greg Ellis: frame drum, riq, keyboards
Azam Ali: voice







Thank you to Weslay Van Linda and the Narada staff; Cheryl McEnaney for all your generosity, support and friendship; my extended family Caryl, Reya and Mickey Hart; John Diliberto, and Jeff Towne at Echoes for your undiminished support all these years; Fritz Heede for taking the initial steps with me; Ethan James, a modern day Troubadour; my dear friend Alfred Madain; Tyler Bates, for your incredible kindness; Umberto Belfiore at UCLA for helping me with my research; Dan Pinder for your musical contributions and magical mixes; little William for the priceless moments during mixing; all the gifted musicians who poured their hearts into this recording; and my beloved friends, you who know who you are...


Thank you to Soeur Marie Keyrouz, Hildegard Von Bingen, Emily Van Evera, Lisa Gerrard, Elisabeth Fraser, Asha Bhosle, Lata Mangeshkar, Tzvetanka Varimezova, and the countless other women and singersnwho have inspired so much creativity and goodness in me over the years. May your voices and music echo throughout the heavenly spheres until the end of time.


My deepest gratitude to my best friend and musical partner Greg Ellis, without whom the making of music is an incomplete experience. Your talent, passion, and dedication have been my muse for so many years. Although this album has my name on it, you and I both know that in the heavens this counts as one of ours.


Produced by Azam Ali

Engineered by Greg Ellis
except O Quanta Qualia engineered by Dan Pinder
Additional engineering by Azam Ali

String arrangements by Greg Ellis
Mixed by Dan Pinder

Mastered by Steve Hall at Future Disc
Recorded at Atman Studios November, 2001 - March, 2002
O Quanta Qualia recorded at St. Tyler's

Photography (copy) Trinette Reed
Designed by Kurt Pfeifer

All arrangements by Azam Ali, except
Breton Medley and Sackpipslat by Ethan James, Azam Ali and Greg Ellis
Inna-l-Malak, composed and arranged by Soeur Marie Keyrouz


P C Narada Productions, Inc
NARADA WORLD
www.narada.com