Convivencia / Jubilatores
---
Music celebrating medieval Iberia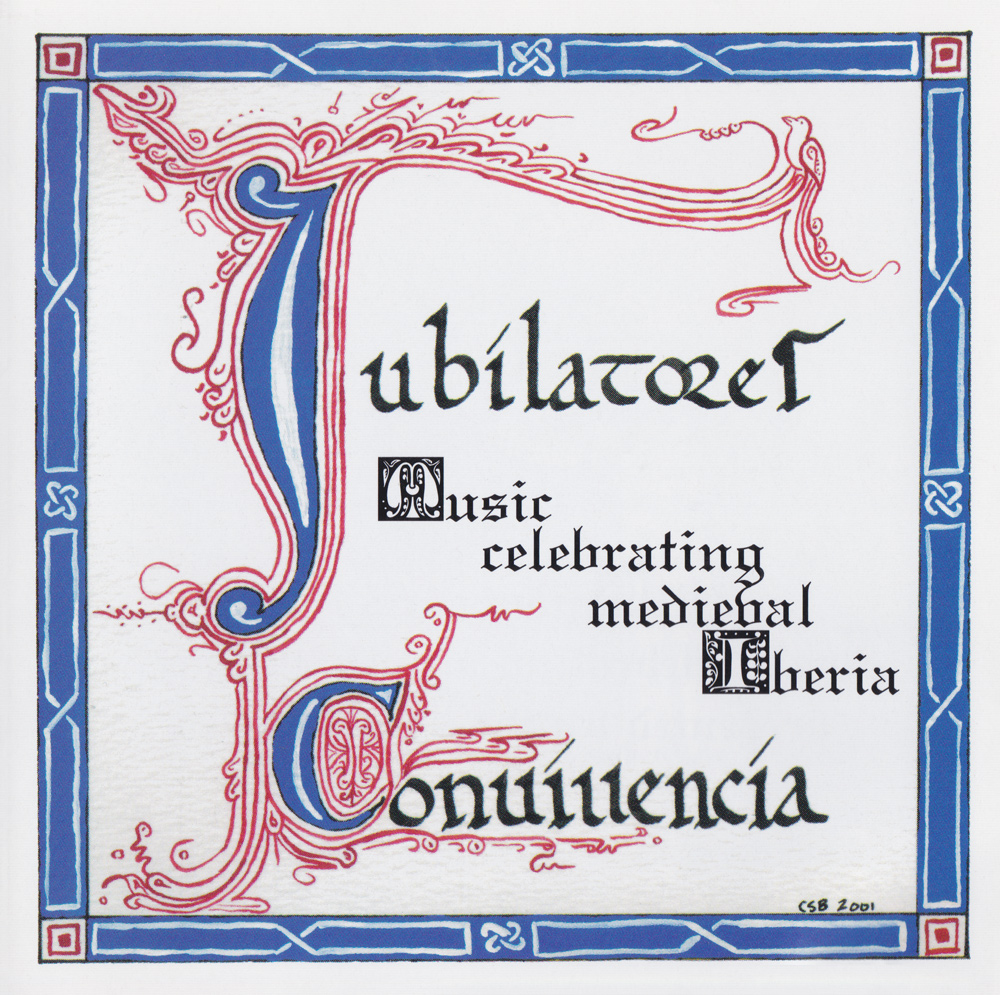 worldcat.org
Freetrader Music FR 005
2001










1. Cuando el Rey Nimrod [7:21]

2. Madre de Deus [6:29] CSM 422
#12 of Las fiestas de Santa Maria

3. M'saddad [4:04]
This 13th century piece comes from Moorish held Spain

4. Virgen Madre Gloriosa [9:14] CSM 340

5. Alli en el Midbar [6:58]

6. Non sofre Santa Maria [2:24] CSM 159
#159 from Las cantigas de Santa Maria

7. Yo m'enamori d'un aire [8:37]
Ladino folk song

8. Como poden per sas culpas [8:09] CSM 166
#166 from Las cantigas de Santa Maria

9. Rampi rampi [4:09]

10. Yomz lý Israel [6:03]






Jubilatores

Robert Brett: percussion
Teresa Brett: portative organ, percussion
Barry Ebersole: lute, psaltery, fyddle, guitarra latina, guitarra moresca ...
Charissa Ebersole: recorder, flute, shwam, dulz[a]ina, percussion, voice
Shoshannah Ebersole: fyddle, voice
David Nelson: lute, percussion, voice

Recorded on location at Freetrader Sutido. Ann Arbon, MI.
Engineered and Mastered by Barry Ebersole.
Original cover illustrations by Chrles S. Burton.

The illustrations depict members of the Jubilatores in the style of Las Cantigas de Santa Maria manuscript, from the court of Alfonso X.

Graphic production & audio replication: World Class Tapes, Ann Arbon, MI.

Thanks to Curtis Bouterse, Louis 'Pete' Peterman, Geofrrey Adams, David Brewer,
John Berberian, Carlos Montoya, Jose Ramirez, James Meadows, Jim French,
all of Shoshannah's friends at CMU, John Brett, Evon Stemm,
All at World Class Tapes, Uncle Mafufo,
and our faithful scribe Tarik.





Convivencia
Music celebrating medieval Iberia
presented by the Iubilatores


During the middle ages the Iberian peninsula enjoyed the co-mingling of three distinct cultures, known as Convivencia, meaning "dwelling together". Moors, Jews (Sephardim), and Christians, all contributed to the unique cultures of medieval Iberia evidente in architecture, poetry and music.

Alfonso X's court presents in microcosm the intermingling of cultures. Christians, Jews, and Moors played music together. Pictures in Alfonso's manuscripts, one who could be the king himself plays the long-necked lute with a Moor. Someone in a later, less tolerant era scratched-out the Moor's eyes, defacing the manuscript. Much of the most revered Judaic literature comes from this time. Isabella and Ferdinand expelled the Jews from Spain with the edict of Expulsion in 1492. Yet the Sephardic people retained their unique culture, language, and songs to this day. Indeed language scholars believe Ladino, the Sephardic language, still spoken from South America to the Middle East, comes from renaissance Spain. Flamenco folk music of modern Spain reveals Moorish roots in its counter-rythms and passionate vocals.

In the middle ages, as today, people gathered to celebrate. From a family wedding to community festivals, many of the same celebrations still occur today. These celebrations, now and ages ago, include music. Music speaks to the soul. It expresses our joys and sorrows. Music inspires and unifies.

In Convivencia the Jubilatores present a sampling of the music from centuries past.