Joy / Frank Wallace

---
Carols & Songs for a Season of Light
Christmas / solo classical guitar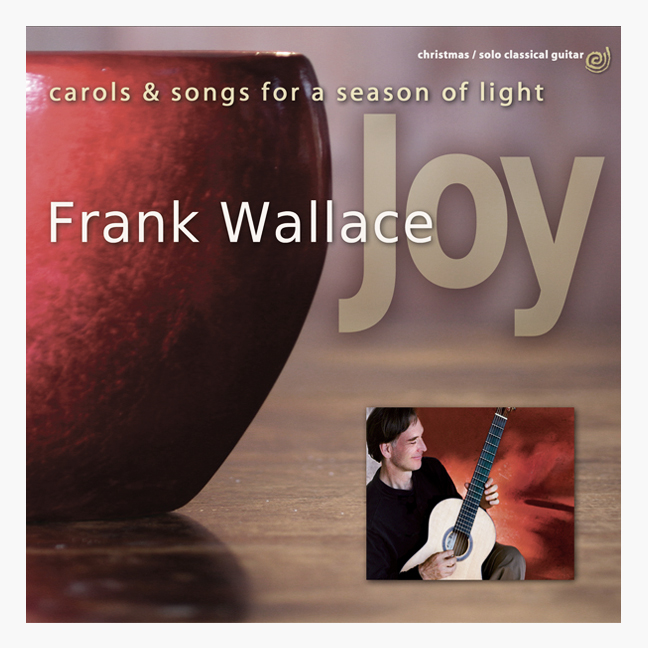 cdbaby.com | worldcat.org
gyremusic.com | play.google.com
deezer.com | spotify.com

Gyre Music
2007 / 2013








1. Joy to the World [2:07]
2. The First Noel [1:35]
3. Silent Nigh [2:28] Franz Xaver Gruber

4. Sing We to this Merry Company [1:42]
5. There is no Rose of Such Virtue [2:04]
6. O Come, O Come, Emmanuel [3:15]

7. Les Pasteurs de la Judea [1:02]
8. Beata progenies [2:37] Leonel Power
9. God Rest You Merry, Gentlemen [1:47]

10. Star in the East [2:37]
11. A Shining [1:41]
12. Quando el Rey Nimrod [2:46]

13. A los maytines era - Aro que Nostre [2:23]
14. March [1:56]
15. Greensleeves [2:58]

16. Coventry Carol [3:44]
17. Noel nouvelet — Masters in This Hall — Amb un Viudo — Stella Splendens LV 2 [4:54]
18. Personent Hodie — Carillon — Descent of the Doves [4:33]

19. Away in a Manger [2:05]
20. O Holy Night [2:38] A. Adam
21. J'ai Ouy la Voix — Santa Maria, strela do dia CSM 100 [4:07]
22. Venite a Laudare — Per Nadal [1:51]
[worldcat.org: 3:53; Venite a Laudare suena, pero Per Nadal no la percibo
en las ediciones digitales de spotify, deezer y demás]



Frank Wallace, guitar

Guitar by Ignacio Fleta, 1964

Recorded at Hillsborough (NH) Center Congregational Church in summer 2007

Gyre Publications
Copyright © 2007 Frank A. Wallace
℗ © 2013 Gyre Music
Cover photography and design by Nancy Knowles
All rights reserved.






One of my fondest memories of childhood in California is the Christmas Eve service at our stucco church. We arrived at 11:00pm to miraculous blazing sentinels that stood guard all around the top of the flat-topped building and lined the stairs and benches of the patio. Each of these warm luminarias was nothing but a paper lunch bag with sand and a candle. We would sing carols outside carried more candles as we exited the service at midnight.

Those lights had been all but extinguished by time until some mysterious match rekindled their memory in a new form last November. My annual search for better arrangements of carols became a creative marathon. I spent two months exploring many old carols and writing new ones. Each piece came to me practically in the order you hear here and created a progression of keys, moods and textures that speak of the joy and solitude of winter and the hope of re-birth that the season brings to us.

I have chosen music from my childhood, my favorite songs sung on those nights of light, as well as medieval songs to Mary, renaissance part songs, French, Sephardic, English and Catalan folk songs. The story unfolded with little effort on my part. Simple Joy and may peace reign at last, at long last.


— https://www.stringsbymail.com/frank-wallace-joy-carols-songs-for-a-season-of-light-cd-3101.html