Walsyngham Way / Walsyngham Way

---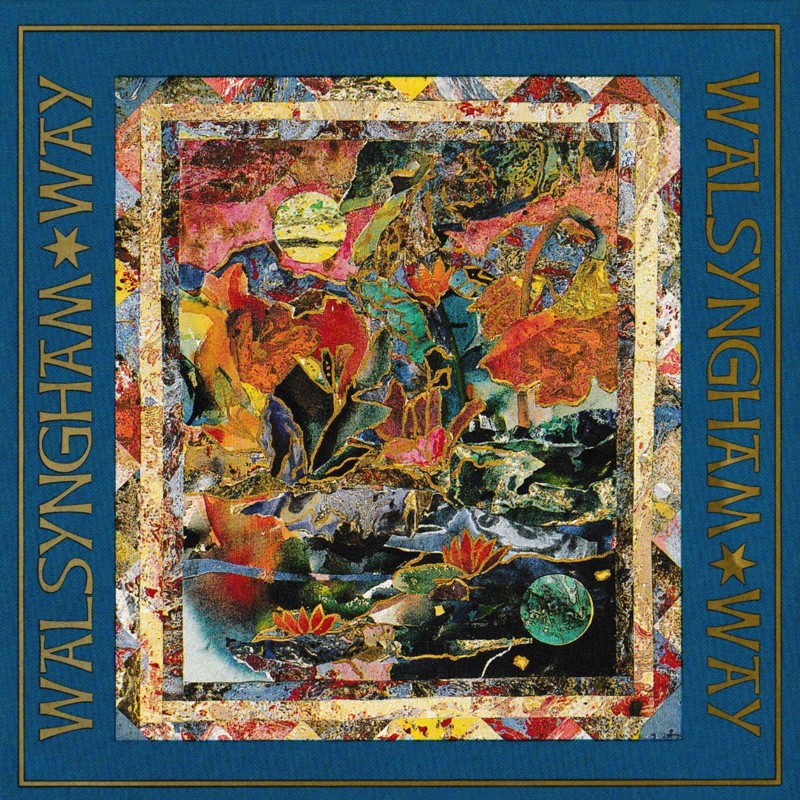 discogs.com | worldcat.org
Walsyngham Way Productions WWP 9301
1993

[48:03]








1. Lady Elizabeth's Delight/Spatter the Dew [5:30]
The first of these two popular Irish slip jigs showed rich harmonic possibilities when Bob arranged it as a slow harp piece. When we found we could weave a second jig into the texture as well, we were just...delighted.
Bob & Linda · harps | Margaret · recorder | Susan · pennywhistle | Paul · guitar | Anne · bronze cymbals

2. Como Poden Per Sas Culpas [5:11] CSM 166
Alfonso X of Castile & Leon, 13th C.
This is the first of three tunes on this album taken from the "Cantigas de Santa Maria," a collection made for [and to some extent by] the devout and musical King Alfonso. It hints at how European music was enhanced by links with Arab civilisation.
Paul · guitar | Linda · tambourine | Margaret · recorder | Bob · cittern | Susan · concertina | Anne · all the percussion within easy reach

3. Tenpenny Bit/Monaghan's Jig [5:24]
Two more traditional Irish jigs, played in the untraditional Walsyngham Way.
Paul & Bob · guitars | Susan · pennywhistle | Anne · bodhran | Linda & Margaret · vocals

4. Moon of My Delight [5:19] CSM 25
"Pagar ben pod' o que dever" Alfonso X of Castile & Leon, 13th C.
On a journey through inner space, a taste of spiritual yearning. The Rubáiyát of 12th C. Persian poet-astronomer Omar Khayyám, and Anne's collage (on the album cover), inspired our title for this arrangement.
Anne · tubular chimes | Bob & Linda · harps | Paul · guitar | Susan · pennywhistle | Margaret · recorder

5. Echo la Primavera [2:12]
Francesco Landini, Italy, c.1325 - 1397.
A ballata in joyous celebration of spring.
Paul · guitar/vocals | Bob · cittern/vocals | Susan & Margaret · recorders | Linda · vocals | Anne · vocals/bodhran

6. Saltarello [3:28]
Anonymous, Italy, 14th C.
As its name suggests, a saltarello was a strenuous kind of dance that involved leaping or jumping. Like some folks say, you can't keep a good tune down.
Margaret · recorder | Linda · zills/dumbek | Bob · cittern | Susan · concertina | Paul · guitar | Anne · bodhran

7. Rose of Roses/Tourdion [5:30] CSM 10
Alfonso X of Castile & Leon, 13th C./Anonymous, France, 16th C.
An instrumental version of a pilgrims' song in praise of the Virgin Mary, paired with a lively dance tune.
Susan · recorders | Linda · harp | Anne · dumbek | Bob · cittern | Margaret · recorder/tambourine | Paul · guitar

8. Trotto/Rota [2:44]
Anonymous, Italy, 14th C.
It's a pity no medieval scribe wrote down the steps to these two dances. On the other hand, you're free to make up your own moves....
Susan · recorder | Bob · cittern | Margaret · recorder/guiro | Paul · guitar | Linda · tambourine/cymbals | Anne · bodhran

9. Paul's Jig [2:13]
Paul Hammer, 1992.
Realising that Paul rarely gets a chance to demonstrate his prowess as a solo classical guitarist during one of our concerts, we all felt a slight twinge of guilt. This, a jug of wine, and a handsome gratuity from Paul, persuaded us to allow him a brief moment in the sun with his own piece. If you would like to hear more, we recommend Paul's album Starlight Guitar (Sunshine Records SSCT 4158).
Paul · guitar | Bob & Linda · harps | Anne, Linda, Margaret & Susan · vocals

10. Basse Danse "Jouyssance vous donneray" [4:00]
Claudin de Sermisy, France, c. 1490-1562.
In its heyday, a basse danse would often be followed by a faster dance such as a saltarello or tourdion. We prefer to let this one stand on its own.
Bob · cittern | Anne · dumbek | Margaret · recorder | Susan · concertina | Paul · guitar | Linda · tubular chimes

11. Motet "Pucelete/Je Languis/Domino" [5:46]
School of Notre Dame, c.1250.
A snippet of Gregorian chant intertwined with two secular French songs describing love's pleasure and pain.
Susan · pennywhistle | Bob · vocals/pennywhistle | Margaret · pennywhistle/vocals | Linda · vocals; Anne · bodhran | Paul - went for ice cream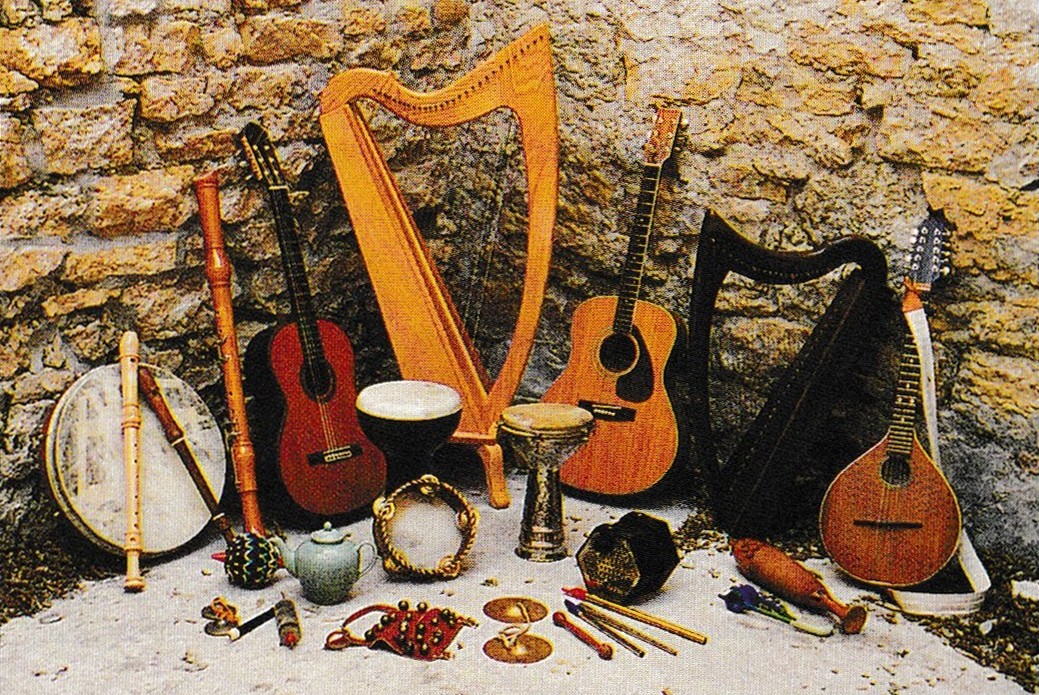 Walsyngham Way condensed in 1984 from a mixture of musicians, artists, history buffs and other stargazers. Our name comes from the ancient notion that the Milky Way is the bridge between earth and heaven; in medieval England, because it resembled a bridge crowded with pilgrims carrying candles en route to a famous shrine at Walsingham, the Milky Way was called "Walsyngham Way."

The music we play has travelled many roads over as much as seven centuries to reach us. Most of our sources give only a bare melody line, a starting point from which to experiment with harmony, rhythm, tempo, and instrument combinations in seeking the sound we want. That sound bridges all sorts of gaps—between medieval and modern, between solemn and silly, between traditional folk and scholarly performance practices. It's a galaxy of acoustic textures and influences, from supple Middle Eastern rhythms to lilting Celtic jigs and reels, from rough-hewn peasant ditties to courtly masques and airs. Bards, monks and minstrels alike might shake their ears, but we think you'll enjoy the music of Walsyngharn Way.

Walsyngham Way is: Paul Hammer, Susan Hammer, Anne Hanley, Bob Hanley, Linda Lassman, and Margaret McKenty.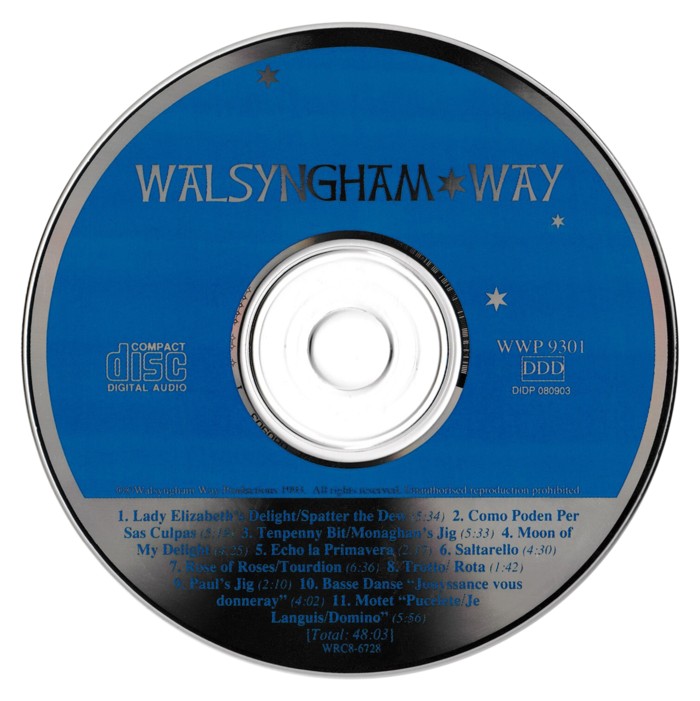 The members of Walsyngham Way individually or collectively want to thank:

Ann Atkey; the Barony of Castel Rouge; John Burgess; CIDO; Louise Clark;
Katherine Devine; Dan Donahue; Gloria Dow; Max Ferguson; Larry Fisher; Lois Fysh;
Martha Graham; Joe Hanson; Sherman Himelblau; Hinode Taiko Group; Shaleem Hosein;
Joe Kinsella; the Manitoba Arts Council; the Manitoba Arts Gaming Fund Commission;
Nes Michaels; Derek Morphy; Cathy Nosaty; Parlour Tricks; Timothy Peterson;
Liz Ready; Shirley Tervo; Duncan Thornton; John Trevenen;
the Winnipeg Early Music Society; the Winnipeg Folk Connection;
all the babysitters, who make performing and recording possible;
and the supportive audiences we've had over the years, whose enthusiasm sparked this project.

A special thank you to Mary McKenty who kept asking when it would be done and would have finished it with her bare hands if necessary.

And a cheerio to Lynette Reid, the only one of us with the good sense to bail out after the first five years.



This album is dedicated to the kids—Christopher, Allan, Grace and Philip—
and offered with our hope for the continual growth of cross-cultural harmony and respect.





Produced by: Dan Donahue with Walsyngham Way
Engineered by: Dan Donahue

Cover art: Anne Hanley, "The Moon of My Delight," hand-marbled paper collage, 1992
Cover photo: Louise Clark
Editing & layout: Margaret McKenty

Harps & Bodhran: Larry Fisher
Cittern: Michael Heiden

All arrangements © Walsyngham Way Productions 1993.
All rights reserved. Unauthorised reproduction prohibited.

&8471; & © Walsyngham Way Productions 1993

To contact us or order this CD by mail, please write:
Walsyngham Way, P.O. Box 2857, Winnipeg, MB Canada R3C 4B4