Compostelle

/ Discantus


Le chant de l'étoile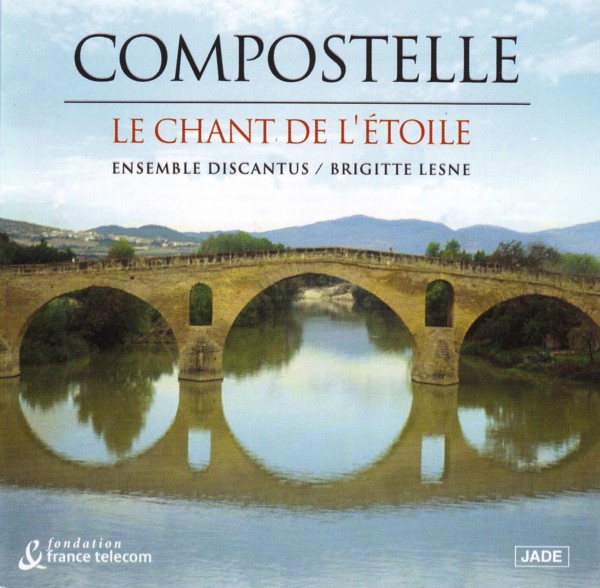 medieval.org
Jade (Universal) 301 654 2
2003






1. Dum pater familias [3:25] cc 117
chant de pèlerins — TUTTI - CLOCHES

2. Iocundetur et letetur [2:43] cc 26
Hymnus sancti Jacobi, a domno Guillelmo patriarcha Iherosolimitano editus
hymne à saint Jacques, Guillelmus (patriarche de Jérusalem)
CLOCHES - TUTTI

3. Nostra phalanx plaudat leta [3:06] cc 95
Ato episcopus Trecensis | conduit, Ato (évêque de Troyes)
LJ / CS - tutti

4. O adiutor omnium seculorum [3:47] cc 51
Quidam antistes a Iherosolimis rediens ereptus per beatum Iacobum a marinis periculis, in primo tono edidit hunt Responsorium
Un prêtre revenant de Jérusalem et sauvé par le bienheureux Jacques des périls de la mer a composé ce répons du premier ton.
TUTTI - verset: HD CS

5. Portum in ultimo [1:47] cc 107
Ato (episcopus Trecensis) | prose, Ato (évêque de Troyes) — TUTTI

6. Agnus — Qui pius ac mitis es [2:01] cc 93
Agnus Fulberti episcopi Karnotensis | trope d'Agnus, Fulbert (évêque de Chartres)
CB BLB LIU AM - SCH

7. Rex cunctorum seculorum [2:24] cc 89*
trope de Kyrie — CLOCHES - TUTTI

8. Congaudeant catholici [1:06] cc 96
Magister Albertus parisiensis
trope de Benedicamus, Maître Albert de Paris
CLOCHES

9. Sanctus. Osanna salvifica [3:33] cc 92
trope de Sanctus — TUTTI - BL

10. Alleluia, Iacobe sanctissime [1:29] cc 23
antienne — TUTTI - EG AG KH

11. Resonet nostra domino caterva [2:11] cc 84
Conductum sancti Iacobi a magistro Rotberto cardinali Romano editum
conduit a saint Jacques, Maître Robert (cardinal de Rome)
TUTTI - CS / BL

12. Salve festa dies, Iacobi [4:04] cc 70
Versus Calixti Pape cantandi ad processionem sancti Jacobi in sollempnitate passionis ipsius et translacionis eiusdem
versus du pape Calixte chanté lors de la procession de saint Jacques, lors de la fête de sa passion et de sa mort
TUTTI - CLOCHE - HD AG - BLB SCH

13. Annua gaudia, Iacobi [3:53] cc 99
Magister Airardus Viciliacensis | conduit, Maître Airardus de Vézelay
CLOCHES - EG LJ / HD AG - CB KE CS

14. Regi perhennis glorie [2:00] cc 94
Benedicamus sancti Jacobi a quodam doctore Galleciano
trope de Benedicamus à saint Jacques, d'un savant homme (ou d'un prêtre) de Galice
BLB SCH - CB BL - CLOCHES

15. Alleluia — Vocavit — Efonisen [3:39] cc 75 | cc 116
Alleluia — TUTTI - CB - CS

16. Vox nostra resonet [2:20] cc 102
Magister Iohannes Legalis | conduit, Maître Johannes Legalis
CLOCHES - TUTTI

17. O venerande Christi apostole [2:21] cc 3
antienne — CB BLB BL LIU AM SCH - HD

18. Adsit [1:44]
conduit — CLOCHES
Saint-Martial de Limoges, Paris, BNF, lat. 3549

19. Ora pro nobis [0:44] cc 57
prose — HD EG AG LJ - BL CS

20. Exultet celi curia [3:04] cc 79
Benedicamus sanch Jacobi a magistro Anselmo I editus
trope de Benedicamus 'a saint Jacques, Maître Anselme Ier
BLB BL - CLOCHES - TUTTI

21. Iacobe servorum spes [1:04] cc 60
répons — TUTTI - EG LJ KH

22. Psallat chorus celestium [2:06] cc 2
Hymnus S. Jacobi, a domno Fulberto Karnotensi episcopo editus
hymne a saint Jacques, Fulbert (évêque de Chartres)
TUTTI







DISCANTUS
Brigitte Lesne

voix:
CB Christel Boiron
HD Hélène de Carpignies
EG Emmanuelle Gal
AG Anne Guidet
KH Kyung-Hee Han
LJ Lucie Jolivet
BLB Brigitte Le Baron
BL Brigitte Lesne, (& cloches)
LIU Birute Liuoryte
AM Anne Marteyn
CSC Catherine Schroeder
CS Catherine Sergent

cloches: Deya Marshall



Conception du programme et arrangements : Brigitte Lesne
Transcriptions musicales : Brigitte Lesne avec le concours de Marie-Noël Colette



Avec le soutien de la Fondation d'entreprise France Télécom

Enregistrement 26 au 30 juillet 2002 - Église Sainte Clotilde 75007 Paris
Ingénieur du son Igor Kirkwood
Direction artistique : Dominique Daigremont

Illustration de couverture Puente la Reina ; Photo Michel Laliberté

℗ 2003 & © 2004 Éditions Jade



English liner notes








COMPOSTELLE, LE CHANT DE L'ÉTOILE

Les chemins de Compostelle rayonnent en « quatre routes qui, menant à Saint-Jacques, se réunissent en une seule à Puente la Reina, en territoire espagnol ; l'une passe par Saint-Gilles (du Gard), Montpellier, Toulouse et le Somport ; une autre par Notre-Dame du Puy, Sainte-Foy de Conques et Saint-Pierre de Moissac ; une autre traverse Sainte-Marie-Madeleine de Vézelay, Saint-Léonard en Limousin et la ville de Périgueux ; une autre encore passe par Saint-Martin de Tours, Saint-Hilaire de Poitiers, Saint-Jean d'Angély, Saint-Eutrope de Saintes et la ville de Bordeaux ».

Cette liste d'itinéraires introduit le Guide du pèlerin de Saint-Jacques, IVe livre du Liber Sancti Jacobi, autrement nommé Codex Calixtinus. Une autre partie de ce livre regroupe les chants du pèlerinage, parmi lesquels ont été choisies les pièces de ce disque. Le parcours est parsemé de sanctuaires qui, de la région de Vézelay où fut probablement copié le premier manuscrit (vers 1139 ?) jusqu'à la basilique de Compostelle, accueillaient les pèlerins venus « visiter » les reliques des saints. Le Guide du pèlerin indique les bonnes routes à prendre, les embûches à éviter, les eaux excellentes, ou mauvaises « qui donnent la mort », les régions où les pèlerins trouveront un bon accueil, et même les terribles maux qui frapperont les habitants qui leur seront hostiles. Ce Guide rappelle, à propos de ces itinéraires, les hauts faits, souvent le martyre, et parfois les merveilles accomplies par les saints vénérés tout au long de ces cheminements, qui à eux seuls vaudraient un pèlerinage : sainte Madeleine, saint Eutrope, saint Martin, sainte Foy, etc. Enfin, la basilique de Compostelle, commencée en 1078, y est décrite avec une grande minutie et alors considérée comme encore inachevée.

Etant donné le périple proposé, on ne s'étonne pas de trouver, relié avec le Guide du pèlerin, un répertoire riche de conduits, chants de processions apparentés aux compositions musicales écrites a la même époque dans le Sud-Ouest de la France. Pour certaines la nouveauté réside dans l'agencement des relations mélodiques, soit syllabiques (une note pour une syllabe), soit mélismatiques. Il n'est pas rare d'entendre des petites marches descendantes ou ascendantes, ou des vocalises, plus ou moins longues, disséminées ou rassemblées en conclusion. Ces façons se retrouvent aussi dans l'organisation mélodique des secondes voix, à l'aigu des chants polyphoniques (Vox nostra). Les échanges se font souvent par mouvements contraires, soit de tout le discours mélodique (Annua gaudia) soit de petits ornements dont la direction inverse semble établir un dialogue entre les deux voix (Nostra phalanx). La deuxième voix s'ajoute à un chant plus ancien à la manière d'un organum : Rex cunctorum, avec sa polyphonie, ici jouée aux cloches ; mais une tendance analogue, donnant plus d'ornements la voix aiguë peut aussi se faire entendre lorsque les deux voix ont été composées ensemble (Portum).

L'effet recherché de la production simultanée de deux voix est avant tout la perception de consonances qui enrichissent de manière agréable les sonorités. Ces rencontres sont-elles dénuées d'ornements, posées d'une note à l'autre sur chaque syllabe, et alors elles paraissent plus didactiques (Annua gaudia, Porturn), mais elles peuvent aussi être habillées de nombreux ornements qui mènent mélodieusement le chant d'une consonance à une autre : Vox nostra resonet.

Certains textes sont empruntés à la Bible, alors que d'autres compositions sont, chose rare à l'époque, attribuées à des auteurs, tous vénérables, dont les origines, recouvrant un panel assez large, confèrent par là même à cet ensemble une dimension quasi universelle : le Pape Calixte, Fulbert de Chartres, Ato évêque de Troyes, Guillaume, patriarche de Jérusalem, etc. Non seulement au terme du voyage, mais dans chaque sanctuaire, les pèlerins assistaient aux offices, au cours desquels ils chantaient des hymnes, des répons, des antiennes. Mais la célébration la plus solennelle était certainement la messe de Saint-Jacques. Il est bien rare que les messes aient été pour les saints pourvues d'antiennes spécifiques. Mais saint Jacques, fils de Zébédée, est nommé dans l'évangile, « Boanerges, fils du tonnerre », cette belle métaphore a donc tout naturellement donné le texte du verset d'Alleluia, « retraduit » en grec pour en accroître la solennité et en souligner l'authenticité (Alleluia V. Vocavit / Efonisen). La mémoire des saints pouvait aussi être invoquée avec les « tropes » nouvelles compositions insérées dans les chants de l'ordinaire. Le Kyrie Rex cunctorum et l'Agnus gardent leur ton de supplication, le rayonnement de Jacques étant rappelé dans la dernière invocation du Kyrie. La prosule en vers Hosanna salvifica qui commente le Sanctus n'est pas propre à Compostelle, elle a été empruntée à des répertoires du Sud-Ouest de la France (Moissac), et de Catalogne, mais la circonstance est discrètement actualisée par les petites vocalises qui, à la fin de chaque phrase, répètent la mélodie sur les voyelles A, O, E (lacobe). Aux chantres était dévolu le texte, au chœur les vocalises.

Dans le manuscrit le répertoire est ainsi disposé : Les offices de la vigile (veille) et de la fête, les messes de la vigile et de la fête, puis une série de proses, tropes et conduits. Les offices du jour et de la nuit commencent ou se terminent par une hymne (Psallat chorus, Iocundetur et letetut), mais la partie essentielle est la récitation des psaumes ou psalmodie, assortie d'antiennes (O venerande Christi apostole, Alleluia Iacobe Sanctissime), de longues lectures extraites de la Bible, des vies des saints, ou des commentaires des Pères de l'Église ; ces lectures sont suivies de répons (O adiutor). Un petit répons, appelé répons bref, chanté après le capitule (petit chapitre d'une lecture), conclut les offices, comme ici Laudes (office du matin), (Ora pro nobis, beate Iacobe) et Tierce (troisième heure) (lacobe servorum spes). Ces textes définissent à l'évidence la destination propre de l'office, et le copiste précise même l'origine de certaines compositions, telle celle du répons O adiutor, composé par un évêque qui, de retour de Jérusalem, fut sauvé des périls de la mer par l'intervention du bienheureux Jacques.

Le Benedicamus Domino qui concluait l'office de Vêpres était, par sa position finale dans une célébration qui prenait place en fin d'après-midi, plus favorable que d'autres chants aux commentaires littéraires appelés « tropes » (Regi perhennis, Exultet) et même à une exécution polyphonique. Benedicamus Domino et conduits, monodiques ou polyphoniques, connaissent une grande faveur dès la fin du XIe siècle, et encore tout au long du XIIe, avec l'École Notre-Dame de Paris. Les conduits peuvent être chantés avec refrain (Salve festa dies, Annua gaudia) ou directement ; Resonet nostra combine les deux possibilités, des phrases se répondant deux à deux autour d'un refrain mélodique chanté sur des textes, certes différents, mais dont les rimes soulignent le parallélisme. Les conduits sont dans ce manuscrit copiés à la suite, à la manière d'une série dans laquelle il est loisible de puiser au gré des déplacements processionnels à l'intérieur ou à l'extérieur de l'église, ou des églises parcourues tout au long du pèlerinage. Des Benedicamus Domino se mêlent à cette suite, ainsi que des chants sans intitulé, probablement du fait de leur ambiguïté, c'est le cas de Nostra phalanx dont la dernière phrase dulces laudes domino suggérerait un Benedicamus Domino, dont la réponse est joliment confiée au chœur des anges.

Les cloches ajoutent leur sonorité à ces fêtes dont la tonalité majeure, outre la célébration de saint Jacques (Dum pater familias), est la joie d'être arrivé au terme du voyage, à l'instar des reliques de saint Jacques, et des croisés ou pèlerins revenant de Jérusalem. À cette allégresse s'ajoute l'espérance d'un autre port, du jardin paradisiaque (Portum in ultimo... Ortum). Comment peut-on le mieux, dans ces textes du XIIe siècle, exprimer cette exultation, sinon par des expressions empruntées à la musique, au chant, Vox resonet, clerus cum organo, plebs cum timpano, laudes in cantico, decantantes, cantet melodiam, et bien d'autres citations que les auditeurs auront plaisir à reconnaître.

Marie-Noël Colette
Directeur d'Études, EPHE, Paris.



Bibliographie

Manuscrits:
- Compostelle, chapitre de la cathédrale. XIIe s. c.1139.
- Codex Calixtinus, Reproduction facs. del ms. conservado en el Archivo de la Catedral de Santiago de Compostela. (Madrid) 1993.
- Saint-Martial de Limoges, Paris, BNF, lat. 3549, pour la plage 18.

- Jeanne VIELLIARD, Le Guide du pèlerin de Saint-Jacques de Compostelle. Texte latin du XIIe siècle, édité et traduit en français d'après les manuscrits de Compostelle et de Ripoll. Mâcon, Protat, 1938, 5e éd. 1978.

- German PRADO, Liber sancti Jacobi. Codex calixtinus. Musica. Reproducción en fototipia seguida de la transcripción. Santiago de Compostela, 1944.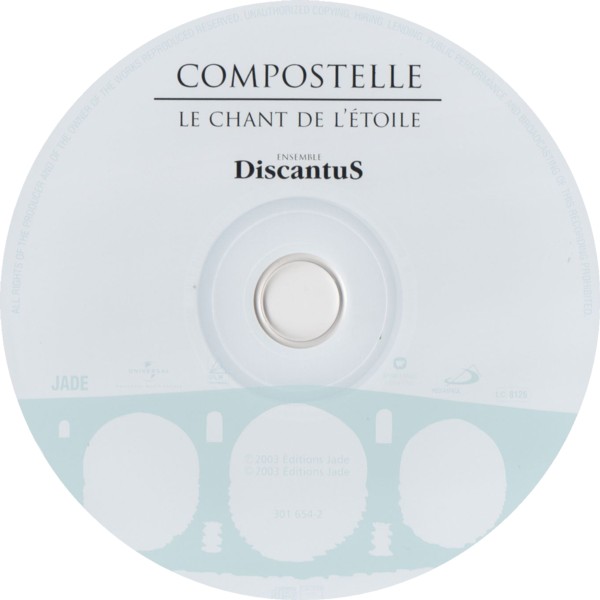 COMPOSTELA, THE SONG OF THE STAR

There are four routes which converge at Puente la Reina in Spain and lead to Saint James of Compostela. One passes through Saint-Gilles du Gard, Montpellier, Toulouse and the Somport pass; another through Notre-Dame du Puy, Sainte-Foy de Conques and Saint-Pierre de Moissac. The third route goes through Sainte-Marie-Madeleine de Vézelay, Saint-Léonard en Limousin and the city of Périgueux, and the fourth through Saint-Martin de Tours, Saint-Hilaire de Poitiers, Saint-Jean d'Angély, Saint-Eutrope de Saintes and the city of Bordeaux.

Thus reads the list of itineraries which introduces the Pilgrim's Guide to Saint James, fourth book of the, otherwise known as the Codex Calixtinus. Another part of the book contains pilgrimage songs from which the pieces on this recording were chosen. From Vézelay, where the first manuscript was probably written (c. 1139), to the basilica of Compostela itself, the routes abound in shrines, each bearing the relics of its saint and welcoming visiting pilgrims. The Pilgrim's Guide offers such practical advice as to which routes to follow and what pitfalls to avoid, which waters are excellent and which are "death-giving" and where to find a warm welcome. It even describes the horrible fate reserved for those who would be unfriendly to a pilgrim. The Guide also tells of the great deeds, often-times martyrdom, of the saints venerated along the route — themselves worthy of a pilgrimage — and of the wonderful acts which they performed. And of course, the basilica of Saint James, begun in 1078 and considered unfinished at the time of the Guide, is described in great detail.

Given the context, we are not surprised to find within the Guide a collection rich in conductus, processional chants related to written compositions of the same period from the southwest of France. The novelty here is considered by some to lie in the organization of the medodic relations, whether syllabic or melismatic. It is not unusual to hear descending or ascending little steps or vocalisations of varying lengths sewn throughout the pieces or reiterated together in conclusion. These same figures are also found in the melodic organisation of the second voices in the upper voice of the polyphonic chant (Vox nostra). The interplay often occurs in contrary motion, either throughout the melodic discourse (Annua gaudia) or by slight ornaments in contrary motion which establish a dialogue between the two voices (Nostra phalanx). The second voice has also been added against an older chant in organum style: Rex cunctorum, the polyphony played here on bells. But a similar tendency which affords the upper voice more ornaments can also be heard when both voices are composed together (Portum). The desired effect of this simultaneous production of two voices is felt above all in the perception of the consonances which pleasantly enrich the sonority.
These combinations, devoid of ornamentation and written note for note on each syllable, seem more didactic (Annua gaudia, Portum). But they can also be found with numerous ornaments leading the chant from one consonance to another (Vox nostra resonet).

Some of the texts are Biblical in origin and some — however rare for the period — are attributed to authors, all venerable, whose diverse origins impart a nearly universal dimension to the collection: Pope Calixtus, Fulbert of Chartres, Ato, bishop of Troyes, and William, patriarch of Jerusalem, etc. Not only at the end of the journey, but at every shrine, the pilgrims attended offices during which they would have sung hymns, responds and antiphons. The most solemn celebration however was certainly Mass at Saint James Cathedral. It is quite rare to find special antiphons dedicated to a specific saint, but in the Gospel, Saint James is called «Boanerges, son of thunder», providing a beautiful metaphor which inspires the text for the verse of the Alleluia retranslated into Greek to enhance the solemnity of the text and emphasize its authenticity (Alleluia V. Vocavit / Efonisen).

Saints' names were also invoked in tropes, new compositions which were inserted into the chants of the Ordinary of the Mass. The Kyrie Rex cunctorum and the Agnus Dei retain their mood of supplication, only revealing the radiance of Saint James in the last invocation of the Kyrie. The versified prosula Hosanna salvifica, which comments upon the Sanctus, does not come from Compostela but was borrowed from the repertoire of the southwest of France (Moissac) and from Catalonia. The occasion is subtly evoked, however, by a short repetition of the melody sung to the vowels A O E (Jacobe) at the end of each phrase.

In the manuscript the repertoire is set out in the following manner: The Feast day's vigil and office, the feast day's vigil Mass and its Mass, then a series of sequences (prosa), tropes and conductus. Day and night offices begin or end with a hymn (Psallat chorus, Iocundetur et letetur), but the essential part is the reciting of psalms, or psalmody, assorted antiphons (O venerande Christi apostole, Alleluia Iacobe sanctissime), long passages from the Bible, the lives of the saints or commentaries of the Church fathers. These readings are followed by responds (O adiutor). A short respond sung after the capitule (short chapter reading) concludes the office as here Laudes, the morning office (Ora pro nobis beate Iacobe), and Terce, the third canonical hour (Iacobe servorum spes). These texts clearly establish their intended use for the office in that the copyist actually specifies the origin of certain compositions, such as the respond O adiutor, composed by a bishop who when returning by sea from Jerusalem was saved by the intervention of the blessed James.

The Benedicamus Domino, which concluded Vespers, was by its final position at the end of the afternoon, favored over other chants for literary commentaries called tropes (Regi perhennis, Exultet) and even for polyphonic treatment. Benedicamus Domino and conductus, both,monodic and polyphonic, see a rise in favor already by the end of the XIth century and throughout the XIIth century with the School of Notre-Dame. The conductus can be sung with refrain (Salve festa dies, Annua gaudia) or straight through. Resonet nostra combines both possibilities: the phrases answer each other in twos around a melodic refrain sung on the texts; though they are different, the rhythm highlights their parallelism. In this manuscript the conductus are copied one after another in a series from which the processions may be punctuated, either inside or outside the churches visited all along the pilgrim route. We can find examples of Benedicamus Domino throughout this series, along with pieces untitled due to their ambiguous nature. Such a piece is the Nostra phalanx, whose last phrase suggests a Benedicamus Domino, the reponse of which is sweetly sung by a choir of angels.

Bells also add their sound to the festivities, whose tone, besides the celebration of Saint James (Dum paterfamilias), is characterised by the joy felt upon arriving at the end of the journey, amidst the relics of Saint James and other crusaders or pilgrims returning from Jerusalem. To this rejoicing we may add the hope of another Haven, of a garden of Paradise (Portum in ultimo... Ortum). And what more fitting way to voice the exultation in these XIIth century texts than with expressions borrowed from the language of music and singing: Vox resonet, clerus cum organo, plebs cum timpano, laudes in cantico, decantantes, cantet melodiam, and many more such phrases which the listener will delight in recognising.

Marie-Noël Colette
Translation: Deborah Flornoy